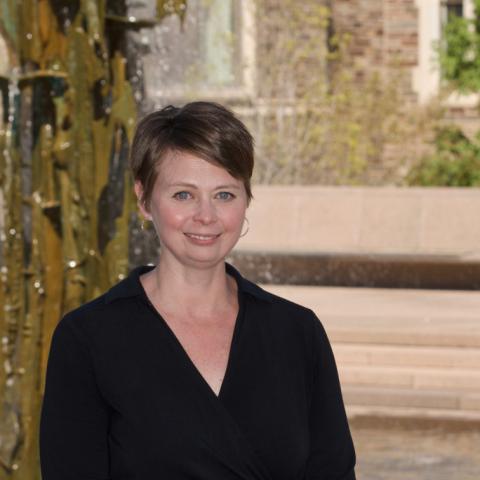 Associate Research Scholar, Liechtenstein Institute on Self-Determination (LISD)
Office:
017 Bendheim Hall
E-mail:
baenglis@princeton.edu
Biography
Beth English is director of the Liechtenstein Institute's Project on Gender in the Global Community. She is a lecturer in the Princeton Writing Program, and is also an instructor with Princeton University's Prison Teaching Initiative. She received her Ph.D. from the College of William and Mary, where she was a Glucksman Fellow and Visiting Assistant Professor. She has also taught at the University of Pennsylvania, and her research has been funded by the National Endowment for the Humanities and the International Labour Organization.
English's research and teaching focus primarily on gender empowerment, globalization, historical and contemporary labor and working class issues, and the U.S. and Global Souths. She is the co-editor of Global Women's Work: Perspectives on Gender and Work in the Global Economy(link is external) (with Mary E. Frederickson and Olga Sanmiguel-Valderrama); author of A Common Thread: Labor, Politics, and Capital Mobility in the Textile Industry(link is external); and a contributing author to several edited volumes focusing on gender and labor in domestic and international contexts. Her recent publications include, "Better Work Beyond the Workplace: A Comparative Study of Gender Dynamics in Bangladesh, Cambodia, Kenya, Lesotho and Vietnam(link is external)" (with co-author Kelly Pike), and "Global Women's Work: Historical Perspectives on the Textile and Garment Industries"(link is external) (Journal of International Affairs). Her article, "'I . . . Have a Lot of Work to Do': Cotton Mill Work and Women's Culture in Matoaca, Virginia, 1888-1895" was recognized as one of the Organization of American Historians' Best American History Essays(link is external). She is the producer and host of the podcast, Working History(link is external).
As director of the Project on Gender in the Global Community, English oversees the Institute's initiatives on Women, Peace and Security; Women's Economic Security; Children and Armed Conflict; and Prevention of Sexual- and Gender-Based Violence. Around these issues, English has organized and chaired policy workshops, and presents at symposia and conferences. She co-directs the Project's student fellows program, organized around the theme of "Gender and Security."   
(Ph.D., William and Mary, 2003)