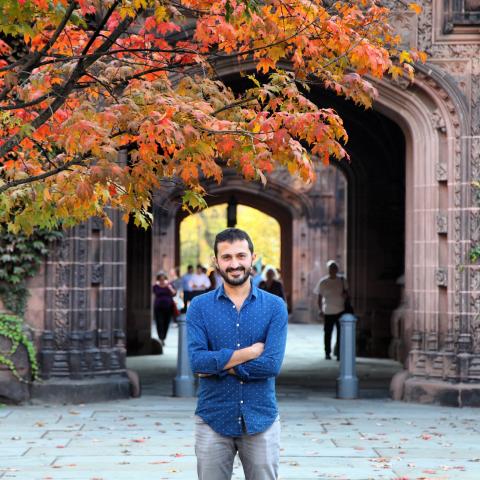 Postdoctoral Research Associate
E-mail:
ogunay@princeton.edu
Biography
Onur Günay is an anthropologist and documentary filmmaker. Currently, he is an Associate Research Scholar in the Princeton School of Public and International Affairs. He specializes in medical and political anthropology, urban ethnography, war and conflict, racialization and ethnicity, masculinity, drug use, care, ethics, religion, and Middle Eastern Studies. His work is informed by his deep commitment to ethnography and critical theory; interdisciplinary training in anthropology, sociology, and history; and a decade of creative experience as a documentary filmmaker. Onur's work has appeared in American Anthropologist, Dialectical Anthropology, New Perspectives on Turkey, and Toplum ve Kuram (Theory and Society), and online at Jadaliyya, Somatosphere, Özgür Gündem, Evrensel, T24, and Bianet. Onur holds a PhD (2017) and an MA (2013) in Anthropology from Princeton University, and an MA in Sociology from Boğaziçi University. In 2017-2018, he was a Mellon Postdoctoral Fellow at Harvard University Mahindra Humanities Center. 
Onur's work as a filmmaker is integral to his work as anthropologist and storyteller. His last documentary, Garod (Longing [Eng] / Hasret [TUR]), made with ethnomusicologist Burcu Yıldız, portrays the remaking of a musical tradition in the shadow of genocidal loss through the story of a trip taken by two Armenian-American musicians, Onnik Dinkjian and Ara Dinkjian, to their family's town of origin, Diyarbakır. Garod was one of the very few films selected for screening in the 2015 Armenian Genocide centenary commemorations organized in Turkey, Armenia, Germany, France, Canada, and the United States, owing to its strong emphasis on hope, resilience, and the life-making capacities of people in the wake of violent catastrophe. 
Teaching
Onur has taught both large, introductory freshmen courses and small graduate seminars at Princeton and Harvard. Locating ethnography's radical political potential at its center, his research and teaching methodologies cross disciplines and genres among social sciences, humanities and visual arts. He works and teaches with heterodox theoretical frameworks (such as decolonial, feminist, non-Western and indigenous approaches) in conversation with the canonical works in social and critical theory.
At Princeton, he co-taught Medical Anthropology (underdraduate course) and Ethnographic Theory (graduate seminar) with anthropologist Prof. João Biehl. In Spring 2020, he wrote an online essay (co-authored with João Biehl) for Somatosphere, reflecting on their experience of teaching "Medical Anthropology" during the COVID-19 Pandemic, and asking how to teach when a pandemic undoes our taken-for-granted ways of knowing, acting, and relating. Working collaboratively, even at a distance, Medical Anthropology students and instructors created an online platform using multimodal approaches to showcase their critical takes on life during the COVID-19 Pandemic.
Selected Publications
Günay, Onur. 2019. "In War and Peace: Shifting Narratives of Violence in Kurdish Istanbul." American Anthropologist 121(3): 554-67.
(Honorable mention in the Best Article in Kurdish Political Studies Award Competition in 2020)
Günay, Onur and Erdem Yörük. 2019. "Governing Ethnic Unrest: Political Islam and the Kurdish Conflict in Turkey." New Perspectives on Turkey, no. 61: 9–43.
Günay, Onur. 2014. "Geçmişin İşlenmesi Ne Demektir? ("The Meaning of Working Through the Past"), Toplum ve Kuram(9): 13-30.
Günay, Onur. 2013. "Toward a Critique of Non-Violence." Dialectical Anthropology 37(1):171-182.
His other publications can be found on his Academia page.