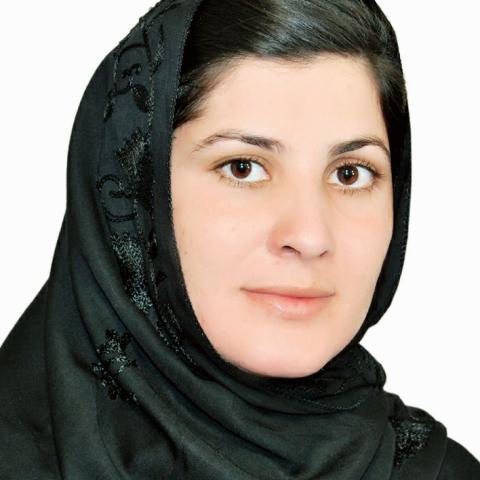 Afghan Policy Lab Fellow
E-mail:
ma7770@princeton.edu
Biography
Muqadasa Ahmadzai, who has a bachelor's degree in political science, is a social and political activist working to promote gender equality, education and mobilize women in Afghanistan. Ms. Ahmadzai was awarded an N-Peace award, by the United Nations Development Program. She was named one of the BBC's 100 Women in 2021.
Previously, she served as deputy speaker and member of the youth of Nangarhar province in Afghanistan's Youth Parliament, where she spearheaded initiatives for broader female political participation and established the National Youth Council with other parliament advocacy members. She also worked to improve women's and girls' education in Nangarhar province. She is the founder and director of the Kor Association, an organization that has around 2500 female members that coordinates and supports local and national advocacy efforts, media campaigns, and led cultural events to raise awareness about women's rights, child labor, and peacebuilding. Continuing through the COVID-19 pandemic to combat disinformation and support women and the community's health, her activism uniquely blends art and community action into peace campaigns.
Alongside other women, she began a campaign of mural painting with women's rights and peace messages in the eastern region of Afghanistan. Muqadasa also established a network of 400 women who traveled across the country, including into areas controlled by the Taliban. She raised the voice for women who were survivors of domestic violence, supported girls' education, and spread awareness about child labor. In addition to voluntary work, Muqadasa has also worked with national and international organizations with 8 years of experience in leadership and management positions. She worked with UN agencies, USAID, MiCT-German project and BST American organization.
Some of the areas highlighting her achievements are as follows:
Establishing 200 learning classes, still functioning for child laborers and girls who are not able/allowed to go to school.
Participation in Afghanistan and Pakistan peace dialogues held in Istanbul-Turkey to represent the voice of Afghan women.
Traveling to the Taliban-controlled territories to highlight the need for women's participation in peace processes.
Through the support of the business community, gathering 230 street children from 143 families and a large number of them were orphans and had no family guardian. They are sponsored by businesses and individuals to go to school and their families will be supported by them.
Advocacy for 230 women and provided legal support through her advocacy for their cases in 12 provinces of the country.