Nov 11 2015
By
Isabella (Mizzi) Gomes '16
Source
Woodrow Wilson School
More than 150 people gathered in Robertson Hall in early October for a panel discussion and reception by four social scientists who examined challenges faced during the Ebola crisis response.
Organized by Princeton University's Global Health Program (GHP) and the Woodrow Wilson School, and co-sponsored by the Center for Health & Wellbeing (CHW), the event evaluated the global health community's preparedness for the Ebola outbreak from an anthropological view, addressing the successes and failures associated with the response efforts.
"As a student in the GHP program, I love going to colloquiums like this because it places the concepts and themes that we learn in class into a real-world setting," said Melody Qiu '16, a Woodrow Wilson major.
The talk, "How the Ebola Outbreak Called Global Health Science, Politics and Care into Question," was moderated by João Biehl, Susan Dod Brown Professor of Anthropology and co-director of GHP, and was one of many events held throughout the year as part of the Global Health Colloquium series.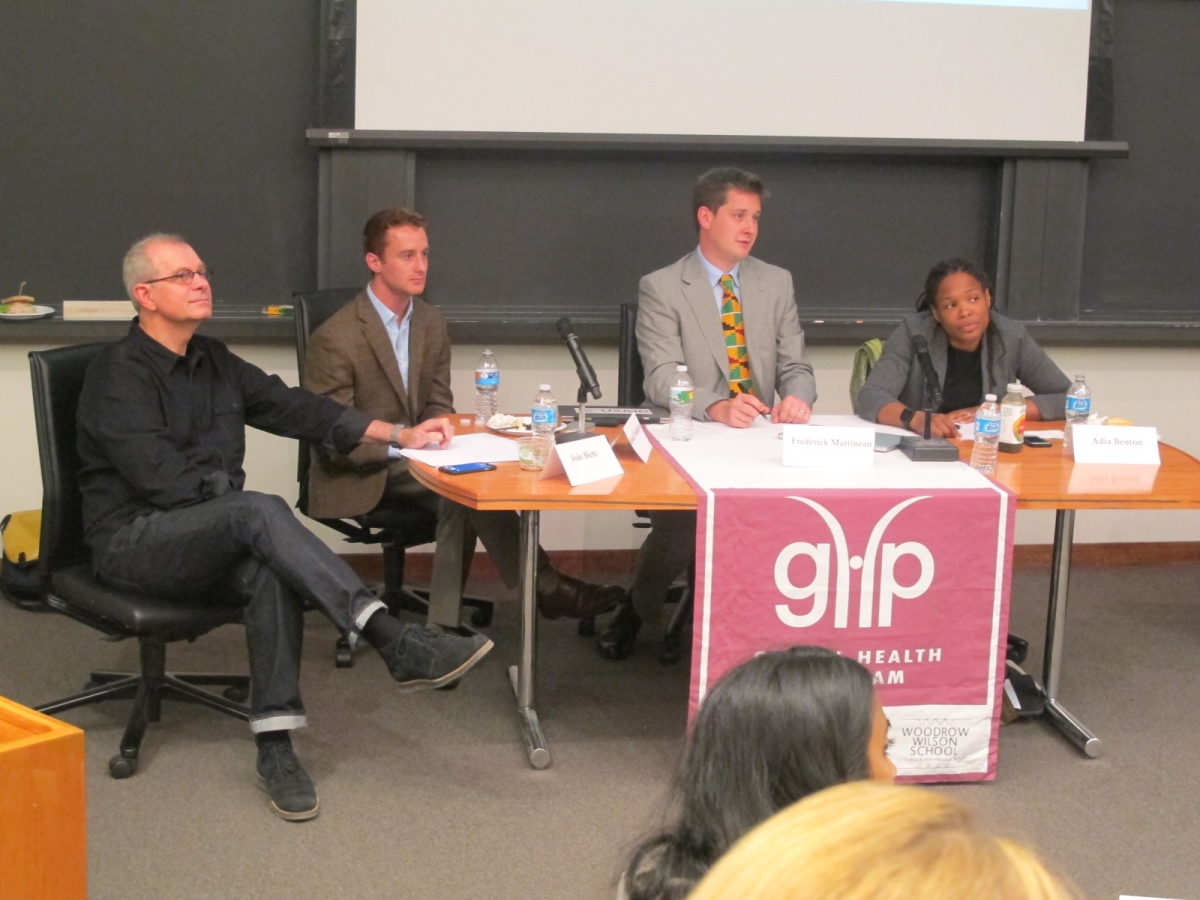 "The Global Health Colloquia provide Princeton students with opportunities to critically examine existing global health challenges, such as the recent Ebola outbreak, with leading experts in the field and to extract broader lessons from specific case studies," Biehl said. "Our students are encouraged to work through the nuances of this complex reality and, in the process, develop a multiscaled and people-centered approach to global health science and practice. It is here that we come to understand how much of global health and health policy isn't a quick fix."
The panelists included Adia Benton, assistant professor of anthropology at Northwestern University; Raphael Frankfurter '13, executive director of the Wellbody Alliance who worked on the ground in Sierra Leone during the outbreak; and Frederick Martineau, platform coordinator of the Ebola Anthropology Response Platform – a network that connects social scientists and outbreak control teams.
Throughout their discussion, the panelists addressed why the global health community, national governments and health systems were unprepared and ill-equipped to respond to the Ebola outbreak from 2014 to 2015, as well as what needs to change in health systems and pandemic preparedness to prevent future health crises.
Based on his intimate experiences with Ebola's effect on communities in West Africa, Frankfurter outlined four steps to guide health systems in crisis response.
"We need to think critically about context and culture, stay close to individual transmission chains, engage international institutions and leadership and differentiate between acute emergency response versus long term health systems strengthening," Frankfurter said.
In his time in West Africa, Frankfurter emphasized stepping back, what he calls "an active, not a performative dialogue." This was especially important with regards to community culture, including aspects of touch, caregiving and burial practices, he said, which interacted and became "impossibly entangled with the dysfunctionalities of the health system."
With this dialogue, anthropologists can investigate and address the intricacies of health and healthcare-access crises that require consideration beyond a purely medical perspective.

As Biehl said, "the extensive, deep field research that anthropologists conduct sheds light on 'how' and 'why' some values, worldviews and practice – such as washing the bodies of the dead and the persistent distrust of donors and health care workers that has its roots in the brutal legacies of colonial medicine – helped to drive the spread of this deadly disease. Knowledge developed through ethnographic research can be deployed and leveraged in future health crises, so long as the anthropologists included have unique knowledge of the specific region and people affected by the crisis."
Martineau focused on the challenges faced in post-outbreak response efforts and conflict resolution, emphasizing how easy and regrettable it is to "find yourself at the table, yet unable to achieve what you want to do." From this perspective, Martineau explained the need for policymakers and health workers to incorporate and welcome social science knowledge. After all, "anthropologists are not simply 'cultural brokers,'" Biehl said, "they must be included at every step of the response, and not simply after the problem has exhausted the capacity of existing technical expertise."
In her analysis of post-crisis response efforts, Benton reflected upon the development and characteristics of the field of anthropology itself. Drawing upon her own experiences as the only black American anthropologist in an international health class, Benton highlighted the gender and regional divisions of labor and how these divisions translated in the field.

"These various kinds of segmentations within the discipline shape how we solve health problems," Benton said. "Thinking about the political economy of aid means understanding how health systems have not been built over the last 30 years where there is significant health aid being provided in the aftermath of war and structural adjustment."

By delving into the history of anthropology and how it intersects with health work, Benton suggested a deeper methodology of studying outbreaks and response efforts.
"It's important to think about how a region has been involved in global trade for 300 years in ways that have been harmful to the populations," Benton said.
The talk concluded with an informal discussion with the panelists, which was moderated by Alecia McGregor, a CHW postdoctoral research associate studying race, politics and drug policy.
This colloquium was a prelude to Princeton's Princeton-Fung Global Forum, an event in which Biehl was a panelist.
For more information about the the Global Health Colloquium series, click here.