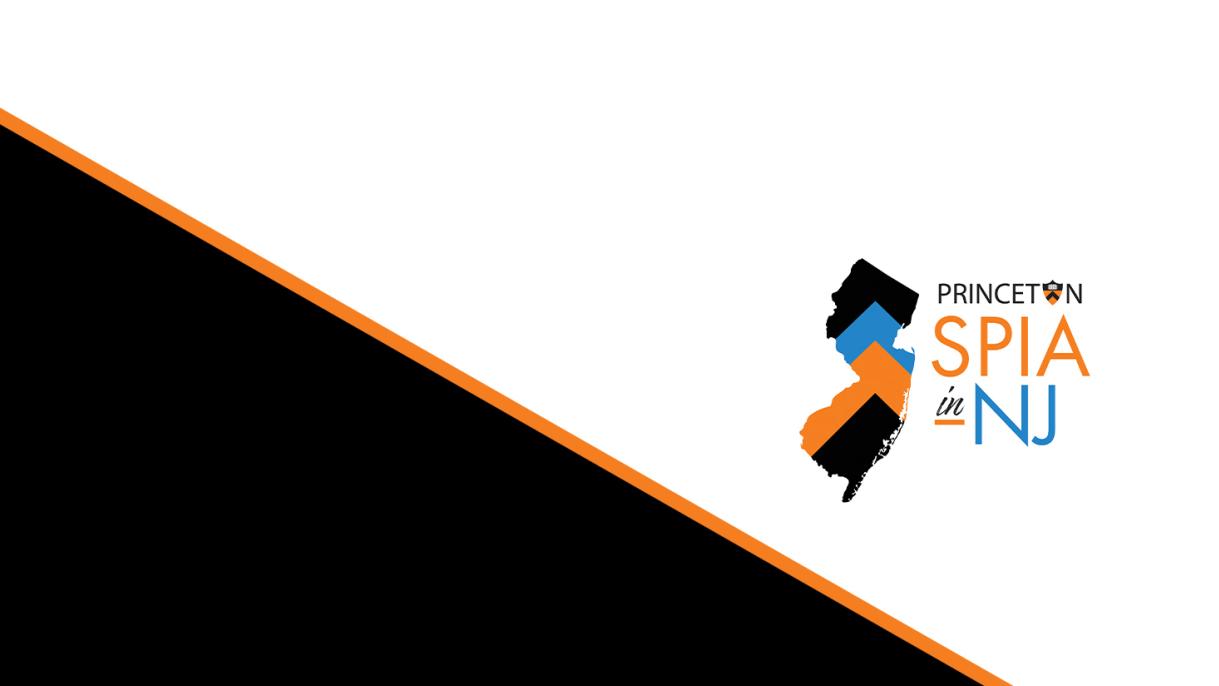 Programming
"The Impact of Zoning Regimes on Residential Segregation and Displacement"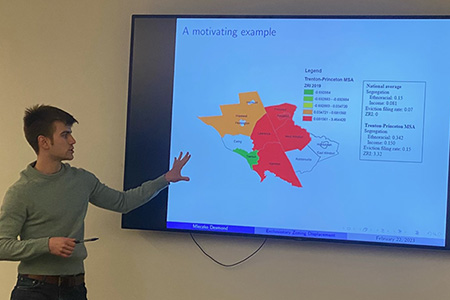 Matt Mleszko, Eviction Lab PhD Student
Matt Mleczko is a doctoral candidate in Population Studies and Social Policy and a Prize Fellow in the Social Sciences at Princeton University. He primarily studies housing inequality and housing policy, with a particular interest in policies that promote affordable housing and integrated, cohesive communities. His dissertation explores the evolution of residential integration in the 21st century and its connection to zoning and land use policy. Matt is also a graduate student researcher with the Eviction Lab and a member of the Princeton Affordable Housing Board. 
"Fixing Bugs in Democracy"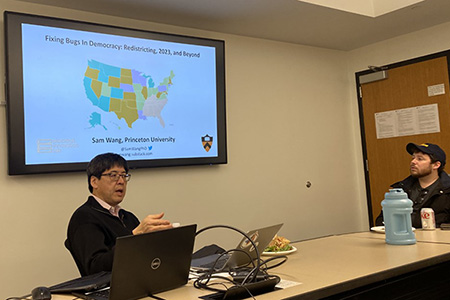 Sam Wang, Professor of Neuroscience
Addressing gerrymandering and improving representational democracy across the country.
"Building Worker Power Through Labor Standards Enforcement"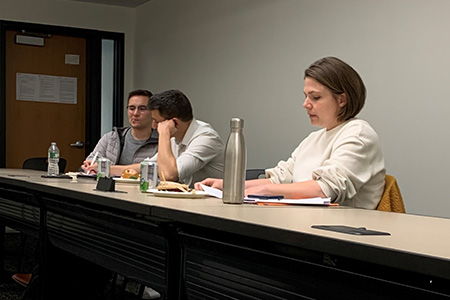 Christine Blumauer, Princeton SPIA Alum, MPA '18; Executive Director, Office of Policy, New Jersey Department of Labor
Christine Blumauer's MPA Lunch Series Talk centered around big initiatives at the New Jersey Department of Labor, namely the work force development programs and grant making initiatives to support different worker populations. Blumauer says her passion lies with wage and hour advocacy for worker populations who can't speak up for fear of being fired. These populations include older workers, undocumented workers, and workers of immigrant descent who face systemic barriers for coming forward on issues of overtime eligibility and wage theft. Blumauer spoke about how the Covid-19 pandemic "cut through the red tape" for many industries, particularly for migrant and seasonal workers. Blumauer spoke about her experience proposing legislation through the Governor's Office and how she helped draft the bill for the creation of the Office of Strategic Enforcement with a commitment to equity and which codifies a data driven approach to increase workers' power. During her talk, Blumauer addressed maternal health, mentioning New Jersey as being a leader in the modernization of Family Leave Insurance, as one of less than 10 states which has temporary TDI/Family Leave Insurance of anywhere between 12 weeks and 6 months, following a European standard of paid leave. The Office of Apprenticeships at the New Jersey Department of Labor leads in the country for building a model for those workers who do not want to go the college route to earn a living. This office provides employers who take apprentices with grants. Blumauer proposed a culture shift on at will employment, advocating for employment contracts, which provide employees with a profound safety by binding worker to employer.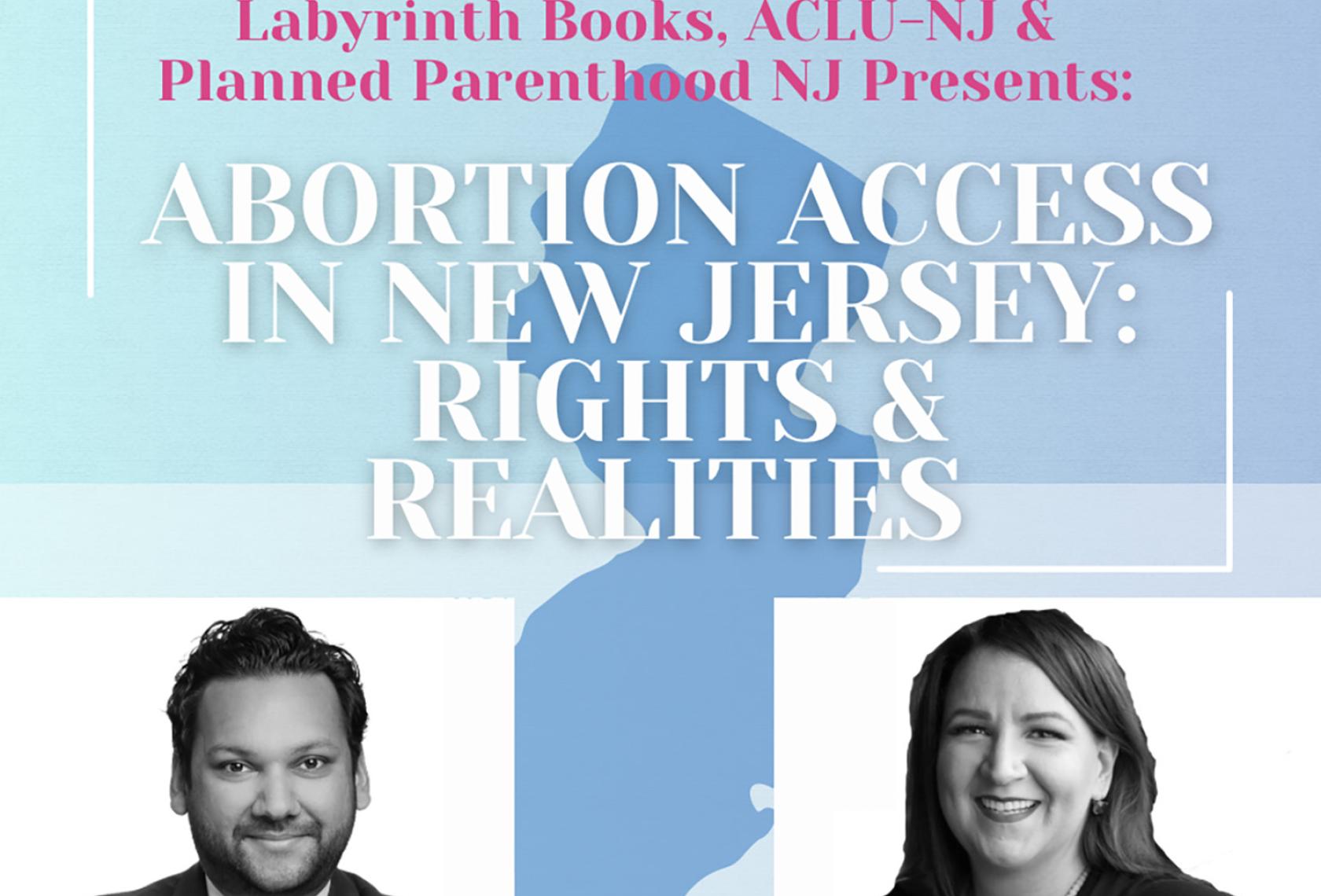 Abortion Access in New Jersey: Rights and Realities
A conversation with Amol Sinha, Executive Director ACLU-NJ, and Jackie Cornell, Executive Director, Planned Parenthood Action Fund NJ, moderated by Professor Heather Howard (PU), Director State Health & Value Strategies on Tuesday, May 23rd, 6:00 PM at Labyrinth Books, 122 Nassau Street, Princeton, New Jersey.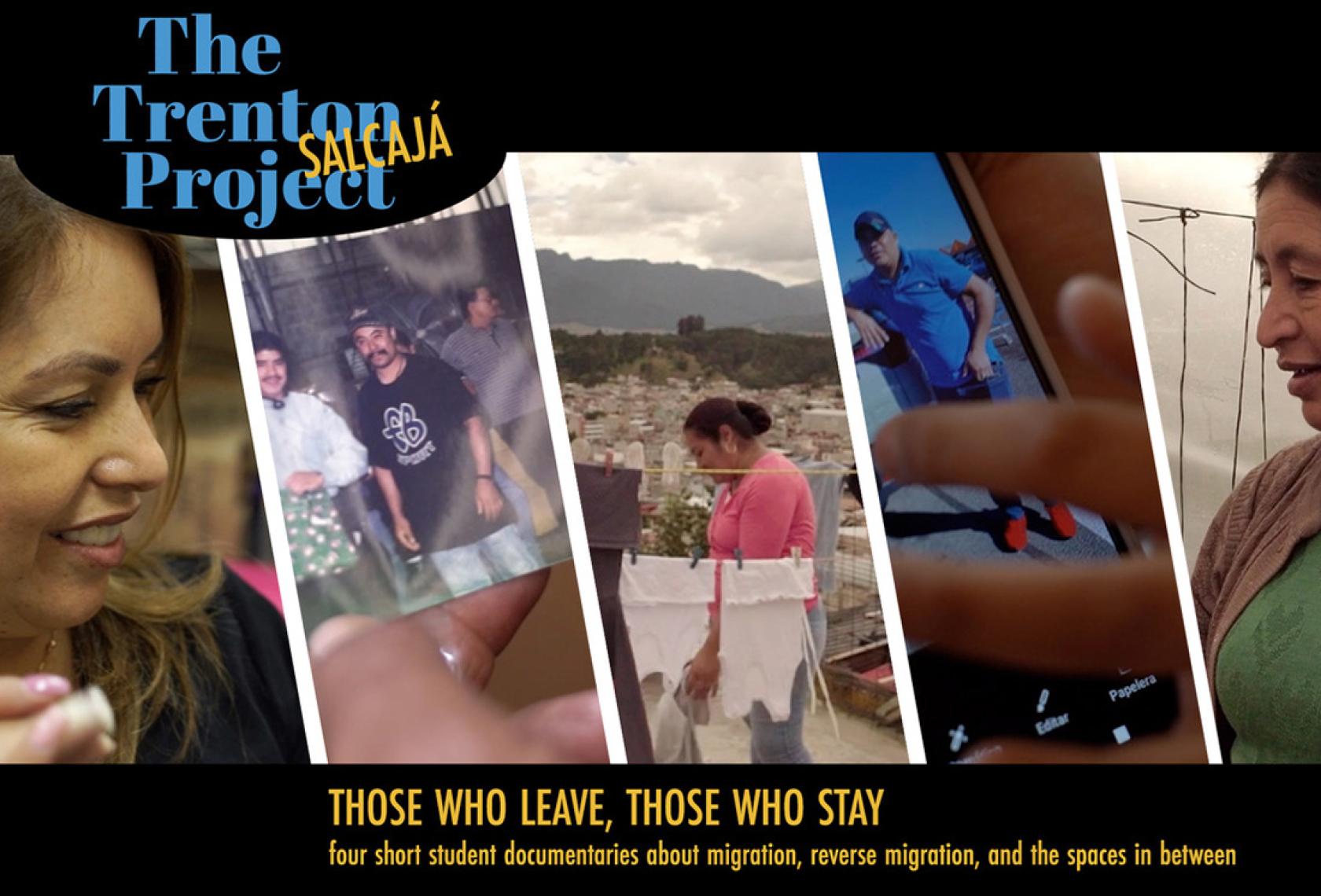 The Trenton Project
The Trenton Project on-campus screening Monday, May 15th, in Robertson Bowl 001 at 5:30 pm. Screening will run approximately 40 minutes and be followed by a discussion. "These short films document the close ties between Trenton, NJ and Salcajá, Guatemala, the city of origin of many of the newest Trentonians. Our projects trace the strong ties between the two cities, as well as the complex challenges faced by migrants and their families. Our work spans borders—both in subject matter and methodology. We are grateful to the generous participants who shared their stories, and also to the young filmmakers in Guatemala with whom we worked closely all semester — we'll be sharing the final films with them for the first time on Monday."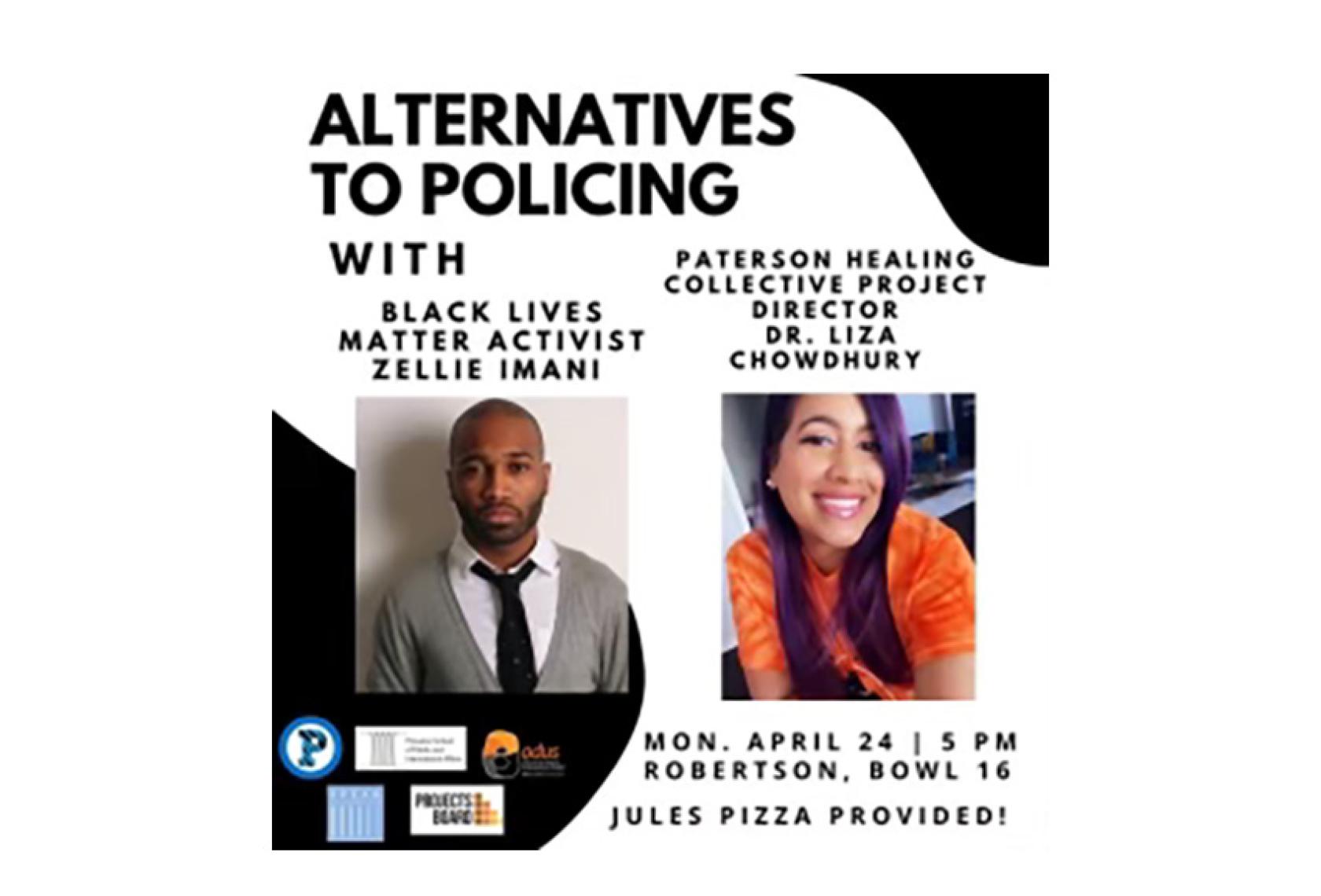 Alternatives to Policing
With Black Lives Matter Activist Zellie Imani and Paterson Healing Collective Project Director Dr. Liza Chowdhury on Monday, April 24th, 5:00 PM, Robertson Hall, Bowl 16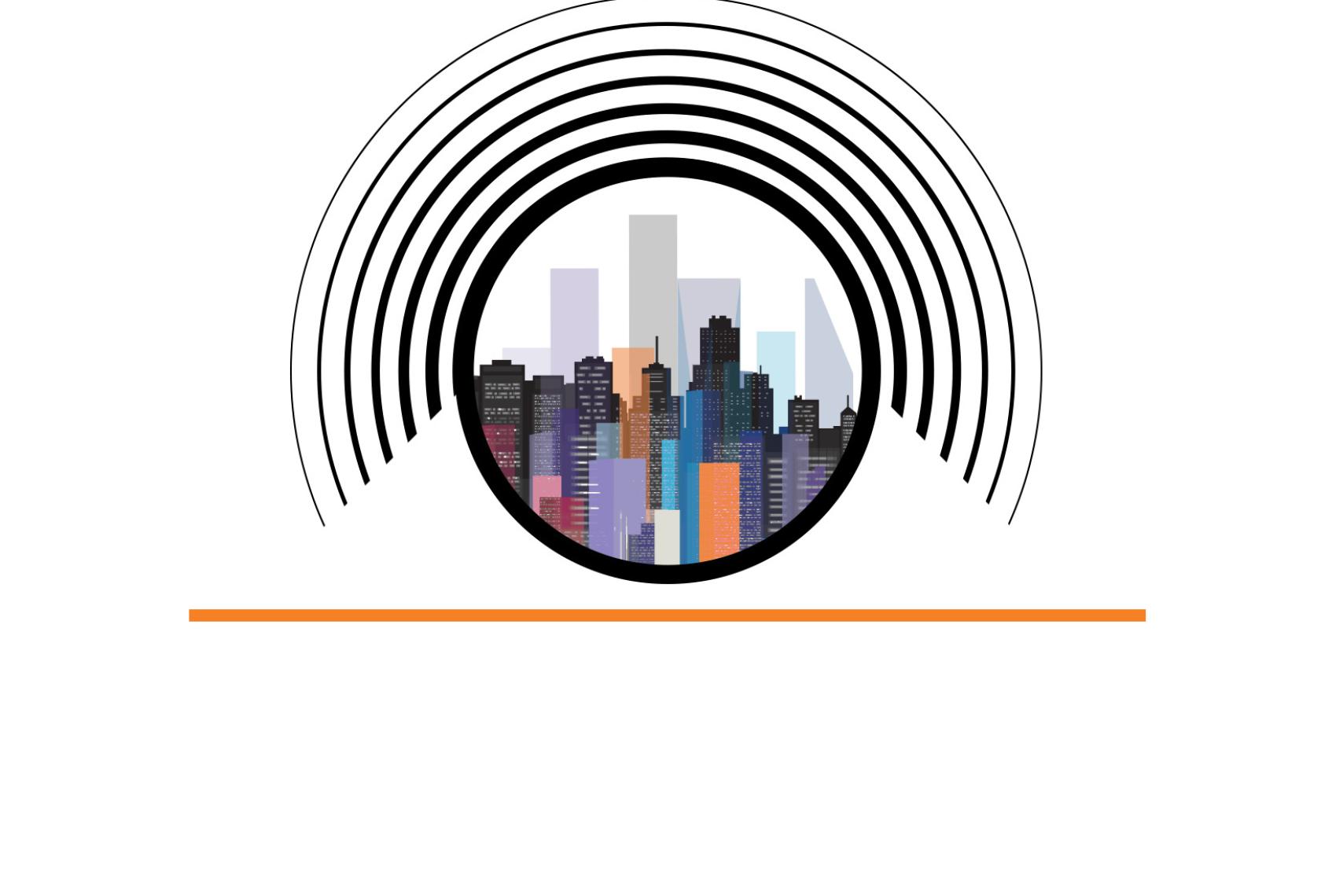 Management Conference 2023: Public Sector Innovation, Leadership and Management in the Digital Age
SPIA's Graduate Career Development and Alumni Relations Office will again be hosting a Conference on Management in the Public Sector. The conference will have sessions starting on the afternoon of Thursday, April 13th and continuing all day on Friday, April 14th. The theme for this year is Public Sector Innovation, Leadership and Management in the Digital Age. Restricted to SPIA students, faculty, staff, and alumni.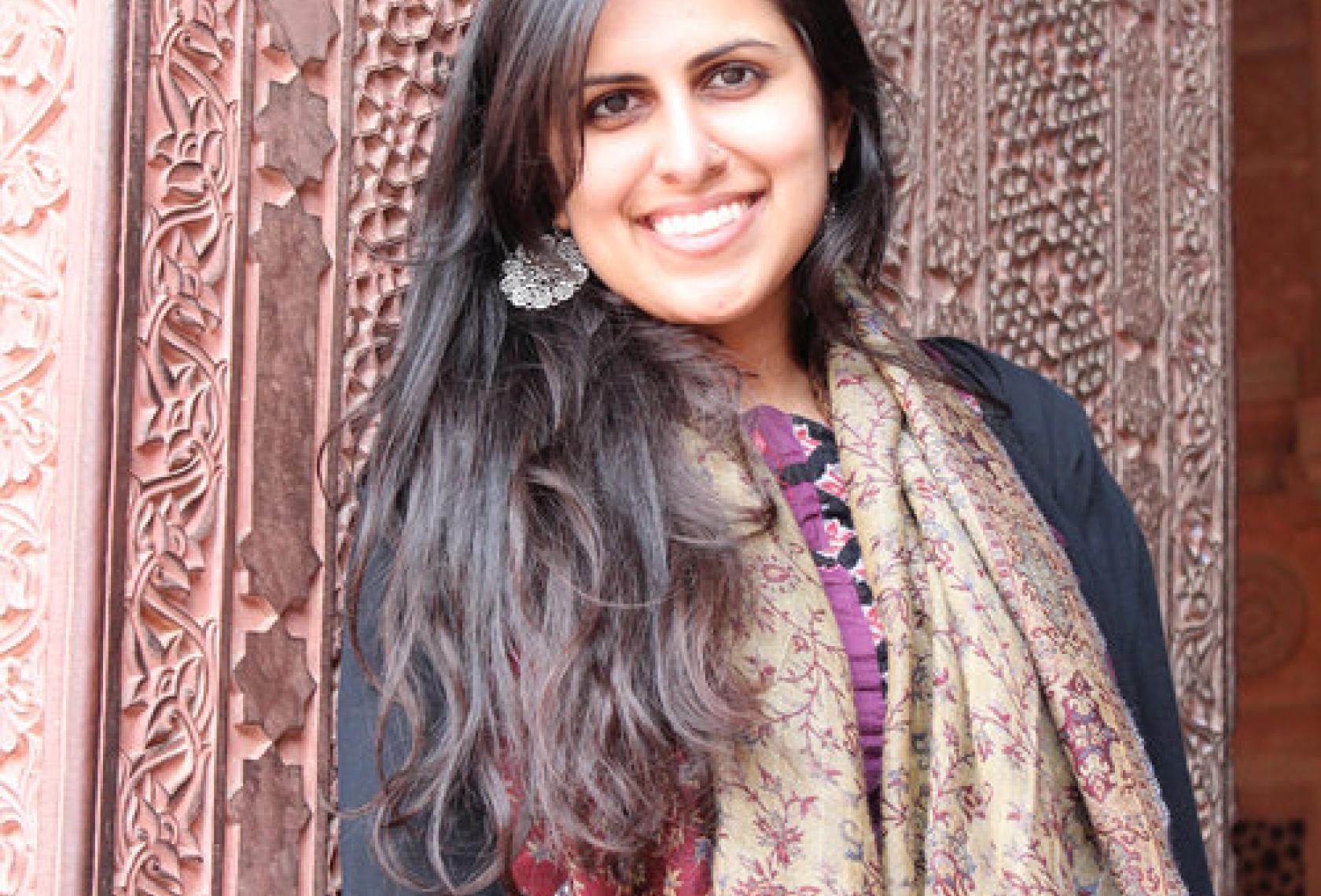 Think Globally, Act Locally: Representation, Belonging, and Research-Based Policymaking in New Jersey
Dr. Sadaf Jaffer is an Assemblywoman representing New Jersey's 16th Legislative District. She advocates for the best interests of NJ's 9.2 million residents with special attention to her district's 230,000 constituents. Her legislative accomplishments include the New Jersey Child Tax Credit, laws on election integrity, transportation, reproductive healthcare, and gun safety.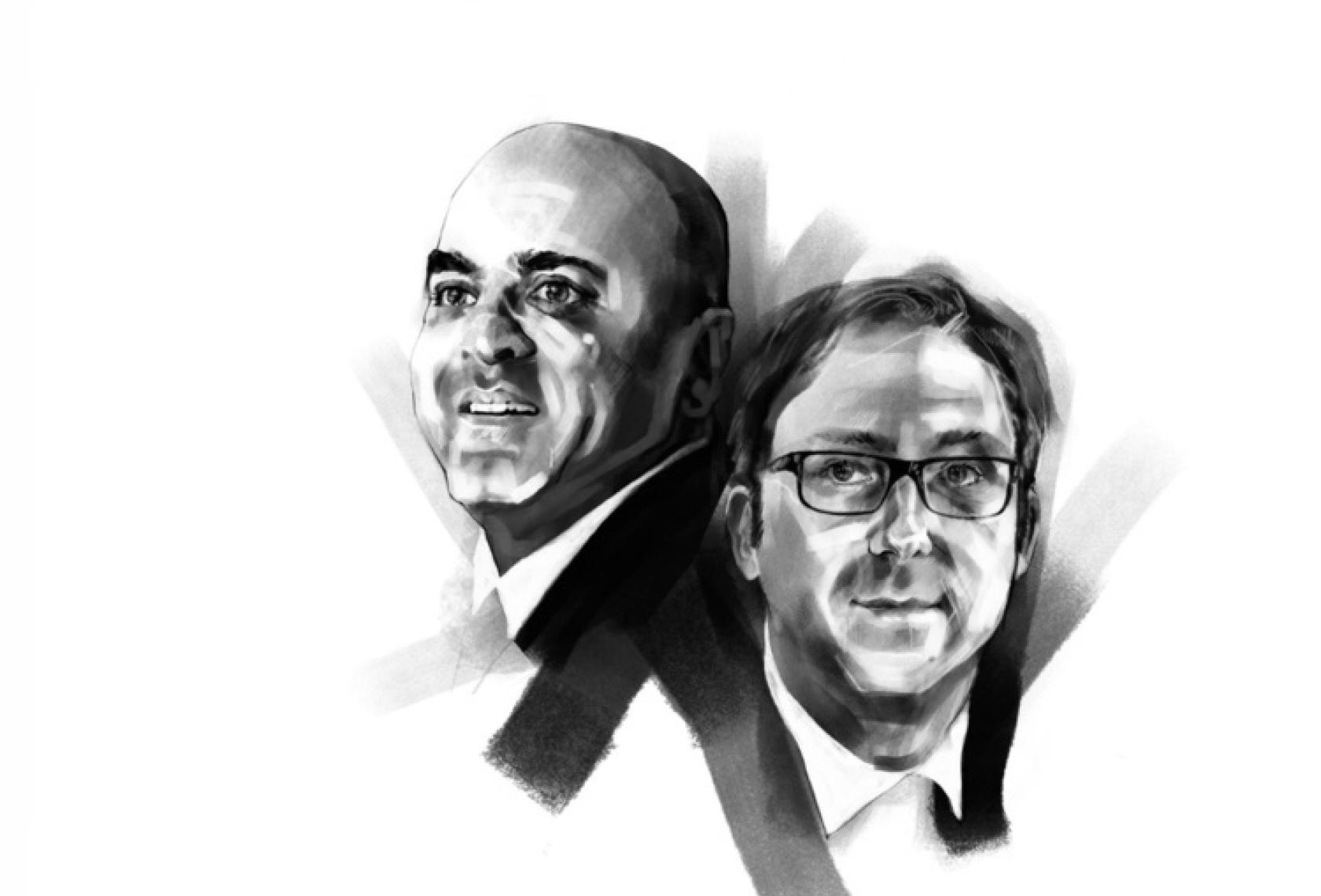 Judge Zahid Quraishi in Conversation With Professor Udi Ofer
Join us for the next FOCUS Speaker Series event in Robertson Hall, at 4:30 pm on Thursday, March 30, 2023. In collaboration with the School of Public and International Affairs, ODUS will feature Judge Zahid Nisar Quraishi in conversation with Professor Udi Ofer of the SPIA department.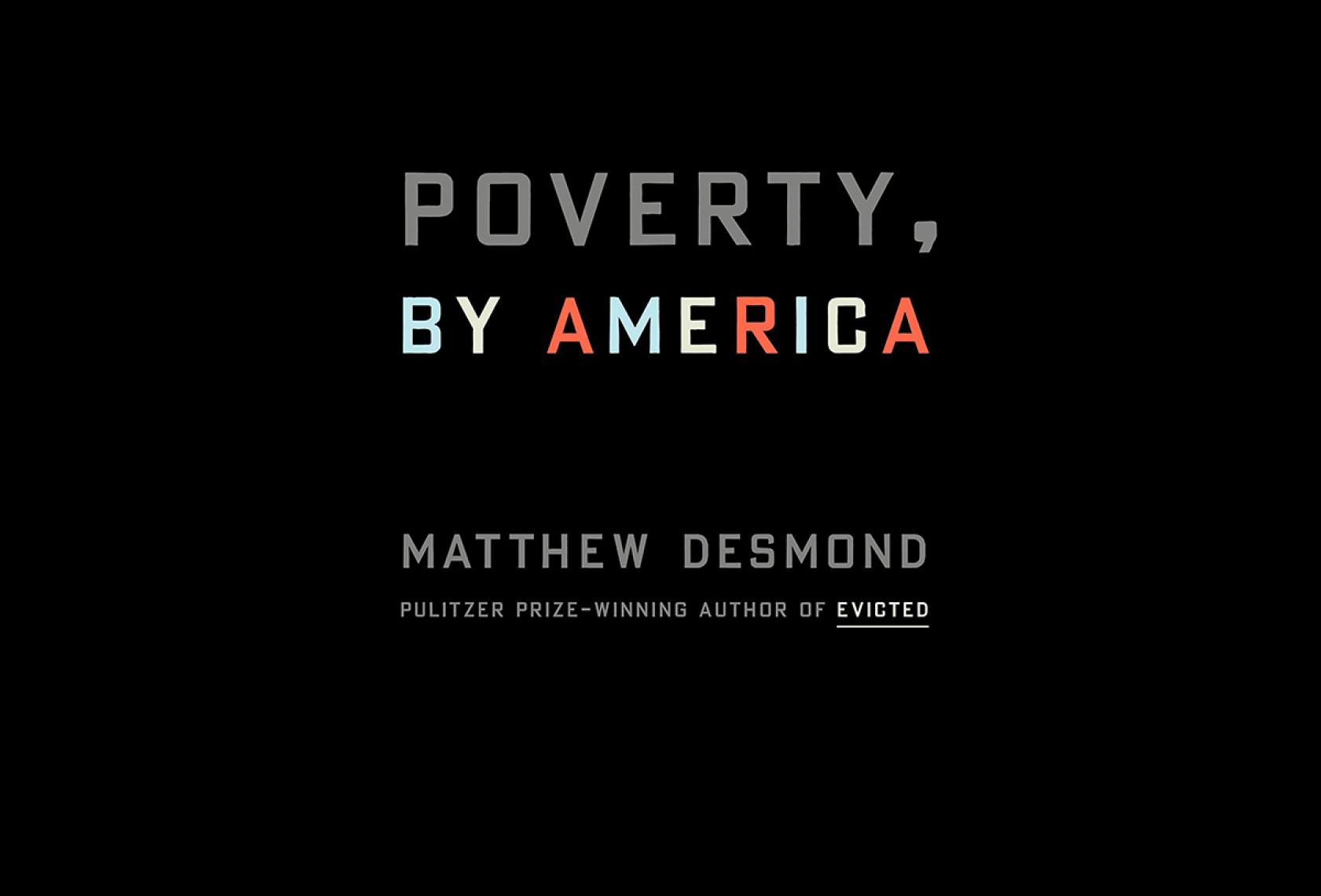 Book Talk With Matthew Desmond & Keeanga Yamahtta-Taylor
In his new book, the Pulitzer Prize-winning author of Evicted reimagines the debate on poverty, making a new and bracing argument about why it persists in America: because the rest of us benefit from it. He is joined in conversation by fellow scholar about housing and poverty in America, author, and activist Keeanga Yamahtta-Taylor on March 23 at 6:00 PM in the Nassau Presbyterian Church, Princeton.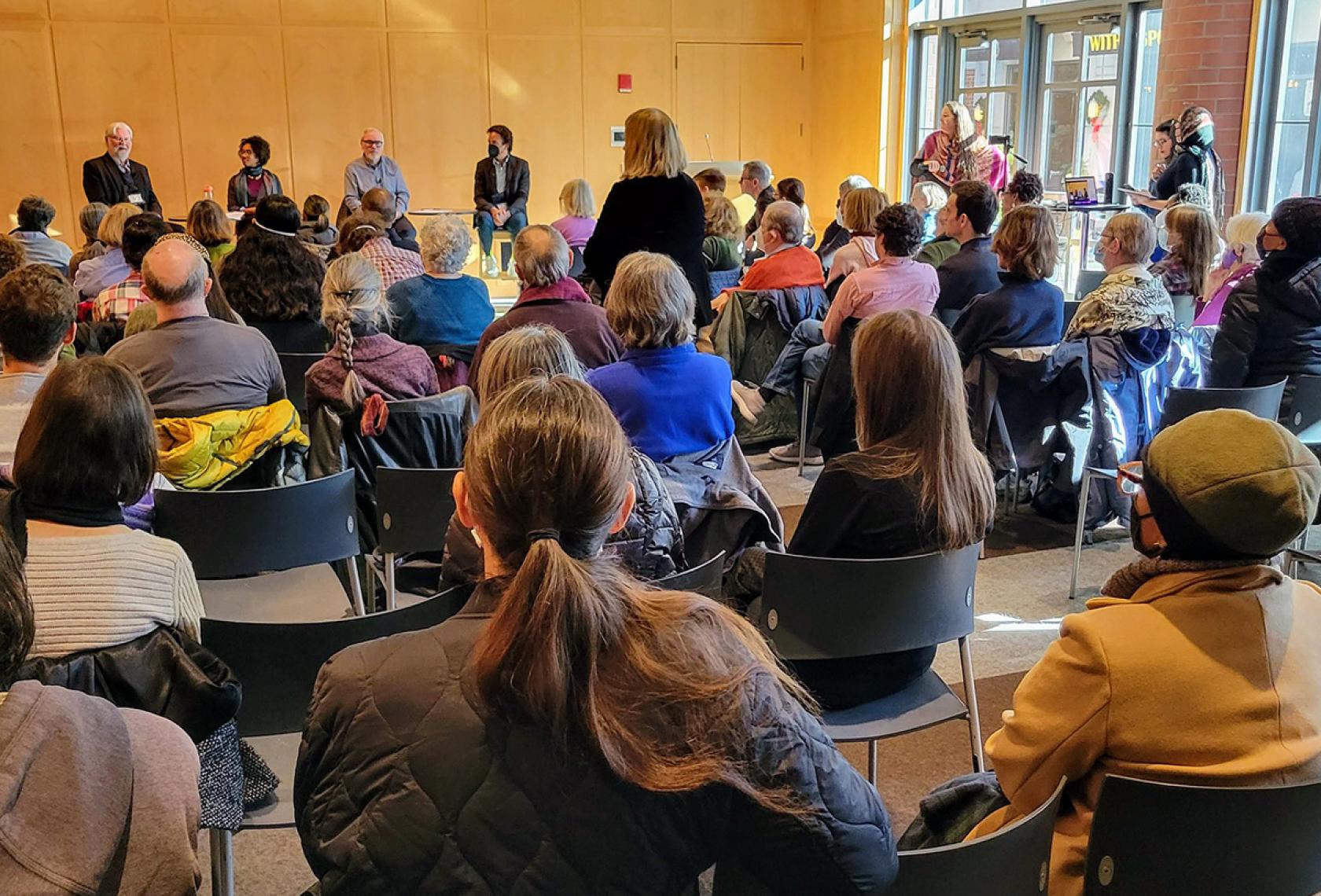 Housing Justice Forum
Panels of experts discuss the housing crisis in America with a focus on how we got here and what can be done on December 10 at 11:00 AM in the Princeton Public Library Community Room.
Academic Programs
Graduate Policy Workshop on Mercer Community College James Kerney Campus Vistioning Project
Undergraduate Policy Task Force on Maternal Equity in New Jersey
Undergraduate Senior Theses:
                Ella Gantman: Jail Based disenfranchisement in NJ in 2022 (advisor Udi Ofer)
                Abdelhamid Arbab: Religious Accommodations for Incarcerated Muslims in the NJ State Prison System (advisor Udi Ofer)
Undergraduate Policy Advocacy Clinic: Working with ACLU NJ on civilian oversight of police
Garden State Fellowship inaugural fellow: Mayu Takeuchi (SPIA undergraduate)
Grad Course: Identity, Power, and Policy (SPI 531) Devanne Brookins (Associate Research Scholar) and Keith Wailoo – Site visit to Camden, NJ, re: residential segregation
Career Development Office in Partnership with Steven Strauss (John L. Weinberg/Goldman Sachs & Co. Visiting Professor) Management Conference: Public Sector Leadership, Innovation and Management in the Digital Age; several NJ state gov't officials