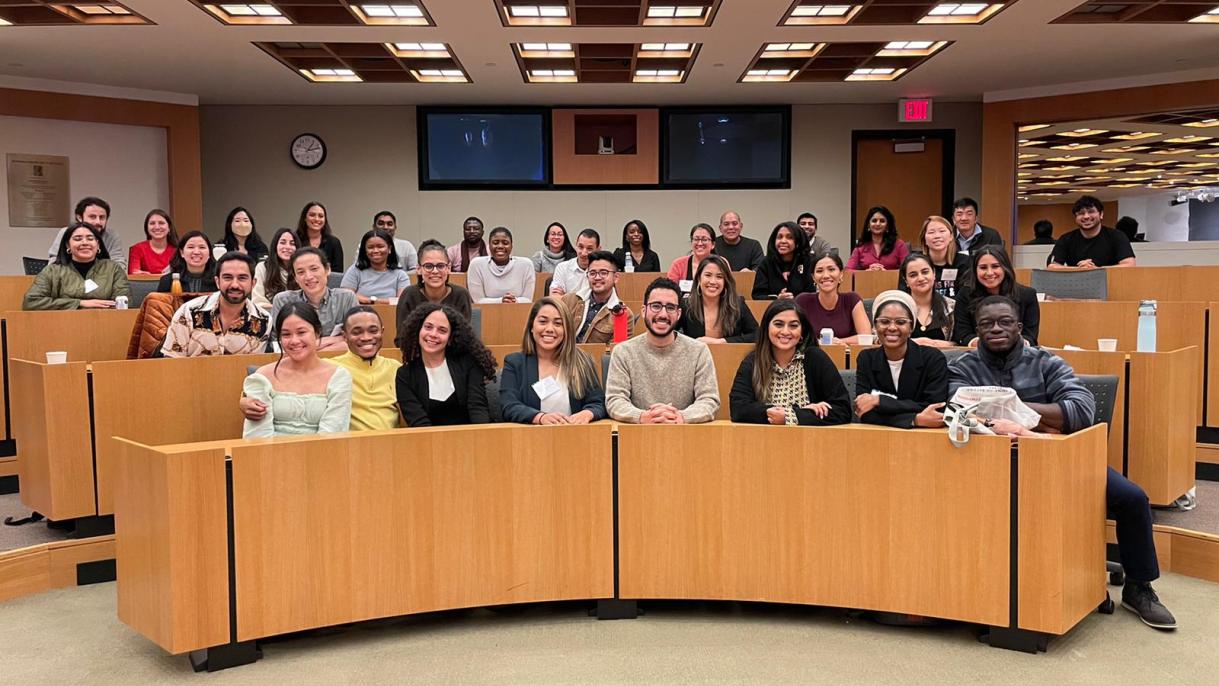 Student Organizations
Students not only bring their diverse backgrounds, experiences, and passions into lively classroom discussions, they also have the opportunity to exercise leadership through student government and other student-run initiatives.
The School works closely with students, faculty, and staff to build a welcoming community supportive of advocacy efforts that advance diversity, equity, and inclusion. These activities include the support of officially recognized student organizations, as well as student-led initiatives, diversity workshops, diversity network dinners, and more.
Gender and Policy Network
The Gender and Policy Network was founded by students, faculty, and alumni whose experiences convinced them that gender should be considered in the design, evaluation, and implementation of policies.
The network organizes a range of activities to foster discussion about gender and policy, including presentations by outside speakers, informal lunch discussions, career panels, and documentary screenings. 
Journal of Public and International Affairs
The Journal of Public and International Affairs (JPIA) is a joint publication of the Association of Professional Schools of International Affairs (APSIA) and the Princeton School of Public and International Affairs. It is a scholarly publication featuring the work of graduate students from schools of public and international affairs.
Founded in 1989, JPIA has provided a forum for students to present their research on significant policy issues. Each spring, students from SPIA and many other APSIA and allied schools gather for a weekend in Princeton to review the many submissions and choose the papers for publication. In spring 2019, for the 30th edition, JPIA was completely converted to a digital platform. 
Princeton University Policy Student Government
Princeton University Policy Student Government (PUPSG) is the graduate student government body of the Princeton School of Public and International Affairs. It provides students a voice in the governance of the School and a formal channel of liaison between the student body and the faculty and administration.
Its members participate in twice-yearly meetings of the Master's Program Committee, chaired by the faculty chair of the MPA program. They also participate in the curriculum development process, in conjunction with the associate dean for graduate education. PUPSG members also plan social activities and coordinate volunteer and community-service activities.
Students and Alumni of Color 
The Students and Alumni of Color (SAOC) organization brings together students and alumni of the Princeton School of Public and International Affairs to promote racial diversity; establish mentoring relationships; discuss ideas relevant to the social, political, and professional development of students of color; and support the social and political development of the wider community.
Every spring, SAOC sponsors a weekend symposium for students and alumni of color that features panel discussions and career networking. Every fall, it works with the School to host a mentoring weekend.
First.
First. empowers, elevates, and amplifies the voices of "Firsts" — low-income and first-generation students and alumni — by providing a forum for these students to find community and space to discuss issues important to them.
Women in Politics Network
Women in Politics Network is a bipartisan student organization dedicated to increasing women's participation and representation in the political process. Its intent is to form a network of SPIA women who collectively work to correct the gender imbalance in politics.