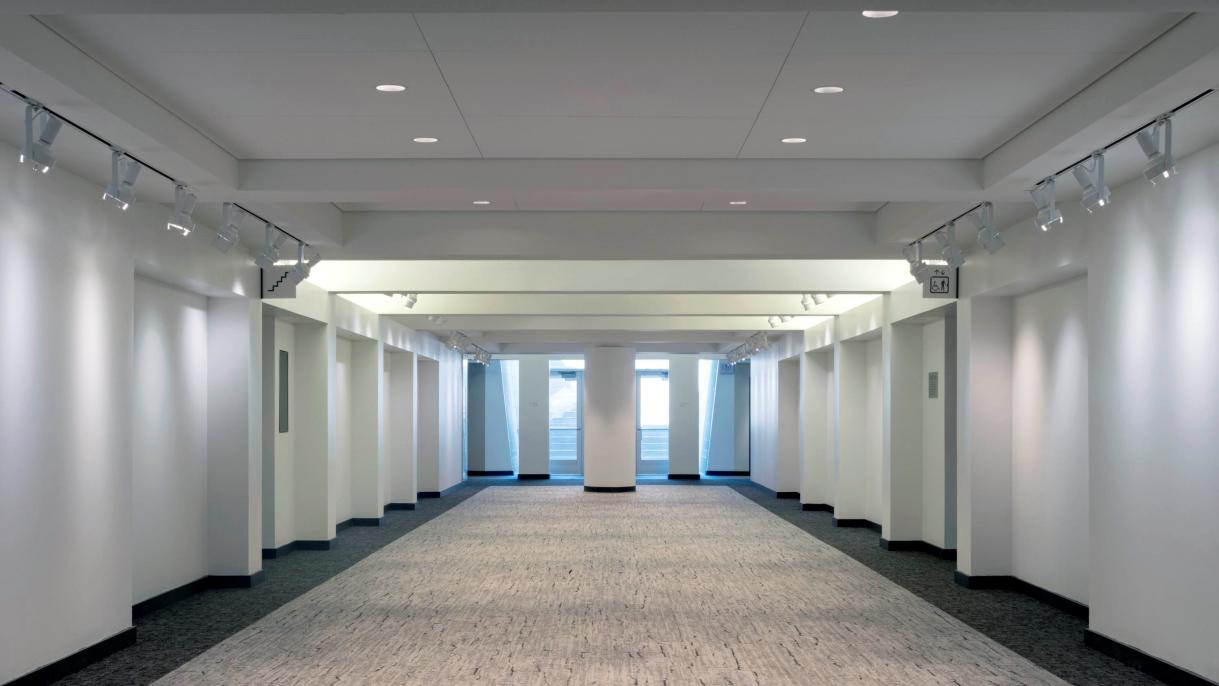 Bernstein Gallery
About the Gallery
The School's Bernstein Gallery is dedicated to art exhibitions that stimulate thinking about contemporary policy issues. Each year, the gallery presents curated shows to Princeton University students, faculty, staff, and the community at large. The exhibitions are complemented by receptions and panel discussions with artists, experts from Princeton University, the School, and outside organizations. Integrated with the School's multidisciplinary approach, the goals of the gallery over the last 15 years have been to enhance the impact of the course curriculum and to deepen people's commitment to the ideals of public service.
Hours & Information
The gallery is located in Robertson Hall's Bernstein Lobby, which memorializes Marver Bernstein, the School's first dean, and his wife, Sheva.
Due to Covid-19, campus buildings including Robertson Hall are closed to the public and accessible to faculty, staff and students by card access or key only.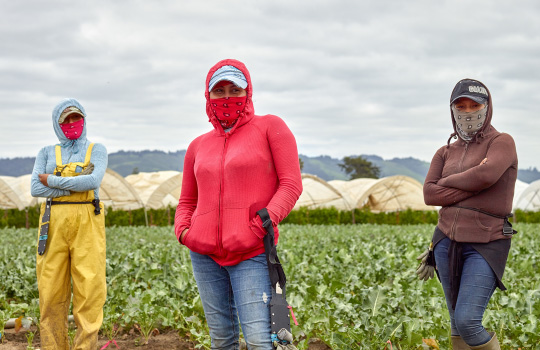 Wesaam Al-Badry: Essential Work
On view March 14–May 25, 2022
Since April 2020, Wesaam Al-Badry has documented the lives of essential agricultural workers and their families in California's Central Valley and Salinas Valley. These areas represent the fertile heart of California agriculture, where farmworkers harvest over a third of the vegetables and 40% of the fruit and nuts grown in the United States. 
The COVID-19 pandemic has exacerbated the vulnerabilities of these farming communities already hard-hit by housing shortages, food insecurity, unsafe working conditions, and the threat of deportation. Critical to feeding the country, California farmworkers were designated essential workers by Governor Newsom in March 2020. At least half—some advocates estimate up to 75%—of the state's more than 400,000 farmworkers are undocumented. Despite facing high risks of contracting the virus while working, farmworkers without legal immigration status are excluded from federal pandemic relief, paid sick leave, and unemployment programs.
Al-Badry's photographs reveal the "real people with hopes and fears" behind the fresh fruits and vegetables on our tables. During some forty visits over the past two years and in hours of recorded interviews, Al-Badry developed ongoing relationships with the people he met, visiting them at home, in their communities, and at work in California's fields, orchards, and nut processing plants. This exhibition includes excerpts of audio interviews as well as ambient soundscapes from the fields. Together, the photographs and recordings convey resilience, empathy, and human dignity, three qualities the artist aims to foreground in all of his work.
Biography
Wesaam Al-Badry (b. 1984, Nasiriyah, Iraq) is an investigative, multimedia journalist and interdisciplinary artist working with themes related to refugees, labor, migration, war, and technology. His approach to photography is informed by his own childhood experience as a refugee. Al-Badry and his family fled the war in Iraq in 1991 and, after four and a half years in a refugee camp in Saudi Arabia, were eventually relocated to Lincoln, Nebraska. He has worked for global media outlets, including CNN and Al-Jazeera America. Photographs from this ongoing project have appeared in the New York Times, the Washington Post, Rolling Stone, Mother Jones, and The Nation. Al-Badry received a Bachelor of Fine Arts in Photography from the San Francisco Art Institute, and a Master of Journalism from the Graduate School of Journalism, University of California, Berkeley.
---
Wesaam Al-Badry Artist Conversation with Leydy Rangel, UFW Foundation, and Sandra Valdez, Farmworker
Monday, March 14, 4:30pm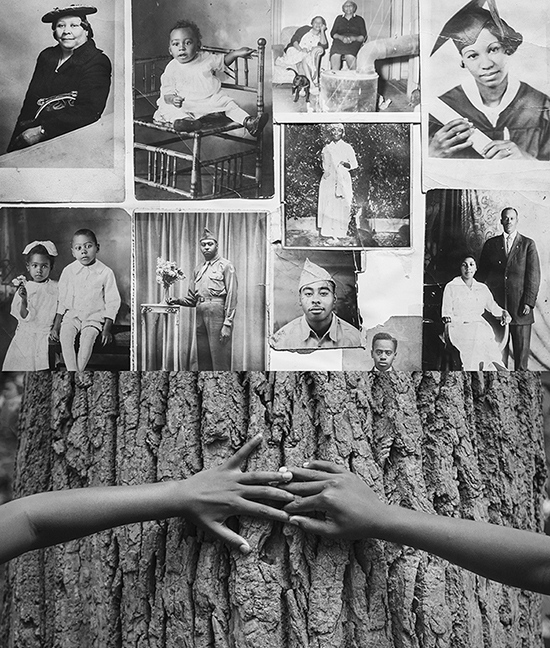 Photo Requests from Solitary: What Would Someone in Solitary Confinement Want to See?
January 10–March 9, 2022
Photo Requests from Solitary invites people in solitary confinement to request a photograph of anything at all, real or imagined, and then finds volunteers to make the images. The resulting photos are an archive of the interests, memories, and daily thoughts of people who live in extreme isolation.
The project has worked with incarcerated people and volunteer artists in California, Illinois, New Jersey, New York, and Pennsylvania. More than 200 requests and sample photos can be found on the project's website, and anyone can fulfill a request at photorequestsfromsolitary.org.
Solitary confinement is the practice of isolating people in prison from human contact. Individuals in solitary rarely leave their cells, except to shower or exercise alone, usually in a concrete pen or a cage. Food is pushed through a slot in the cell door. There are no communal activities. Phone calls and visits are prohibited or severely restricted. This isolation and sensory deprivation can cause severe psychological and neurological damage, and solitary confinement is widely considered to be a form of torture.
The United States currently holds at least 80,000 people in solitary confinement, although there is no evidence that it makes prisons safer. People of color, young people, and people with mental illness are especially likely to be held in solitary. They are placed there solely on the authority of prison officials. More information on solitary confinement can be found at solitarywatch.org.
Image credits: (left) Robertson Hall; Historical Photograph Collection, Grounds and Buildings Series, AC111, Princeton University Archives, Department of Special Collections, Princeton University Library; (center) © Nic Lehoux; (right) Alan Chimacoff, Robertson, Fisher-Bendheim, Stimson Halls, 2020. www.chimacoff.com
"Speak to all people in dignity and beauty": A History of Robertson Hall, 1961–2021
September 20–January 7, 2022
This exhibition surveys the history of Robertson Hall, home of the Princeton School of Public and International Affairs, from the building's commission in 1961 to its reopening in fall 2021 following an extensive renovation.
Robertson Hall was conceived as the centerpiece of an ambitious expansion of the School's curriculum and mission, made possible by a generous $35 million gift in 1961 from Charles S. Robertson ('26) and Marie H. Robertson. Completed in 1965, the building was designed by Japanese-American architect Minoru Yamasaki (1912–1986), who is best known as the architect of the former World Trade Center. The recent renovation by KPMB Architects, Toronto, respects the original character of this architectural icon while keeping an eye on the future, prioritizing environmental sustainability and expanding the flexibility of its redesigned spaces.
The exhibition includes materials drawn from the Princeton University Archives, as well as photographs by architectural photographers Balthazar Korab, Nic Lehoux, and Alan Chimacoff.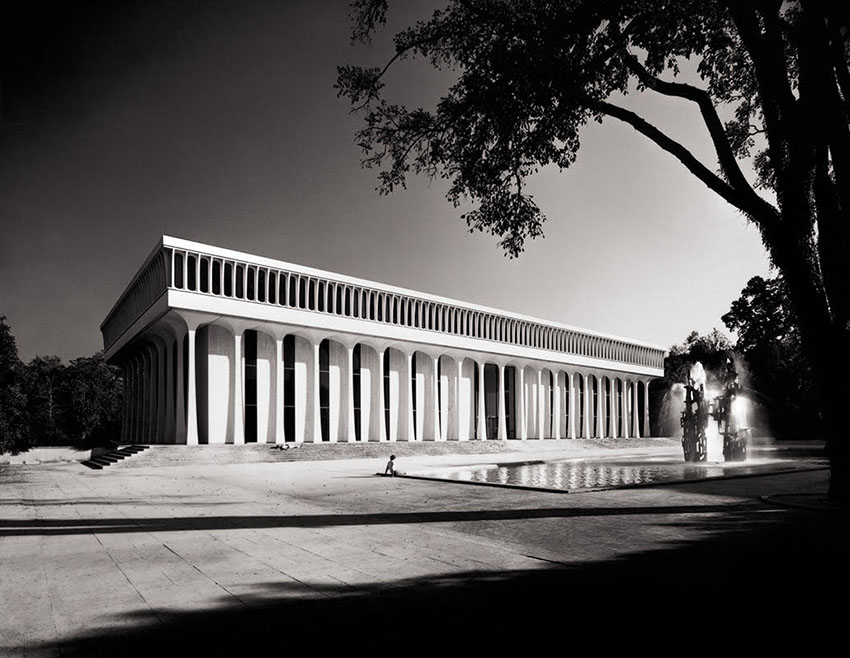 Bernstein Gallery Retrospective
Flip through 15 years of political art that's been on display at the gallery. This retrospective collection was published in February 2017. 
 
---
Header image credit: © Nic Lehoux