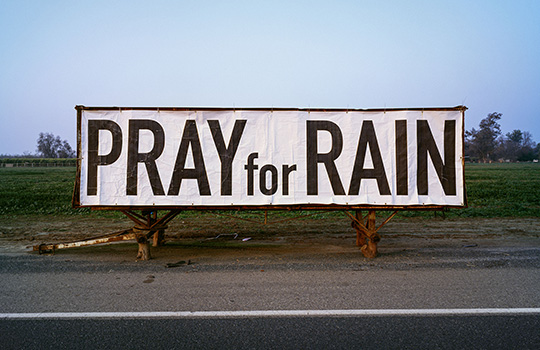 Date & Time
Sep 28 2022
4:30 PM - 6:00 PM
Speaker(s)
Mark Arax
Kathy Jefferson Bancroft
Barron Bixler
Audience
Open to the Public
Join us for the opening of Barron Bixler: Watershed, Bernstein Gallery's inaugural exhibition of our 2022­–23 season.
Taking Bixler's photographic project about water in California as a springboard, this conversation will examine how water has indelibly shaped the Golden State's landscape, politics, economy, and culture for more than a century. Designed to move more water than has ever been moved by any civilization in history, California's massive water system has had both far-reaching and hyperlocal consequences. Join us to hear powerful perspectives on the communities, ecosystems, cultural resources, and sacred sites that are being threatened by a system at its breaking point.
Bernstein Gallery is located on the lower level of Robertson Hall. The conversation with Mark Arax, Kathy Jefferson Bancroft, and Barron Bixler, which will be moderated by Bernstein Gallery curator Kristin Poor, will be held in Robertson Hall Bowl 016, adjacent to the gallery. Arax and Bancroft will be joining this event virtually.
Speakers
Born and raised in the traditional and unceded homeland of her ancestors, the Nüümü and Newe, Kathy Jefferson Bancroft now serves her community as the Tribal Historic Preservation Officer for the Lone Pine Paiute-Shoshone Reservation. Kathy was born in the town of Lone Pine, California, where she attended school and spent her summers in the backcountry of the Sierra Nevada with the family pack outfit. Leaving her home to attend high school made Kathy realize how much she valued the land in which she grew up. She raised two sons and later went back to school to earn degrees in Chemistry and Biology. Above all, Kathy values the traditional knowledge she holds. She appreciates that her connection to her people and this place is what has allowed her to educate those who will listen, inspire new thinking based on ancient wisdom and ultimately protect Payahuunadü.
Barron Bixler is a social-environmental documentary photographer, writer, and designer. Set out in stark, unflinching images, Bixler's photographic work explores marginal landscapes and marginalized communities, vernacular architecture, and built environments. He is a founding member of the Los Angeles-based arts collective Project 51, which was awarded a major grant by ArtPlace America for its project Play the LA River. His photographs have been exhibited at the Fresno Art Museum, Fresno; the University of California, Santa Barbara; 18 Reasons Gallery, San Francisco; and the University of Oregon, Eugene. Bixler lives in Princeton, NJ, and holds an appointment as Art and Media Specialist at Princeton University's High Meadows Environmental Institute. A self-taught photographer, he holds a Master of Arts in English from the University of Victoria.
---
Image credit: Barron Bixler, Roadside Sign, Highway 65, South Valley Floor Watershed, 2022. barronbixler.com