Aug 18 2023
Source
Princeton School of Public and International Affairs
It has been a summer of transition for SPIA's prestigious Scholars in the Nation's Service Initiative.
After seven influential years as co-directors, Kathryn Lunney and Frederick Barton retired at the end of July. Last month, Dean Amaney Jamal named Gregory B. Jaczko the program's new director.
"Greg's longtime engagement in Washington, D.C., and his enthusiasm for working with SPIA students make him an outstanding choice to head SINSI," Jamal said in announcing the appointment.
Jaczko served SPIA as a lecturer of public and international affairs for the last five years. An internationally recognized energy policy leader, he previously chaired and served as principal executive officer of the U.S. Nuclear Regulatory Commission, advised the White House and Congress on nuclear power and safety matters, and helped to lead the U.S. response to the Fukushima nuclear power plant accident in Japan.
The founder and CEO of Maxean, a clean-energy development company, Jaczko has also taught at Georgetown University and the University of Wisconsin. He is the author of "Confessions of a Rogue Nuclear Regulator," which Science predicted would "become standard reading as an antinuclear book."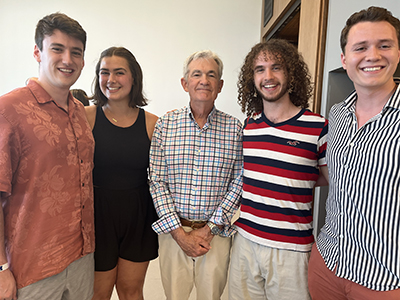 "I am honored to lead the SINSI program," Jaczko said. "Through SINSI I will have an opportunity to work with talented, dedicated students interested in public service. That was an opportunity I could not pass up. As someone who started his government career through a fellowship, I understand how a program like SINSI can lead to a challenging and rewarding career in public service."
Lunney and Barton's tenure as co-directors comprised nearly half of the program's 16 years. She is a former deputy general counsel at the U.S. Department of Commerce, while he served as the UN's Deputy High Commissioner for Refugees, as U.S. Ambassador to the UN's Economic and Social Council, and as the first Assistant Secretary of State for Conflict and Stabilization Operations. Their deep ties in Washington, D.C., were invaluable in opening doors to SINSI fellows and interns, who have served in more than 40 U.S. government entities. Such broad-based influence and access give them opportunities to interact closely and meaningfully with officials in the highest level of the federal government.
"Watching people who are smart and committed to service have these breakthrough moments in their careers has been terrific," Lunney said. "Because we had a small enough group, we got to see that pretty close up."
The program partners with nearly every department and agency of the federal government from the White House to the Departments of Justice, Defense, Education, Housing and Urban Development, State, and Health and Human Services; the Federal Trade Commission; USAID; and the Environmental Protection Agency.
"There's hardly an obscure agency that has not had a SINSI," Barton said.
SINSI's on-campus community also saw significant growth under their leadership. Princeton majors in SINSI now come from SPIA, computer science, engineering, environmental studies, economics, history, sociology, languages, and more.
"Through their productive partnership" Jamal said, "they helped to grow and nurture a community where inclusion and mutual support are exemplars for public service here at Princeton and beyond."
Jaczko praised his predecessors for building such a strong foundation.
"Because of the work of Kit Lunney and Rick Barton, I have inherited a strong program," he said. "My number one goal is to maintain those strengths: high undergrad and graduate interest, engaged community, and exciting and meaningful placements for SINSI students. As I gain experience leading the program, I look forward to working with SPIA leadership to make it even more successful."
"Working with the students is clearly the reason for doing this," Barton said. "Connecting them to all kinds of places they have an interest in but don't know that much about. Our community has grown in a wonderful way, with a real sense of public service commitment."
Lunney and Barton noted that policy immersion is only a part of what makes the SINSI experience so valuable. Talent only goes so far, said Barton, noting, "You have to make the most of every day," and Lunney emphasized the importance of simple human decency.
"Help anybody you can," she said she told SINSI participants. "You got a big leg up. Pass it on. Treat everyone with dignity and respect. It's the right way to operate in the world."