Jun 13 2023
By
Zoë Gorman and Manasi Bose
Scholars Meet in Bogotà for "Cracking Crime and Violence With Data" Conference
Last month, for the first time, SPIA's Empirical Studies of Conflict (ESOC) project convened a conference in Latin America, gathering in Bogotá, Colombia, for more than a dozen presentations of working papers on conflict, crime, state legitimacy, political participation, and migration employing experimental studies, empirical data, and formal models.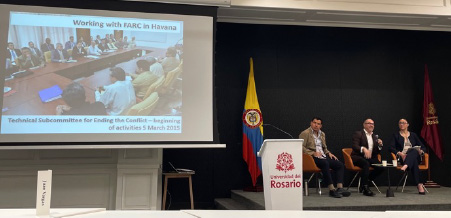 The location of the gathering was intentional. The Colombian peace process stands out in the policy and academic literatures as a successful multilateral and inclusive peace effort.
Each academic presentation tackled issues relevant for policy interventions in peacebuilding and statebuilding, with rigorous methodology and was followed by formalized discussant comments and a group panel to answer participant questions. Three additional policy forums looked closely at peacebuilding processes, security sector reform and development across Latin America, with a special focus on the aftermath of the 2015-2016 peace negotiations with the Revolutionary Armed Forces of Colombia (FARC).
"What is going to bring Pax Total to Colombia is to have a lot of local development and state capacity with a monopoly over violence," said Juan Vargas of Universidad del Rosario, who hosted the event with ESOC Co-Director Ethan Kapstein.
"By bringing academics and policymakers together to work on hard problems, we hope to advance both scholarship and conflict mitigation," Kapstein said.
The policy panels featured comments from Lina Valencia, director of government, human rights and peace in the National Planning Department of Colombia, as well as Vargas, Omar Cortés of Control Risks, and representatives from Innovation for Poverty Action, the Irregular Warfare Institute at West Point, and the Abdul Latif Jameel Poverty Action Lab at MIT.
Cortés noted that the peace process represented a "ripe" moment for the FARC – an allusion to William Zartman's ripeness theory – which wanted to end the violence, but not necessarily for other groups such as the National Liberation Army, which increased attacks on village officials in the aftermath of the Havana accords. He added that the United Nations Tripartite Monitoring and Verification Mechanisms offered a double guarantee to the negotiating parties to uphold the ceasefire agreement and continue disarmament processes, while active participation from the armed forces lent credibility to addressing conflict root causes and implementing solutions.
"The [Colombian] military showed their commitment, professionalism, and the real will to move on," Cortés said.
The academic workshops facilitated discussion on refining empirical methods, improving experimental design, verifying robustness of results, and generating ideas for future research. The Bogotá meeting also fostered opportunities for Ph.D. students and junior researchers to present work and to collaborate on papers from established research teams.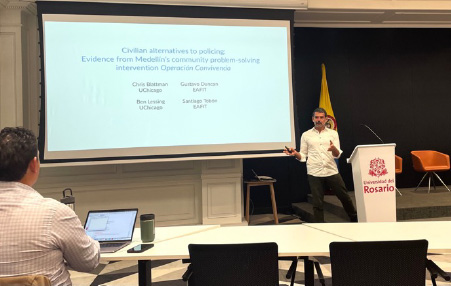 During these workshops, researchers attempted to explain puzzling results from statistical surveys such as continued support for military policing despite significant human rights abuses (Michael Weintraub, Universidad de Los Andes) and the lack of improvement in state trust in light of municipal government outreach efforts (Benjamin Lessing, University of Chicago). Most papers focused on Colombia, or Latin America more broadly, but the conference also featured a paper on seasonal labor flows in Afghanistan (Xiao Hui Tai, University of California at Davis) and one on attitudes towards refugees in Uganda (Thomas Ginn, Center for Global Development).
Christopher Blair, an assistant professor of politics at Princeton, workshopped an ongoing project looking at socioeconomic and political outcomes of land restitution in conflict-affected areas in Colombia. His proposed research design employed a staggered differences-in-differences approach combined with a regression discontinuity design for treatment eligibility determined by a security risk index to examine land restitution as a state-building enterprise at the municipal level. The broader Princeton team included Kapstein and Ph.D. candidates and contributing writers Zoë Gorman of SPIA and Manasi Bose of the Department of Politics.
The Colombia conference took place at the Universidad del Rosario in Bogotá and was supported by the School of Public and International Affairs and the UC Institute on Global Conflict and Cooperation. ESOC will next convene in October in Washington, D.C., at SPIA's new offices off Dupont Circle.