Professor Julian E. Zelizer, a devout member of the Jewish community, published a new biography, "Abraham Joshua Heschel: A Life of Radical Amazement," which tells the story of Rabbi Heschel, a Polish-born American rabbi, theologian, and civil rights and anti-war leader.
Zelizer, the Malcolm Stevenson Forbes, Class of 1941 professor of history and public affairs, is the son of Rabbi Gerald Zelizer, a religious leader emeritus who served 45 years as the rabbi for the Congregation Neve Shalom in Metuchen, New Jersey. His grandfather, Nathan Zelizer, was a rabbi in Columbus, Ohio.
Julian Zelizer's newest book tells the story of Heschel's life from childhood to death, detailing his position at the intersection of religion and progressive politics in mid-20th-century America. A known symbol of marriage between religion and social justice, Heschel "dedicated his career to improving the human condition through faith," Julian Zelizer said.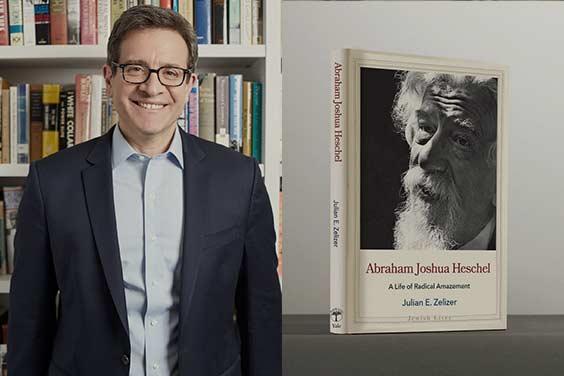 Heschel grew up practicing Hasidism, a spiritual revival movement in contemporary Western Ukraine in the 18th century. Many in the community of his upbringing, along with numerous members of his family, were among those killed in the Holocaust. The silence of bystanders during that time motivated Heschel's activism and involvement in civil rights, Soviet Jewry, and anti-Vietnam War movements. His voluminous publications in the 1940s and 1950s pointed him to seeing the connection between living a pious life and participating in political struggles.
To this day, Heschel remains a symbol of the fight to make progressive Jewish values relevant in the secular world.
Julian Zelizer has authored and edited more than 20 books, including his 2020 "Burning Down the House: Newt Gingrich, The Fall of a Speaker, and the Rise of the New Republican Party" which was named an Editor's Choice and one of the 100 Notable Books in 2020 by The New York Times.
This biography is part of Yale University's Jewish Lives Series, "a prize-winning series of biography designed to explore the many facets of Jewish Identity." It will be available for purchase from Yale University Press on Oct. 26.
Zelizer chatted with Sam Wang about the book in this episode of Politics & Polls: