Dear SPIA Community,
We have a new addition to Robertson Hall! Dodds Atrium is the temporary home for artist Mario Moore's new painting, "The Great Reckoning," on long-term loan from the Popkin Family through the Princeton University Art Museum. I'm excited that SPIA is displaying this powerful work, which visitors to our flagship building cannot miss.
Moore, who also created portraits of Black workers across Princeton's campus during his time as a 2018-19 Hodder Fellow at the Lewis Center for the Arts, created "The Great Reckoning" to engage with the national conversation on race in the present and to contend with the legacy of the past. I believe this powerful piece speaks to the complexities involved in examining our collective past, present, and future — a fitting work of art for a policy school dedicated to open dialogue on communal challenges. Moore, a native of Detroit and a rising name among American artists, furthers Princeton's priorities of diversifying the artists and subjects represented on campus.
Save the date to join us for a talk and reception with Moore on Thursday, Sept. 22, 4:30 p.m. ET, in Arthur Lewis Auditorium. The piece already is generating conversation, and we encourage all to come hear the artist's interpretation of its meaning.
Learn more about "The Great Reckoning" below! If you have not already visited the painting in Robertson Hall, I hope you will do so soon.
Warmly,
Amaney
---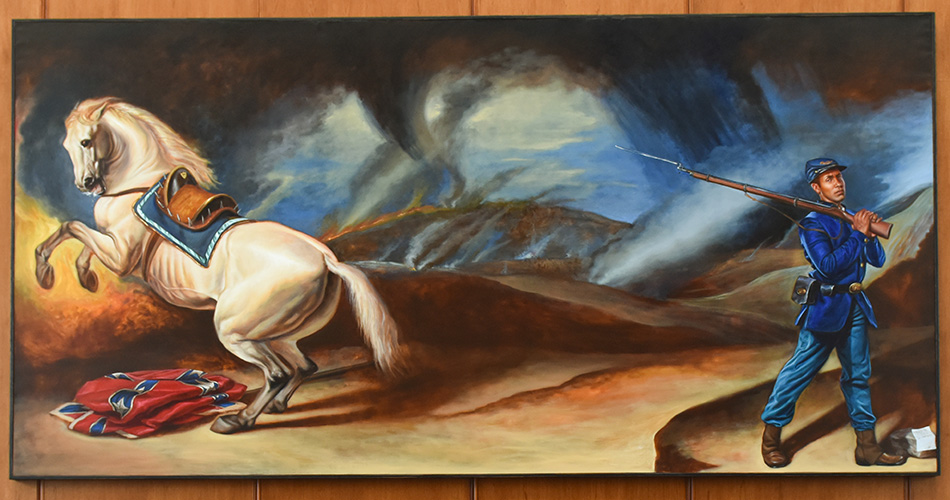 Mario Moore's "The Great Reckoning"
"The Great Reckoning" depicts Mario Moore's third-great uncle, Thomas Moore, who fought in the Civil War. A parchment inscribed with Frederick Douglass' 1863 words imploring his fellow Black men to take up arms in service of the Union Army lays at Moore's feet, a counterpart to the Confederate flag under the horse's hooves. The U.S. flag on the horizon signals the promise of a unified nation.
From the Princeton University Art Museum: "The scale and virtuosic brushwork of this monumental canvas set it in the grand tradition of history paintings that stage events from the past as moralizing epics. Here, the artist invites viewers to consider the racial and regional divisions and contested histories that link our individual and collective pasts and present."
Mario Moore (born 1987, Detroit, MI; active Detroit), The Great Reckoning, 2020–21. Oil on linen; 259.1 × 518.2 cm, 100 lb, 264.2 × 523.2 × 7 cm (frame). Lent by The Popkin Family (TC2022.34). (Photo credit: Egan Jimenez, Princeton University)