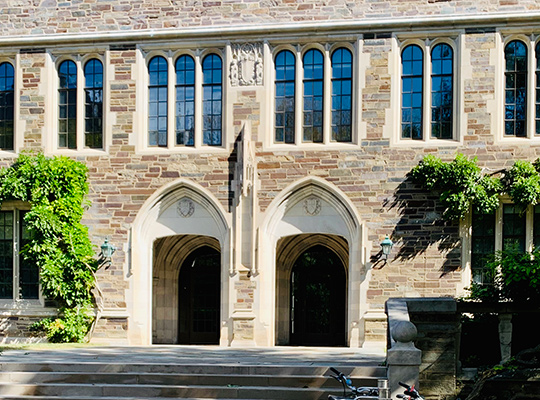 Oct 02 2020
By
Graduate Admissions Office
Hello, everyone! Now that the Princeton University Graduate Application Portal has gone live, our office has received a new round of questions about our application process. Many of these questions are often repeated by applicants who consider joining our community. Our team has compiled a list of these common questions to help you with the application process. Here are some of the most frequent:
Does SPIA require specific undergraduate coursework or have preferred undergraduate majors for applicants?
Our School does not have prescribed undergraduate majors or require specific academic coursework for admission into SPIA. We do look for some type of quantitative baseline, and many successful candidates come with exposure to or familiarity with economics, statistics, or college level math. As with policy development and analysis, quantitative coursework is featured throughout our core curriculum. Having quantitative coursework in your background will serve to further enhance your preparation for our policy degrees.
Will pursuing additional coursework help to supplement my application? If so, where should I take them?
If you feel there are gaps in your academic preparation, you can consider taking additional coursework. Some applicants will pursue coursework at a local community college or another accredited institution. Although not required, this additional academic preparation can help strengthen your application. If you plan to pursue additional coursework, check out the Database of Accredited Postsecondary Institutions and Programs to find an accredited institution. Share any current or anticipated coursework when submitting your application.
Does SPIA still require the GRE, in spite of the challenges presented by COVID-19?
After careful consideration across our community, we made a few amendments to our GRE requirements for the 2020 application cycle. In brief:
The GRE is required for MPA applicants, as the exam may provide evidence of quantitative ability that may not be evident in other aspects of an applicant's file.
GRE scores are optional for MPP applicants because there is no core curriculum. Our MPP admissions process emphasizes leadership, work experience, and professional trajectory.
Applicants into our PhD program are not required to provide GRE scores. The PhD application review centers on academic coursework, scholarly research and professional work experience, as well as fit with our faculty's research expertise.
The GRE is but one aspect of a file. It is neither determinative in granting admission nor discounting in our process.
Considering the limited opportunities to schedule a GRE exam due to shuttered testing facilities, can I submit my application without GRE scores?
You can submit your application without GRE scores, but it will remain incomplete until all components are received. Our admissions committee will not review an application until all required components are received. If you have to submit your application without GRE scores, please include an explanation detailing the delay and your anticipated test date.
You can schedule to complete the GRE from your own home. The Educational Testing Service is offering the GRE General Test at Home every day through December 31, 2020.
Does SPIA require a minimum GPA for admission?
SPIA does not have a minimum GPA requirement for admission into our graduate programs. We have small class sizes, so admission is competitive. For an overview of the average academic profiles within our MPA, MPP, and PhD admits, please review our Graduate Admissions Viewbook.
What type of work experience does SPIA value for its MPA, MPP, and Ph.D. programs?
Our MPA and Ph.D. programs do not officially require work experience, but both programs highly value at least two years of full-time work experience, preferably within the public sector. We believe this work experience helps influence your worldview and policy interests. Some students do earn their admission with limited work experience, but most often these students are affiliated with a program that mandates enrollment in the year the award was given, like the Pickering or Rangel fellowships.
SPIA's MPP program is designed for mid-career professionals who are rising leaders in domestic and international public policy. There is a strict requirement of at least seven years of full-time professional work experience, generally with upward progression, with evidence of commitment to public service and a clear leadership trajectory or a path to one.
For more information, we encourage you to review our Graduate Admissions Viewbook. There you will find that most admitted MPA and Ph.D. students have worked at least three years, while nearly half of MPPs have at least ten years of public sector, full-time work experience.
Does SPIA offer part-time or fully virtual graduate programs?
No. Each of our graduate programs is full-time and residential. However, in compliance with state health regulations during COVID-19, Princeton University is offering a hybrid model of online and in-person courses.
Does SPIA offer Spring semester matriculation?
No. SPIA does not offer Spring matriculation. All SPIA graduate programs begin with a summer component that predates the fall semester.
Are international students required to assess English proficiency through the TOEFL or IELTS? If so, are there score minimums required for admission?
All applicants whose native language is not English are required to take either the TOEFL or IELTS. In accordance with the Graduate School at Princeton University, "The only exemption for this requirement is if the native language is not English, but the applicant has or will have studied for a minimum of three years towards a bachelor's degree or a Ph.D. in the United States, the United Kingdom, Ireland, Australia, New Zealand, or Anglophone Canada before enrollment."
Receiving a bachelor's degree in a country that lists English as an official language such as India, Pakistan, the Philippines, Hong Kong, Nigeria, or Singapore does not exempt an applicant from the English language proficiency requirement. You can find more information about our requirements by visiting the Graduate School's website.
Princeton requires a minimum score of 100 IBT for the TOEFL and 7.0 for the IELTS.
As a result of COVID-19, my undergraduate course grades have been converted to pass/fail. Will this have a negative impact on my application?
We completely understand the challenges this pandemic has placed upon academia and the grading system. At Princeton, some courses have also offered the pass/fail option. We will not penalize applicants for pass/fail grades earned during the pandemic. We will evaluate your entire transcript to gain a holistic understanding of your academic profile when reviewing your file for admission. Be mindful that your transcript is only one part of our holistic review of applicants. We also take into consideration your exhibited commitment to public service, work experience, GRE scores, letters of recommendation, and leadership trajectory. A GPA is only one portion of your application.
We encourage you to continue reaching out with your questions. Whether through a phone call, email, or during our weekly virtual admissions presentations, please let us know if we can support you throughout the admissions process. From all of us here, thank you for your interest in our community. We wish you good health and peace!