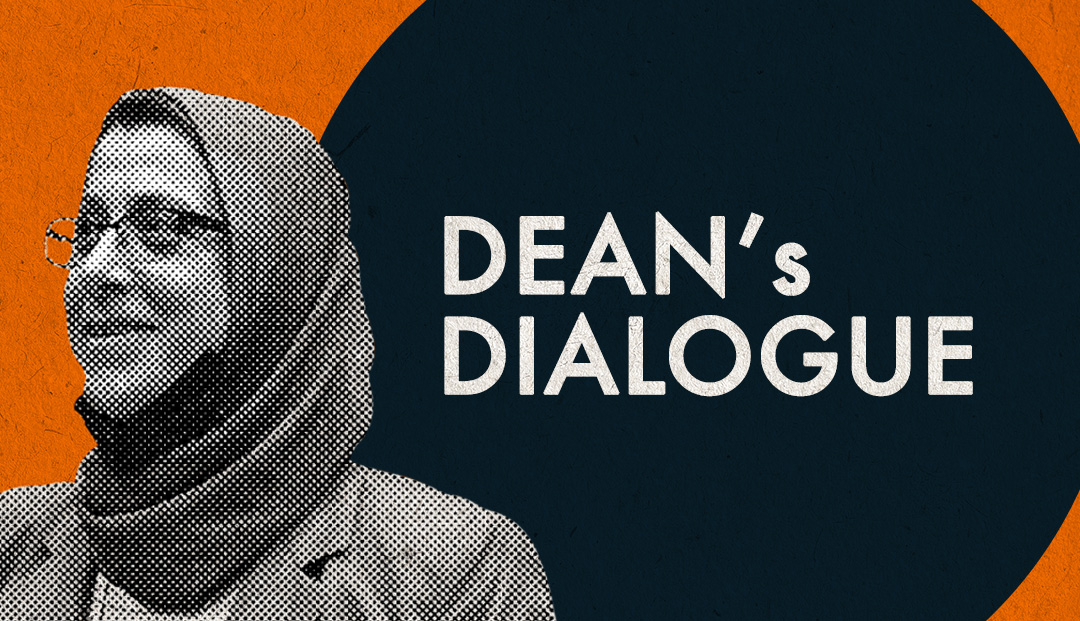 Dear SPIA friends,
Coming on board as SPIA's new dean, I was excited to learn I already have a space for communicating with you — right here through the Dean's Dialogue. I'll be using this forum to share updates on where the School is going, reflections on where we have been, and thoughts on the world's biggest social and policy challenges, which we, as a premier institution, have an obligation to address. I wish to engage in a dialogue, so I hope you'll share your comments, suggestions, questions, and concerns.
At SPIA We Serve
It's a beautiful time of year at Princeton, where we've nearly concluded a half semester with the full University community back on campus. I'm incredibly fortunate to have exceptional leaders by my side during such an invigorating time at the School.
Recently, Vice Dean Miguel Centeno accepted our invitation to continue his administrative leadership as executive vice dean, and Nolan McCarty, who previously served as interim dean, has been appointed vice dean for strategic initiatives. Nolan is charged with leading a strategic planning process, which will outline SPIA's goals, priorities, and associated initiatives for the next three to five years. (By the way: If you'd like to learn more about what we achieved during the 2020-21 academic year, I encourage you to explore our first-ever digital annual report! I'm proud we have transitioned to a digital format given SPIA's commitment to the environment and sustainability.)
Looking Ahead: Strategic Planning Process
Moving forward, it's my goal that our School will continue to be renowned and globally regarded for our excellence in research and the impact of our scholarship on public policy. Beginning in fall 2022, and under Nolan's guidance, our strategic planning will focus on five core initiatives:
 
Bolstering our efforts on internationalization, enhancing our global footprint both at home and abroad.
Elevating our position and visibility in policymaking within the U.S. and around the globe. We have remarkable intellectual talent at SPIA! We will enhance our strategies for communicating research to inform policymaking at all levels of governance. Alongside this goal, we will also augment the public policy training we provide for our students.
Dedicating the requisite time and effort to build on our diversity, equity, and inclusion (DEI) initiatives. Every student that comes to SPIA should feel like this is their home.
Ensuring SPIA is at the cutting edge in utilizing the data sciences for effective public policy.
Investing and continuing to grow our community of students, faculty, administrators, and alumni.
At SPIA We Rise
Next time, I'll share a look at several ongoing efforts related to DEI, including some that were underway before I came to SPIA. Necessary revisions to our undergraduate and graduate curriculums have been implemented or are in the works, and we're expanding the programming we offer outside of the classroom. In addition, one of my first acts as dean is to hire an associate dean for diversity, equity, and inclusion. This position — to be posted shortly — will ensure that SPIA is a welcoming space for all, and that we research and teach in ways that elevate underserved and marginalized perspectives and communities, both locally and globally.
Finally, as part of the University-wide effort to combat systemic racism, Princeton has published its first annual report highlighting DEI work during the past academic year. To read the report and watch a video message from President Eisgruber and Vice Provost Michele Minter, visit the Office of Institutional Equity and Diversity. Please stay tuned for an update on our own DEI efforts in my next blog. Sign up to make sure it lands in your inbox!
Warmly,
Amaney Jamal, Dean