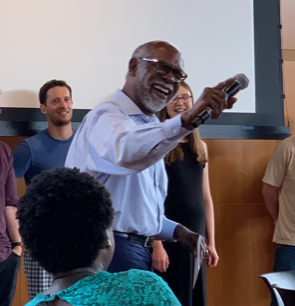 Aug 28 2019
By
Graduate Admissions Office
The final post in this three-part series. See part one here. Part two is here.
Thanks again to Alex (Massachusetts), Fran (Chile), Harrison (Canada), Henri (New York), and Taylor (Michigan) for their contributes to this blog series, and to our community while MPA students.
What was your favorite class at the School and why?
The picture is of retired Ambassador James Gadsden. He is speaking to our recently graduated Junior Summer Institute students. The MPA students who supported the JSI program and this blog series are behind him. Picture credit, Graduate Admissions Office.