Small cohorts are a hallmark of the graduate programs we offer at SPIA, allowing students to build close, supportive communities while in residence at Princeton. Every year, our graduate admissions office receives hundreds of applications from remarkable individuals around the world who are dedicated to a life of public service.
Although our cohorts are small, we seek the widest possible range of perspectives and backgrounds. At SPIA, we believe that public policy in the 21st century requires a multiplicity of voices — voices representing diverse races, ethnicities, nationalities, sexual orientations and gender identities, socioeconomic backgrounds, professional experiences, and political ideologies. Each year Director of Graduate Admissions Steven Petric MPP '17 and his team work closely with faculty, administration, and alumni to consider both the individual merits of each application, and the overall composition of the cohorts.
I'm thrilled and proud to share that the hard work of the admissions team over the last several years has led to a historic number of applicants this year, and allowed us to admit incoming MPA, MPP, and Ph.D. cohorts with the highest enrollment of Black students in the School's history. Across our degrees, more than 40% of enrolling U.S. citizens or permanent residents self-identify as people of color.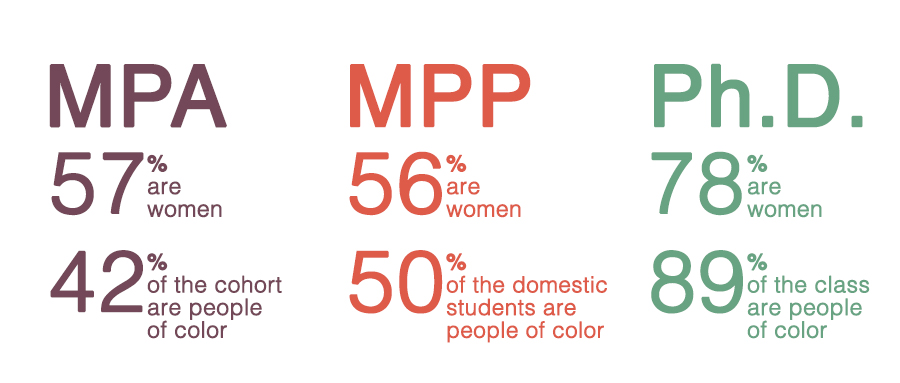 Our incoming graduate cohorts have strong LGBTQ+ representation, many first-generation and lower-income students, military members, and a myriad of other identities important to fostering a community of diverse perspectives. The admitted students hail from 24 U.S. states, 25 countries, 85 undergraduate institutions, and they collectively speak 44 different languages.
In addition, applications to our MPP and Ph.D. programs more than doubled. I look forward to welcoming 110 new graduate students in total to SPIA this summer/fall — and I know I speak for the current students, faculty, and administration when I say that we cannot wait to get to know you. We're excited for the many ways in which you'll enrich our community.