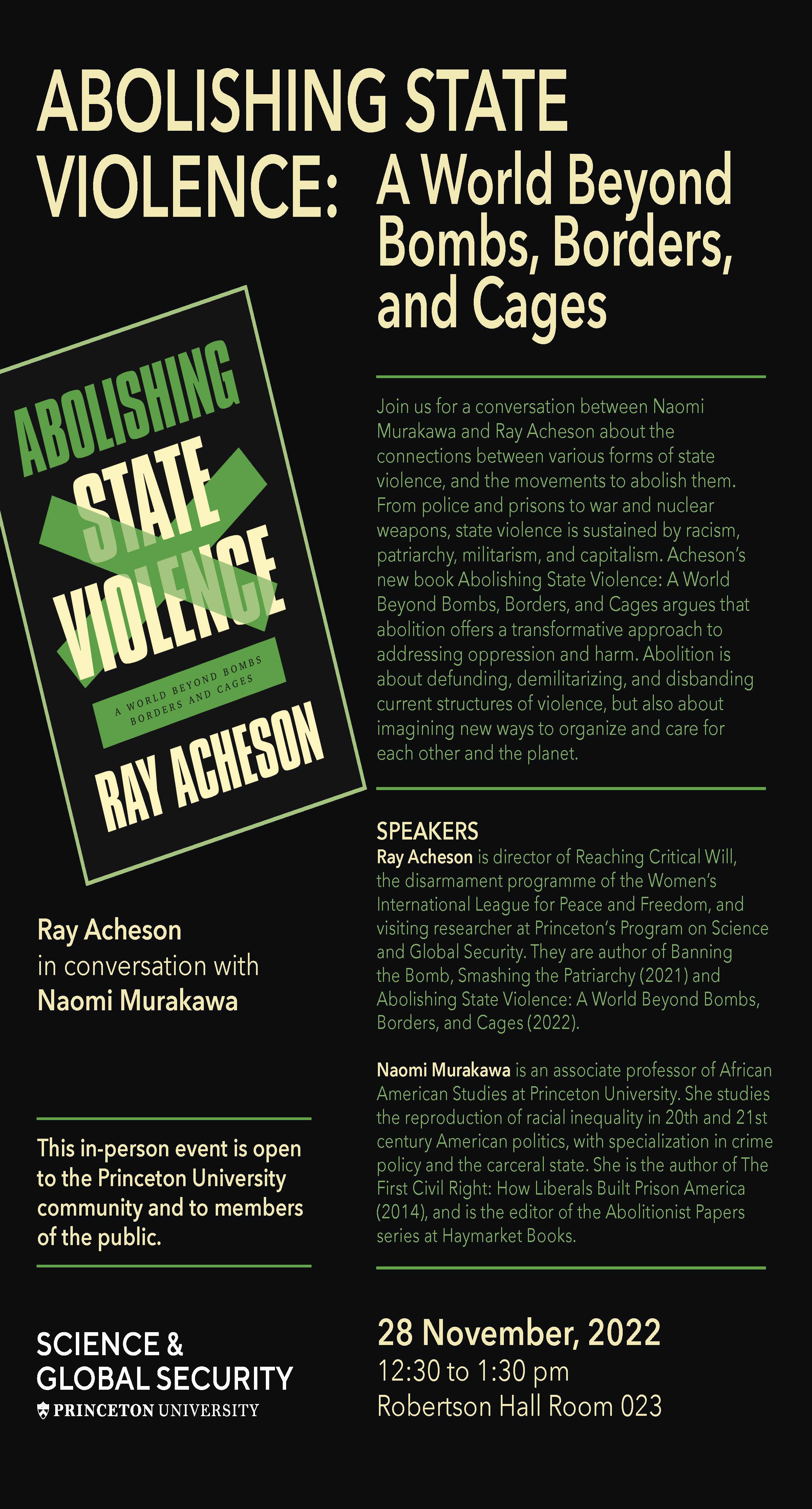 Date & Time
Nov 28 2022
12:30 PM - 1:30 PM
Speaker(s)
Ray Acheson
Naomi Murakawa
Audience
Open to the Public
Join us for a conversation between Naomi Murakawa and Ray Acheson about the connections between various forms of state violence, and the movements to abolish them.
From police and prisons to war and nuclear weapons, state violence is sustained by racism, patriarchy, militarism, and capitalism. Acheson's new book Abolishing State Violence: A World Beyond Bombs, Borders, and Cages argues that abolition offers a transformative approach to addressing oppression and harm. Abolition is about defunding, demilitarizing, and disbanding current structures of violence, but also about imagining new ways to organize and care for each other and the planet.
SPEAKERS:
Ray Acheson is director of Reaching Critical Will, the disarmament programme of the Women's International League for Peace and Freedom, and visiting researcher at Princeton's Program on Science and Global Security. They are author of Banning the Bomb, Smashing the Patriarchy (2021) and Abolishing State Violence: A World Beyond Bombs, Borders, and Cages (2022).
Naomi Murakawa is an associate professor of African American Studies at Princeton University. She studies the reproduction of racial inequality in 20th and 21st century American politics, with specialization in crime policy and the carceral state. She is the author of The First Civil Right: How Liberals Built Prison America (2014), and is the editor of the Abolitionist Papers series at Haymarket Books.
This in-person event is open to the Princeton University community and to members of the public.