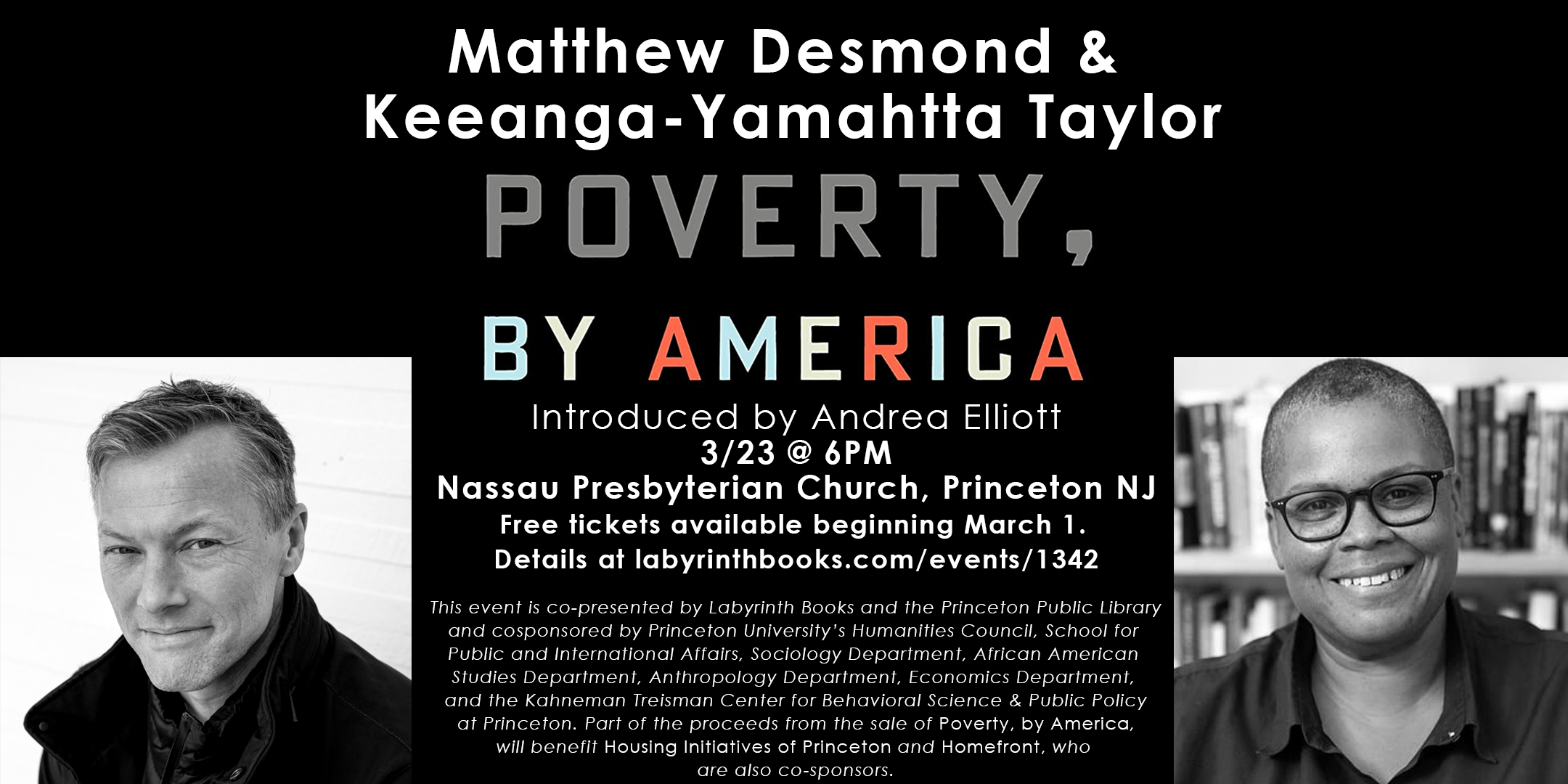 Date & Time
Mar 23 2023
6:00 PM - 8:00 PM
Location
Nassau Presbyterian Church, Princeton
Speaker(s)
Matthew Desmond
Keeanga Yamahtta-Taylor
Andrea Elliott
Audience
Open to the Public
In his new book, the Pulitzer Prize–winning author of Evicted reimagines the debate on poverty, making a new and bracing argument about why it persists in America: because the rest of us benefit from it. He is joined in conversation by fellow scholar about housing and poverty in America, author, and activist Keeanga Yamahtta-Taylor. Andrea Elliott, who won the Pulitzer Prize for her book Invisible Child, will introduce the speakers.
This event is free but ticketed. Tickets will become available on 3/1/23. Please check back here for details.
The United States, the richest country on earth, has more poverty than any other advanced democracy. Why? Why does this land of plenty allow one in every eight of its children to go without basic necessities, permit scores of its citizens to live and die on the streets, and authorize its corporations to pay poverty wages?
In this landmark book, acclaimed sociologist Matthew Desmond draws on history, research, and original reporting to show how affluent Americans knowingly and unknowingly keep poor people poor. Those of us who are financially secure exploit the poor, driving down their wages while forcing them to overpay for housing and access to cash and credit. We prioritize the subsidization of our wealth over the alleviation of poverty, designing a welfare state that gives the most to those who need the least. And we stockpile opportunity in exclusive communities, creating zones of concentrated riches alongside those of concentrated despair. Some lives are made small so that others may grow.
Desmond builds a startlingly original and ambitious case for ending poverty. He calls on us all to become poverty abolitionists, engaged in a politics of collective belonging to usher in a new age of shared prosperity and, at last, true freedom.
Matthew Desmond is professor of sociology at Princeton University. He is the author of four books, including Evicted: Poverty and Profit in the American City, and is the principal investigator of The Eviction Lab at Princeton. Keeanga Yamahtta Taylor's Race for Profit: How Banks and the Real estate Industry Undermined Black Homeownership was a finalist for the Pulitzer Prize and the National Book Award. She is the author, in addition, of From #Blacklivesmatter to Black Liberation. Yamahtta-Taylor is contributing writer at The New Yorker and professor of African American Studies at Northwestern University. Andrea Elliott is investigative reporter for The New York Times and two-time Pulitzer Prize winner, once for feature writing, and once for her book Invisible Child: Poverty, Survival, and Hope in an American City.
---
This event is co-presented by Labyrinth Books and co-sponsored by Princeton University's Humanities Council, School for Public and International Affairs, Sociology Department, Anthropology Department, Economics Department, and the Kahneman Treisman Center for Behavioral Science & Public Policy at Princeton.
Housing Initiatives of Princeton and Homefront are also co-sponsors, and part of the proceeds from the sale of Desmond's book will benefit both of these important organizations, which help the unhoused and housing insecure in Mercer County, NJ.