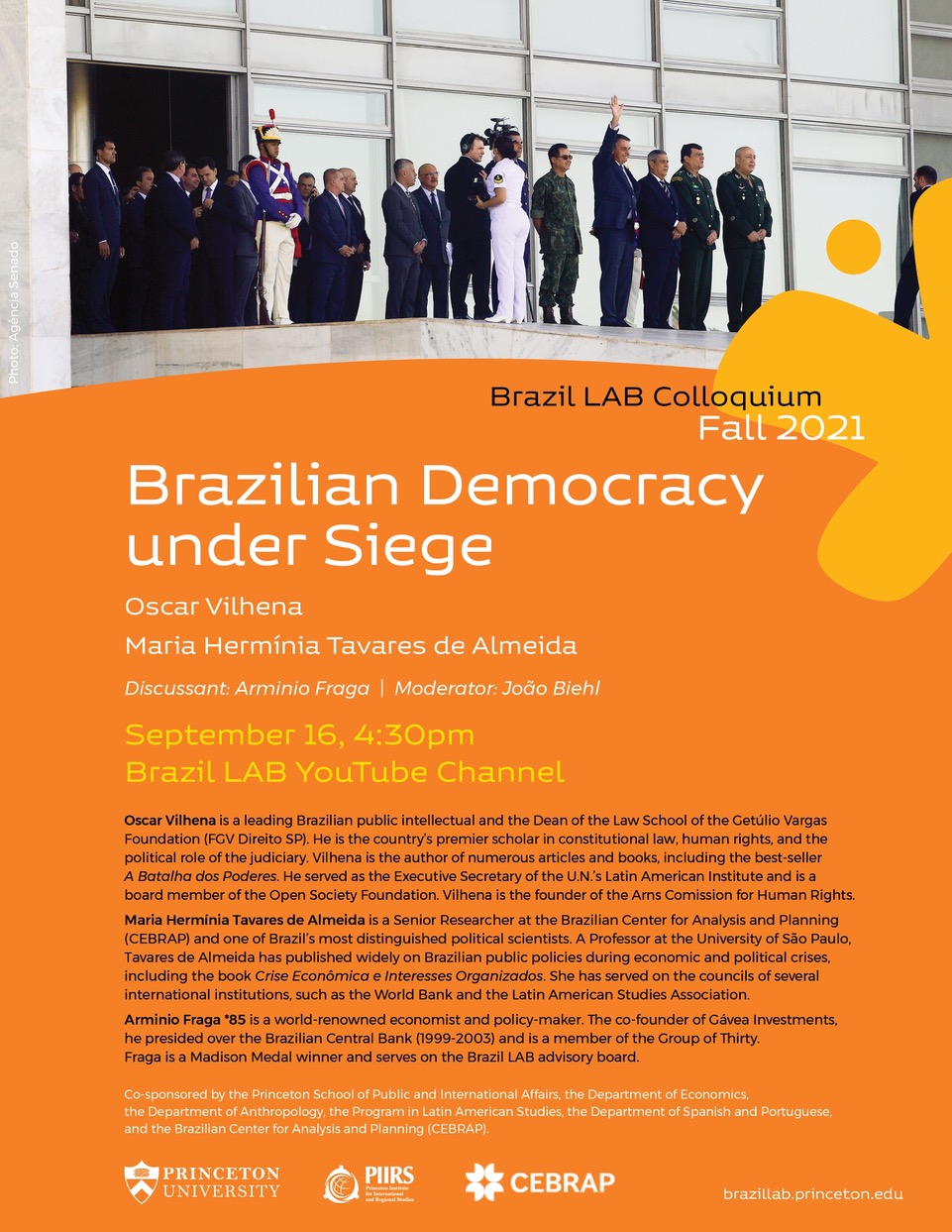 Date & Time
Sep 16 2021
4:30 PM - 6:30 PM
Speaker(s)
Oscar Vilhena
Maria Hermínia Tavares de Almeida
Arminio Fraga *85
João Biehl
Audience
Open to the Public
Moderator
João Biehl is Susan Dod Brown Professor of Anthropology and Princeton School of Public and International Affairs Faculty Associate at Princeton University, where he is the Co-Director of the Global Health Program and the Director of the Brazil LAB.
Panelists
Oscar Vilhena is a leading Brazilian public intellectual and the Dean of the Law School of the Getúlio Vargas Foundation (FGV Direito SP). He is the country's premier scholar in constitutional law, human rights, and the political role of the judiciary. Vilhena is the author of numerous articles and books, including the best-seller A Batalha dos Poderes. He served as the Executive Secretary of the U.N.'s Latin American Institute and is a board member of the Open Society Foundation. Vilhena is the founder of the Arns Commission for Human Rights.
Maria Hermínia Tavares de Almeida is a Senior Researcher at the Brazilian Center for Analysis and Planning (CEBRAP) and one of Brazil's most distinguished political scientists. A professor at the University of São Paulo, Tavares de Almeida has published widely on Brazilian public policies during economic and political crises, including the book Crise Econômica e Interesses Organizados. She has served on the councils of several international institutions, such as the World Bank and the Latin American Studies Association.
Arminio Fraga *85 is a world-renowned economist and policy-maker. The co-founder of Gávea Investments, he presided over the Brazilian Central Bank (1999-20030) and is a member of the Group of Thirty. Fraga is a Madison Medal winner and serves on the Brazil LAB advisory board.