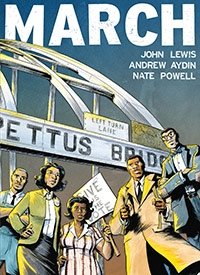 Date & Time
Sep 04 - Nov 15 2018
12:00 AM - 12:00 AM
Audience
Open to the Public
An exhibition "Civil Rights in Comics" will open at Princeton University's Bernstein Gallery in Robertson Hall on Tuesday, September 4, 2018.
The exhibit will be open from September 4 until November 15, 2018. The exhibit is free, open to the public and sponsored by Princeton's Woodrow Wilson School of Public and International Affairs.
The exhibition features two comic books: Martin Luther King and the Montgomery Story (1958), and March (2013-16), a memoir trilogy by Representative John Lewis in collaboration with writer Andrew Aydin and artist Nate Powell.
Often dismissed as pulpy entertainment, comic books are not ordinarily seen as instruments of social change. Yet comics were powerful vehicles for bringing national attention to the inequalities and violence of the Jim Crow South and for promoting principles of nonviolence during the 1950s and 1960s. Widely sold at newsstands and distributed at rallies, comicsuebhenry helped build coalitions in the early civil rights movement in the United States. Further, they continue to inspire a new generation to non-violent activism across the world.
This exhibition presents two stories of civil rights icons. One is Martin Luther King and the Montgomery Story, a comic book published by the Fellowship of Reconciliation in 1958. The other is a work it directly inspired: the award-winning graphic novel trilogy March (published by Top Shelf Productions, 2013-2016) by and about Congressman John Lewis.
The images in this exhibition illustrate how such leaders have combined forces with everyday people –riders, marchers, boycotters, sitters, protesters –to make the civil rights movement what it is. At a time when the nation continues to struggle with issues of social justice, sixty years of triumphs and setbacks can be viewed here in these two books that show a long history of suffering and resistance and a slowly shifting social order. 
---
Note: From MLK to March: Civil Rights in Comics was a show organized by Rob Rogers, president of ToonSeum, Pittsburgh's museum of comics and cartoons. Curated by art historian Dr. Sylvia Rhor and funded by the Pittsburgh Foundation, that exhibition was presented in 2016 at the August Wilson Center for African American Culture. With thanks to Rogers and Rhor, the current smaller exhibition has been directly derived from it.