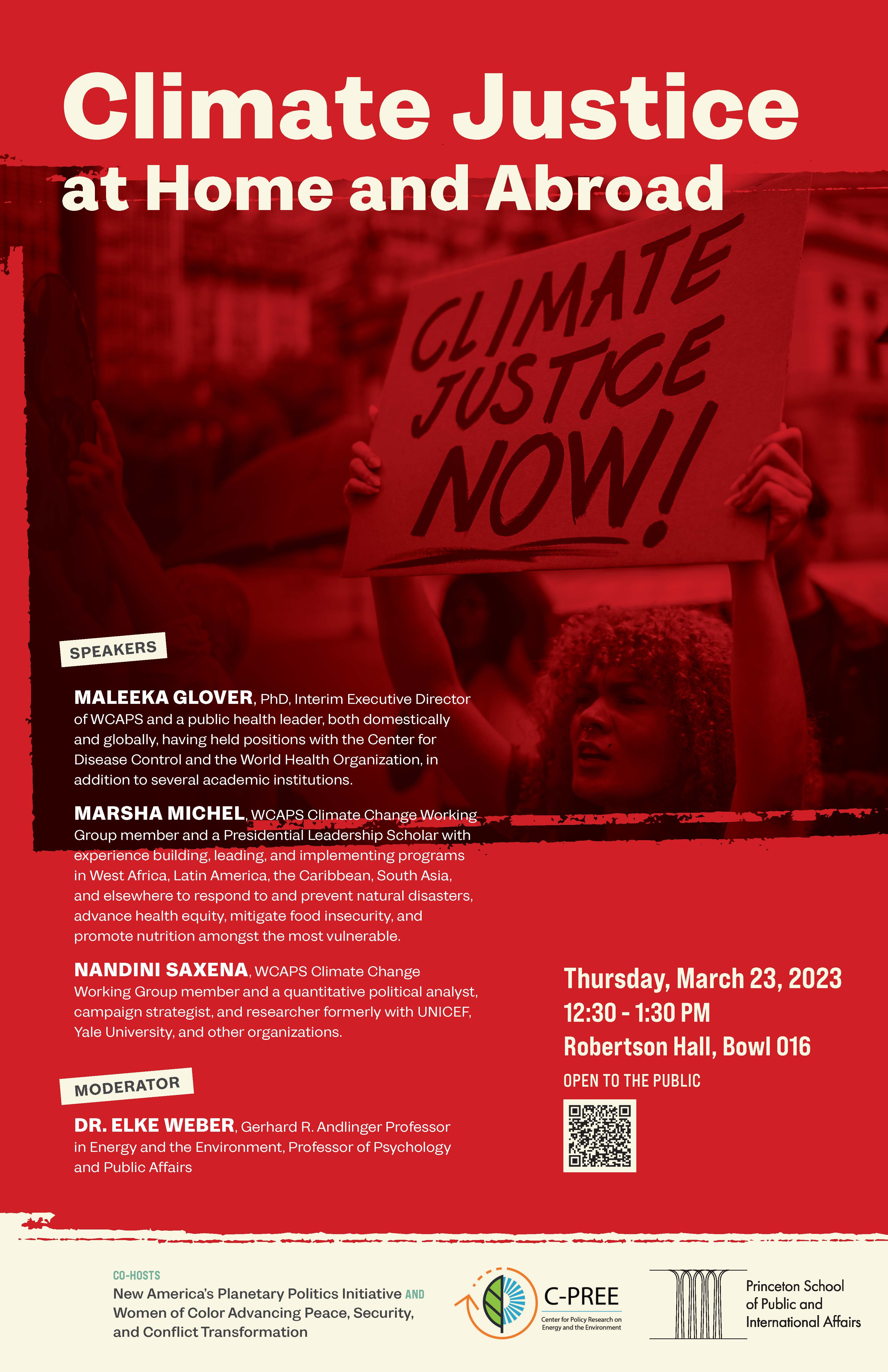 Date & Time
Mar 23 2023
12:30 PM - 1:30 PM
Speaker(s)
Maleeka Glover
Marsha Michel
Nandini Saxena
Moderator: Elke Weber
Audience
Open to the Public
As the world grapples with how to address climate change, at the heart of the issue is justice. Globally, the nations that are projected to suffer the worst impacts of climate change are those that are least responsible for causing it and that have fewer resources to adapt. The same is true in the United States, where historically marginalized and discriminated communities often live on the frontlines of environmental disruption and have less means to adapt. If justice is not at the core of climate mitigation and adaptation policy, then inequality will worsen, historical wrongs will persist, and conflict will intensify.
Please join us for a panel on the challenge and imperative of delivering climate justice at home and abroad featuring speakers from Women of Color Advancing Peace, Security, and Conflict Transformation (WCAPS), a global community committed to advancing the leadership and professional development of women of color in the international peace and security fields. 
Speakers:
Maleeka Glover, PhD, Interim Executive Director of WCAPS and a public health leader, both domestically and globally, having held positions with the Center for Disease Control and the World Health Organization, in addition to several academic institutions.
Marsha Michel, WCAPS Climate Change Working Group member and a Presidential Leadership Scholar with experience building, leading, and implementing programs in West Africa, Latin America, the Caribbean, South Asia, and elsewhere to respond to and prevent natural disasters, advance health equity, mitigate food insecurity, and promote nutrition amongst the most vulnerable.
Nandini Saxena, WCAPS Climate Change Working Group member and a quantitative political analyst, campaign strategist, and researcher formerly with UNICEF, Yale University, and other organizations.
Moderator:
Dr. Elke Weber, Gerhard R. Andlinger Professor in Energy and the Environment, Professor of Psychology and Public Affairs
Co-hosted by Princeton University's School of Public and International Affairs, New America's Planetary Politics Initiative, Women of Color Advancing Peace, Security, and Conflict Transformation, and the Center for Policy Research on Energy and the Environment at Princeton University.