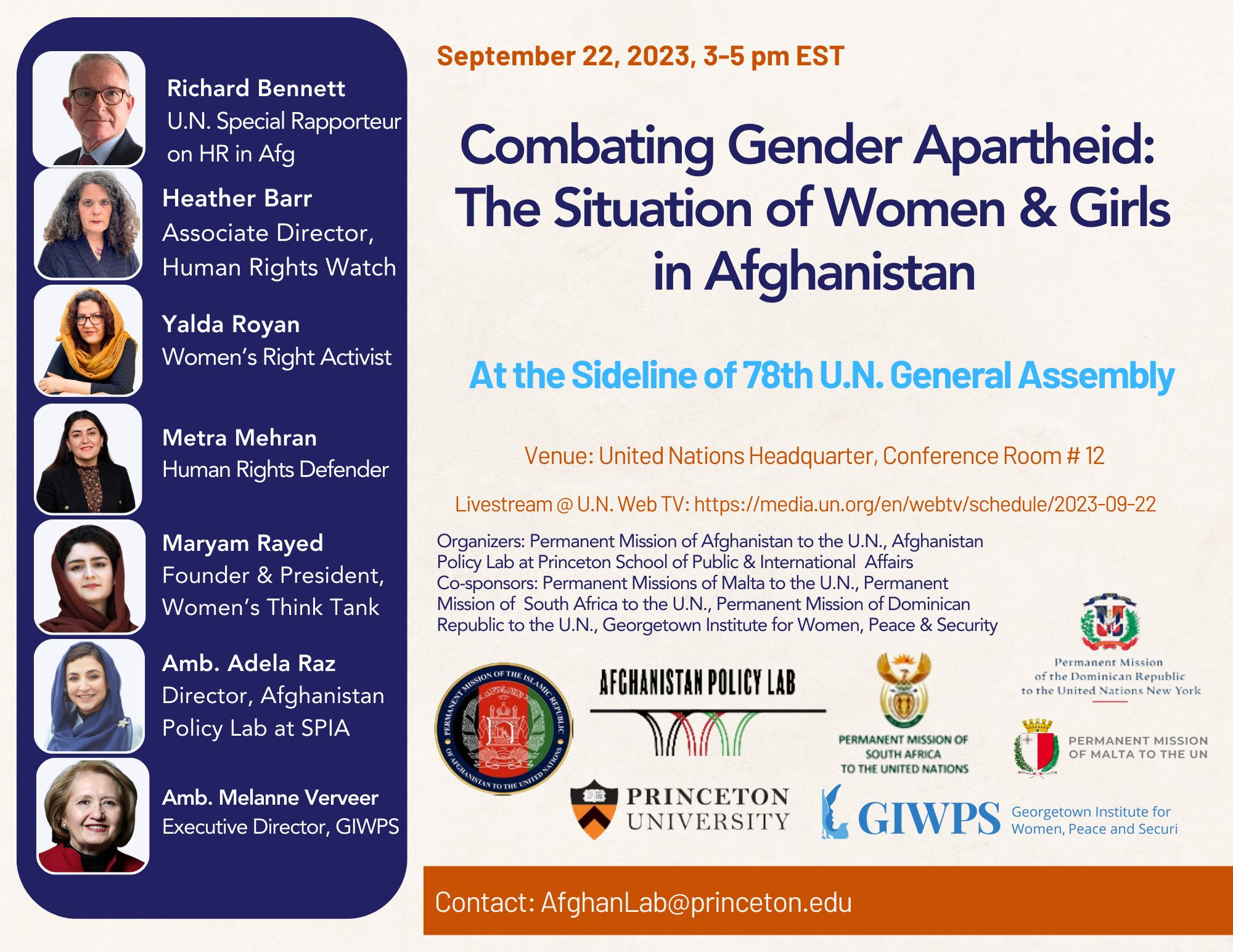 Date & Time
Sep 22 2023
3:00 PM - 5:00 PM
Location
United Nations Headquarters, Conference room 12.
Speaker(s)
Richard Bennett
Heather Barr
Yalda Royan
Maryam Rayed
Amb. Melanne Verveer
Amb. Adela Raz
Metra Mehran
Audience
By Invitation Only
The event is co-organized by the Afghanistan Policy Lab at the Princeton School of Public and International Affairs and the Permanent Mission of Afghanistan to the United Nations, and in co-sponsorship with the Permanent Missions of Malta, South Africa, and the Dominican Republic to the U.N., as well as the Georgetown Institute for Women, Peace, and Security.
The resurgence of the Taliban regime in Afghanistan has marked a significant turning point, rekindling profound concerns about the rights and prospects of the Afghan population, with a particular focus on the vulnerable status of women and girls. This event aims to examine why today's Afghanistan is a state of "Gender Apartheid" and shed light on the pressing issues pertaining to women's rights and human rights under the Taliban regime. As the international community gathers for the United Nations General Assembly, it becomes increasingly imperative to confront the multifaceted challenges faced by Afghan women and to ardently champion their fundamental rights and dignity. Under the Taliban regime, Afghan women find themselves grappling with a multitude of challenges that culminate in their almost complete elimination from society. These challenges are deeply ingrained and encompass various aspects of women's lives, reflecting a systemic Gender Apartheid.
Their decision to bar girls from middle school through higher education has led to the closure of schools and the erosion of educational opportunities. Women's ability to engage in gainful employment outside their homes has been significantly curtailed, as such that recently women's beauty salons were shut by the Taliban which not only limits an additional space of social gatherings for women, but also deprives around 60,000 women of livelihoods. This not only undermines their economic independence but also contributes to rising poverty rates among Afghan families.
Movement restrictions by the Taliban, with the need for a male chaperone have drastically limited women's mobility and autonomy. These measures confine women to their homes and severely restrict their participation in public life. Meanwhile, the dearth of accessible healthcare facilities and skilled medical providers places Afghan women at a considerable disadvantage. This is particularly true in terms of maternal and reproductive health, exacerbating health risks for women. The erosion of legal safeguards has left women vulnerable to violence and abuse, with minimal avenues for seeking justice or protection. This leads to a culture of impunity for perpetrators. The suppression of women's voices, talents, and contributions has not only stripped them of their cultural and social significance but has also exacerbated a cycle of marginalization and silencing.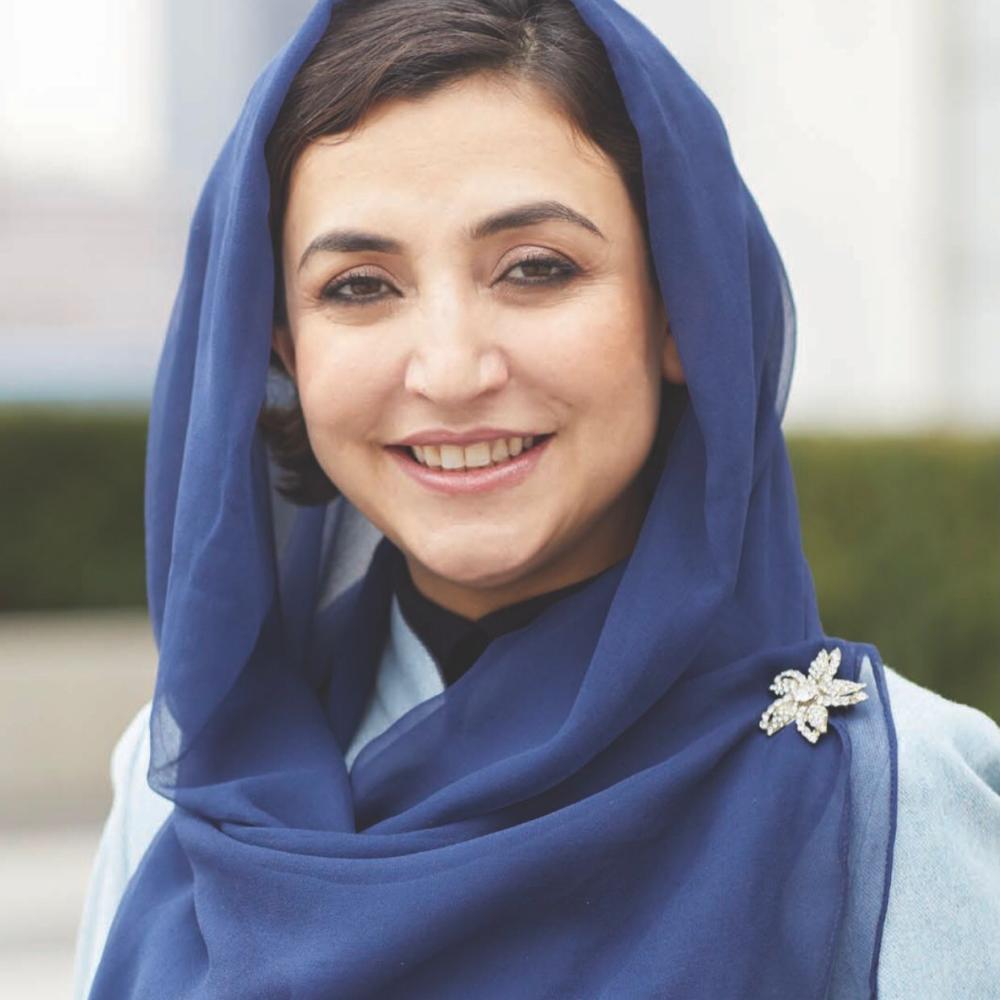 Opening Remarks
Amb. Adela Raz, is the last Ambassador and Permanent Representative of the Islamic Republic of Afghanistan to the United States and the United Nations (respectively), and Director of the Afghanistan Policy Lab at the Princeton School of Public and International Affairs.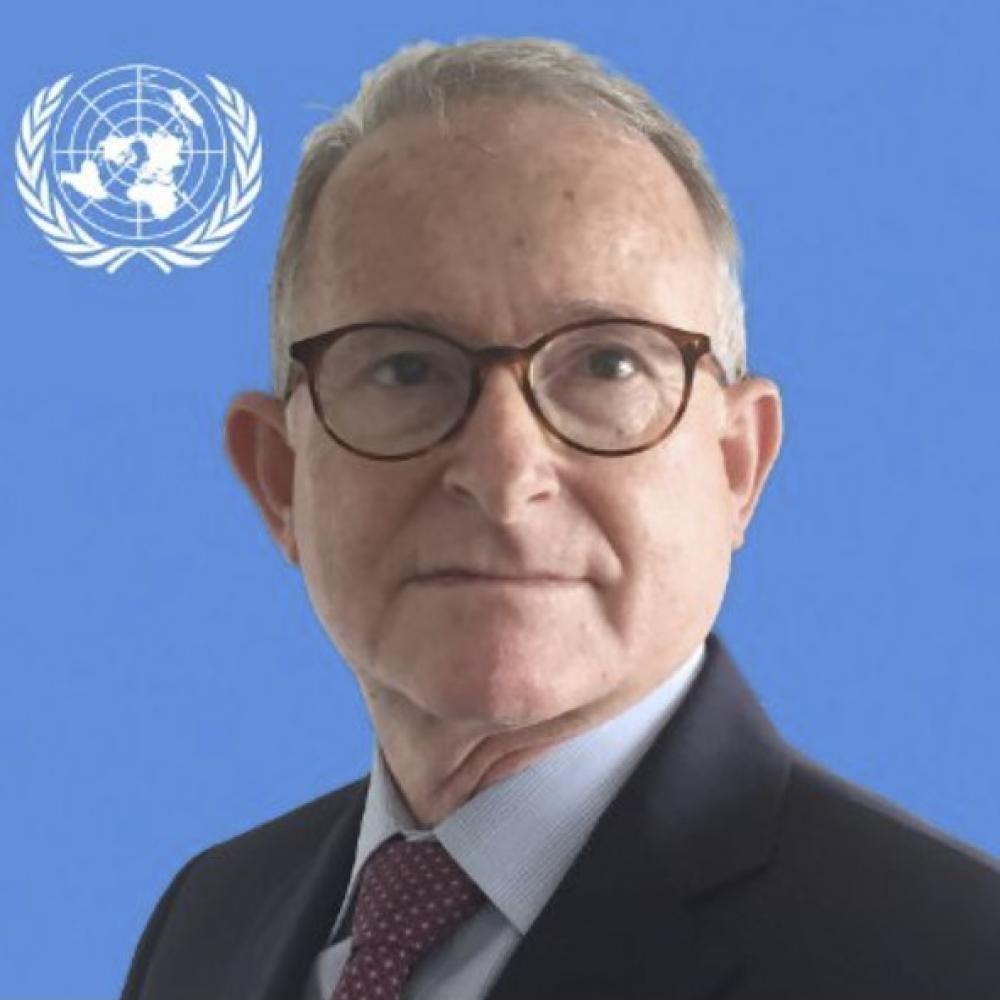 Speaker
Richard Bennett is a visiting professor at RWI (Raoul Wallenberg Institute) and a prominent human rights advocate, with a focus on Afghanistan and other regions. In April 2022, he was appointed as the UN Special Rapporteur on the situation of human rights in Afghanistan. Throughout his career, Mr. Bennett has been instrumental in promoting various aspects of human rights in Afghanistan, including transitional justice, child rights, rule of law, and economic, social, and cultural rights.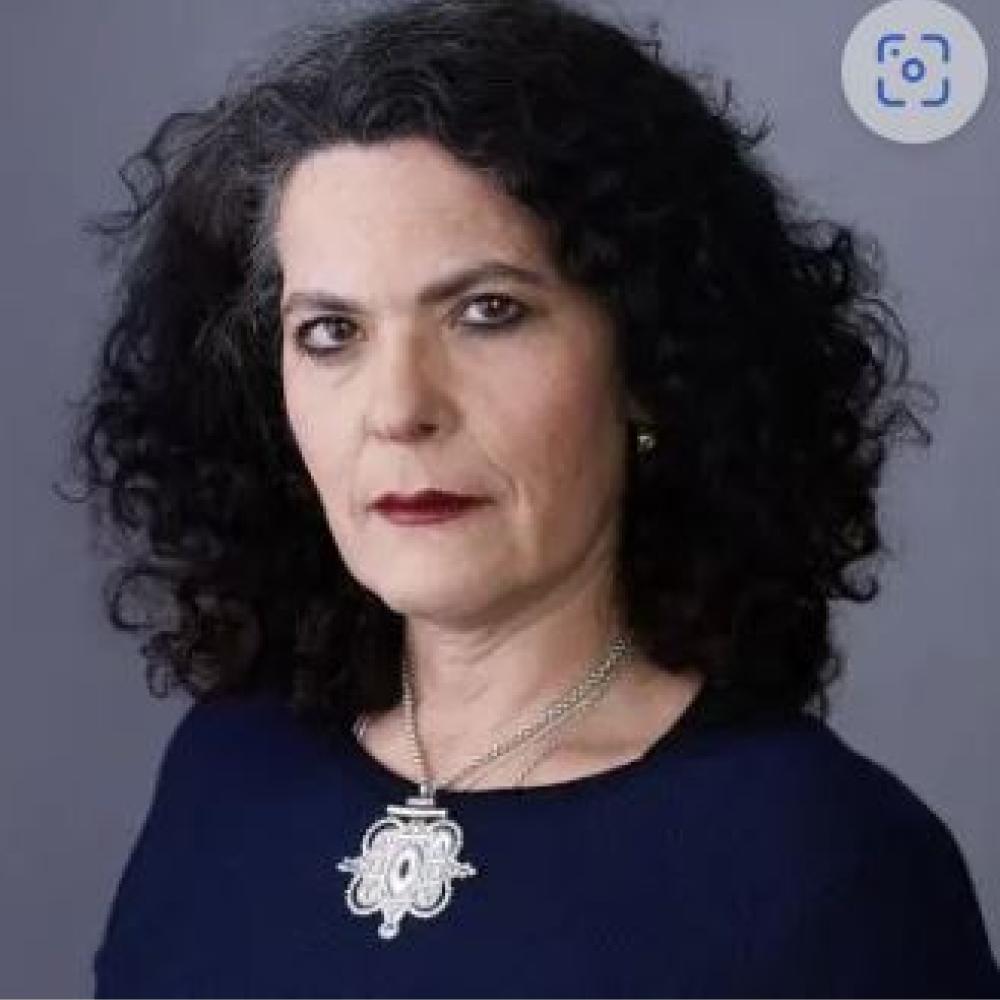 Speaker
Heather Barr is associate director of the Women's Rights Division at Human Rights Watch. She has researched human rights in countries including Afghanistan, Bangladesh, Myanmar, Nepal, Papua New Guinea, South Korea and the US on issues including child marriage, girls' education, women's access to health care, domestic violence, online gender-based violence, so called "moral crimes", "honor violence" and "virginity exams", the rights of refugees and prisoners, torture, civilian casualties, freedom of expression and association, and human trafficking.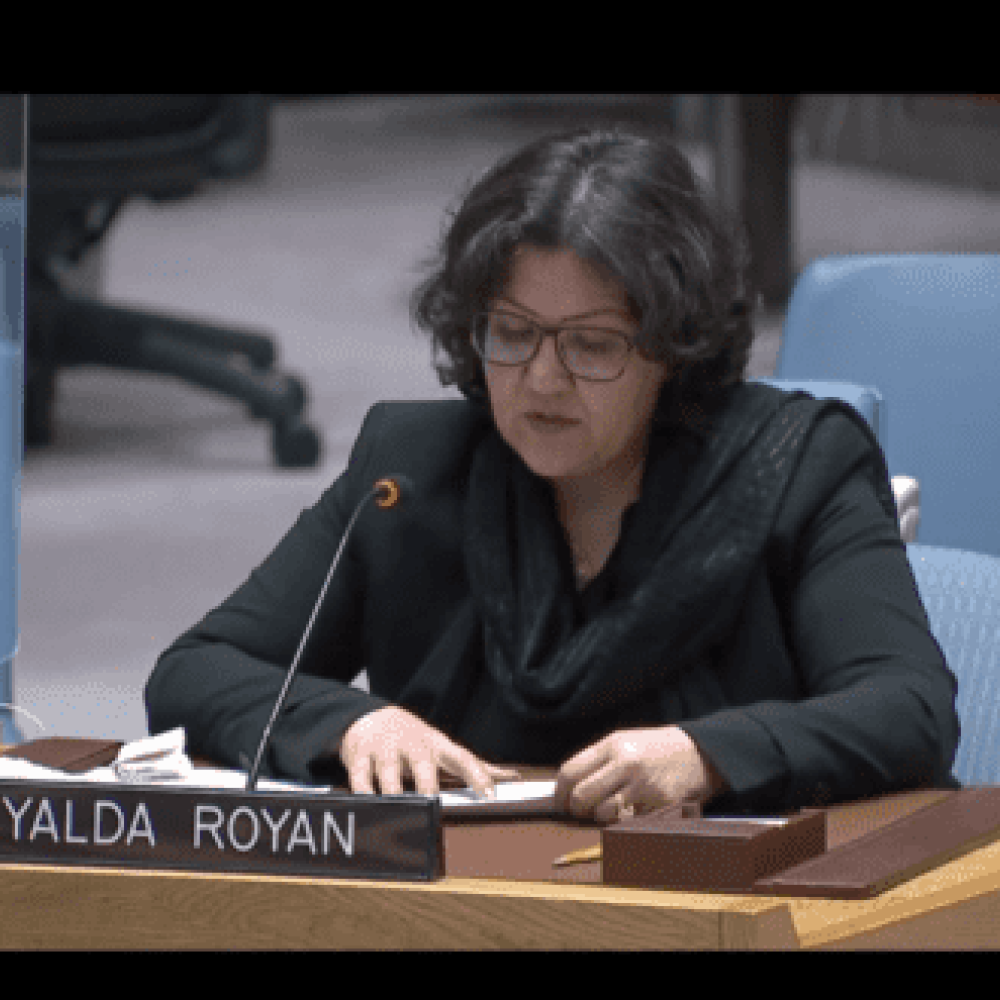 Speaker
Yalda Royan is a senior development professional and women's rights activist with vast leadership experience in government, national, and international NGOs. Her expertise lies in designing and leading gender initiatives, focusing on women's empowerment, gender-based violence (GBV), conflict resolution, and peace and security. She holds a master's degree in gender and women's studies from Kabul University.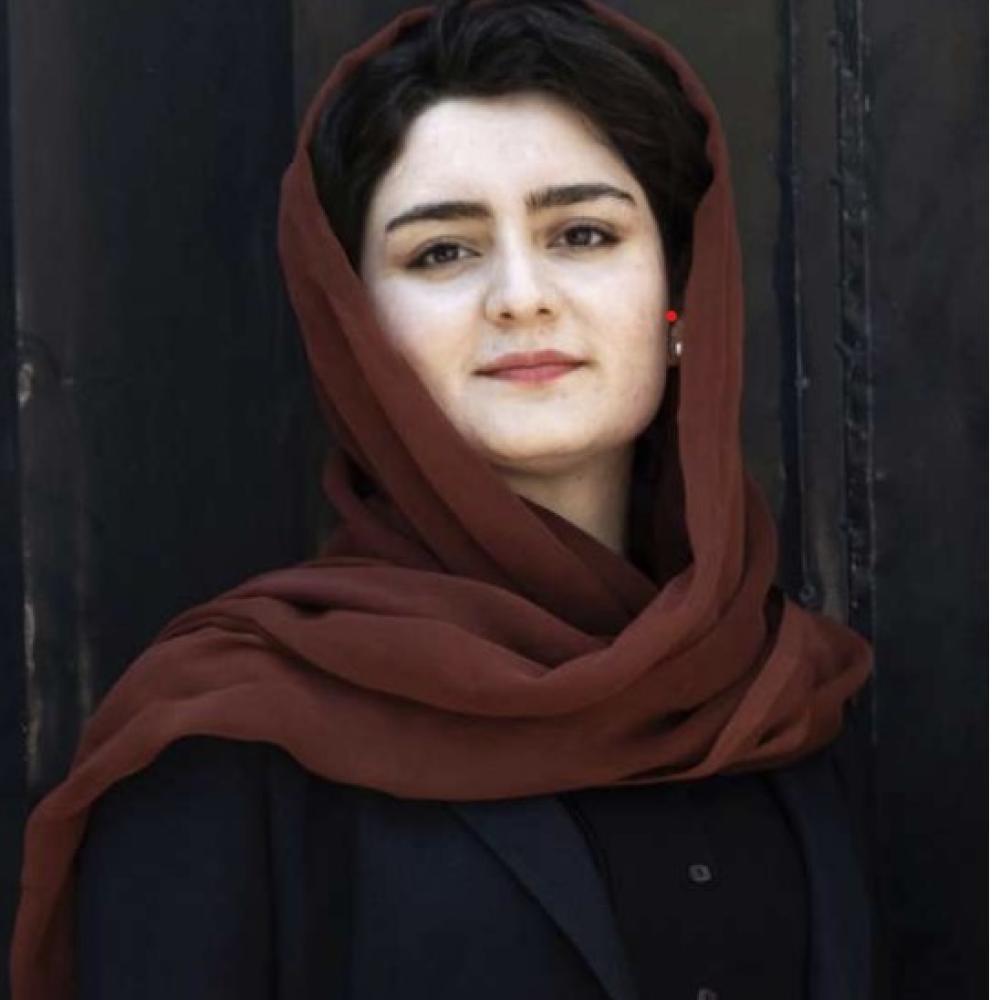 Speaker
Maryam Rayed is a peace and democracy advocate and women's political empowerment expert focusing on bottom-up democracy promotion, safeguarding freedom of speech, supporting independent media, and human rights. Rayed is the founding director of Afghanistan Women's Think Tank (AWFT), a grassroots research and advocacy center that provides a safe platform for women's meaningful participation in political and social arenas.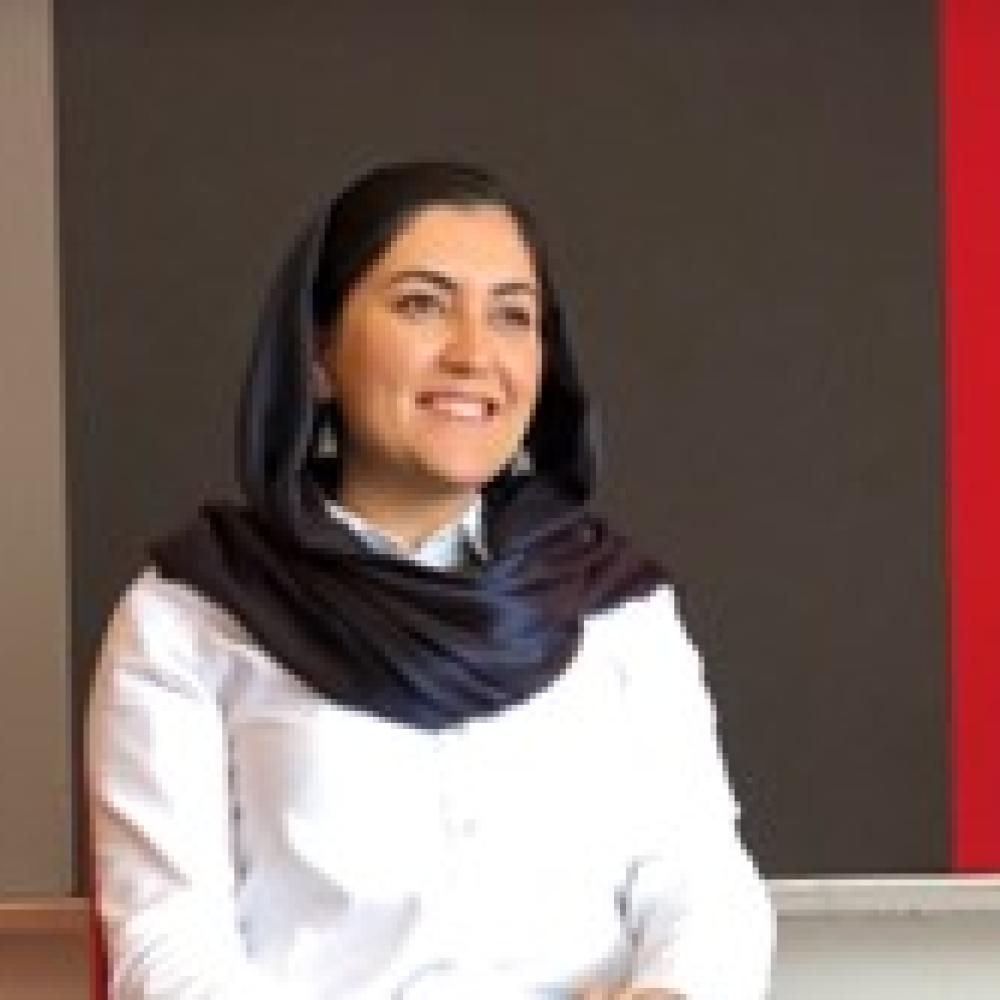 Speaker
Metra Mehran is a young social entrepreneur and human rights activist from Afghanistan. Currently, she is  a non-resident fellow with NYU's Center for Global Affairs. Prior to her current position, Metra worked as a scholarship Program Director with USAID Women Scholarship Endowment Program which provides scholarships for women to pursue their education in STEM majors.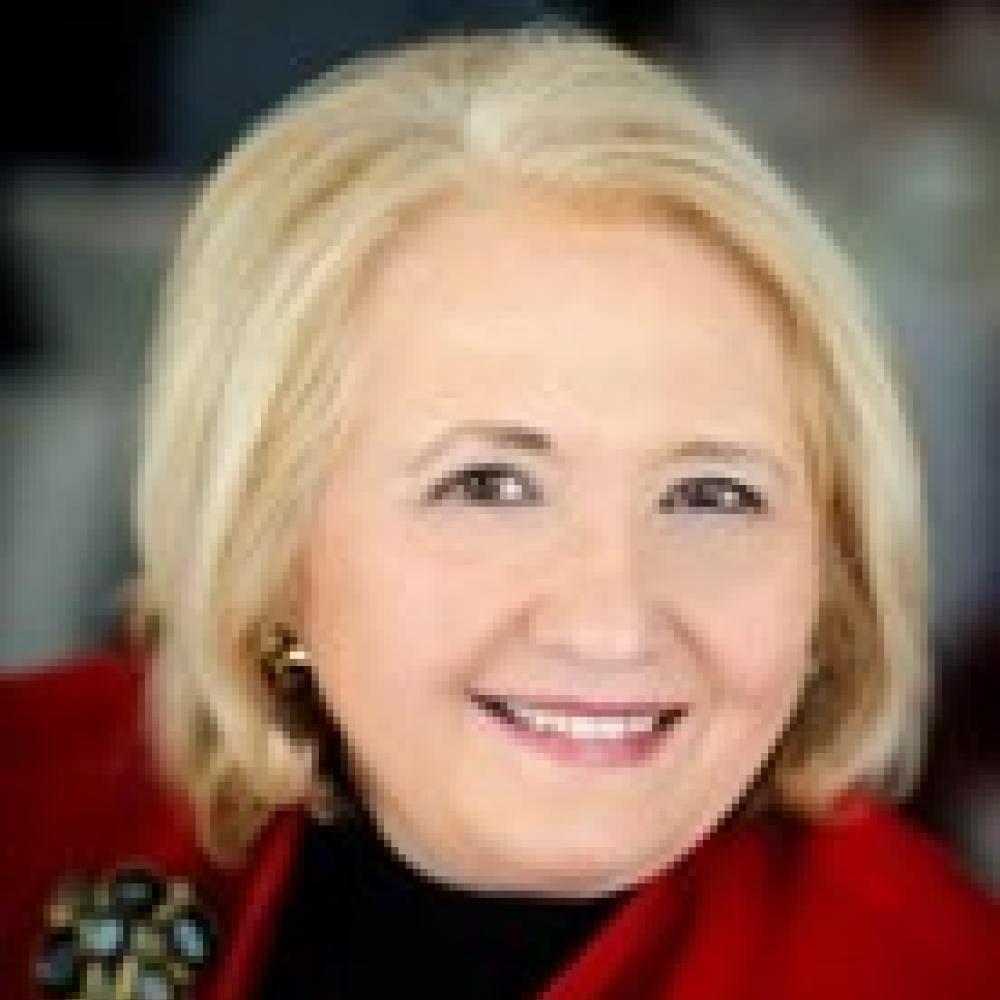 Moderator
Amb. Melanne Verveer is the Executive Director of the Georgetown Institute for Women, Peace and Security. She most recently served as the first U.S. Ambassador for Global Women's Issues, a position to which she was nominated by President Obama in 2009. She coordinated foreign policy issues and activities relating to the political, economic and social advancement of women, traveling to nearly sixty countries, and helped develop the U.S. National Action Plan on Women, Peace and Security. Ambassador Verveer also served as the former Special Representative on Gender Issues for the OSCE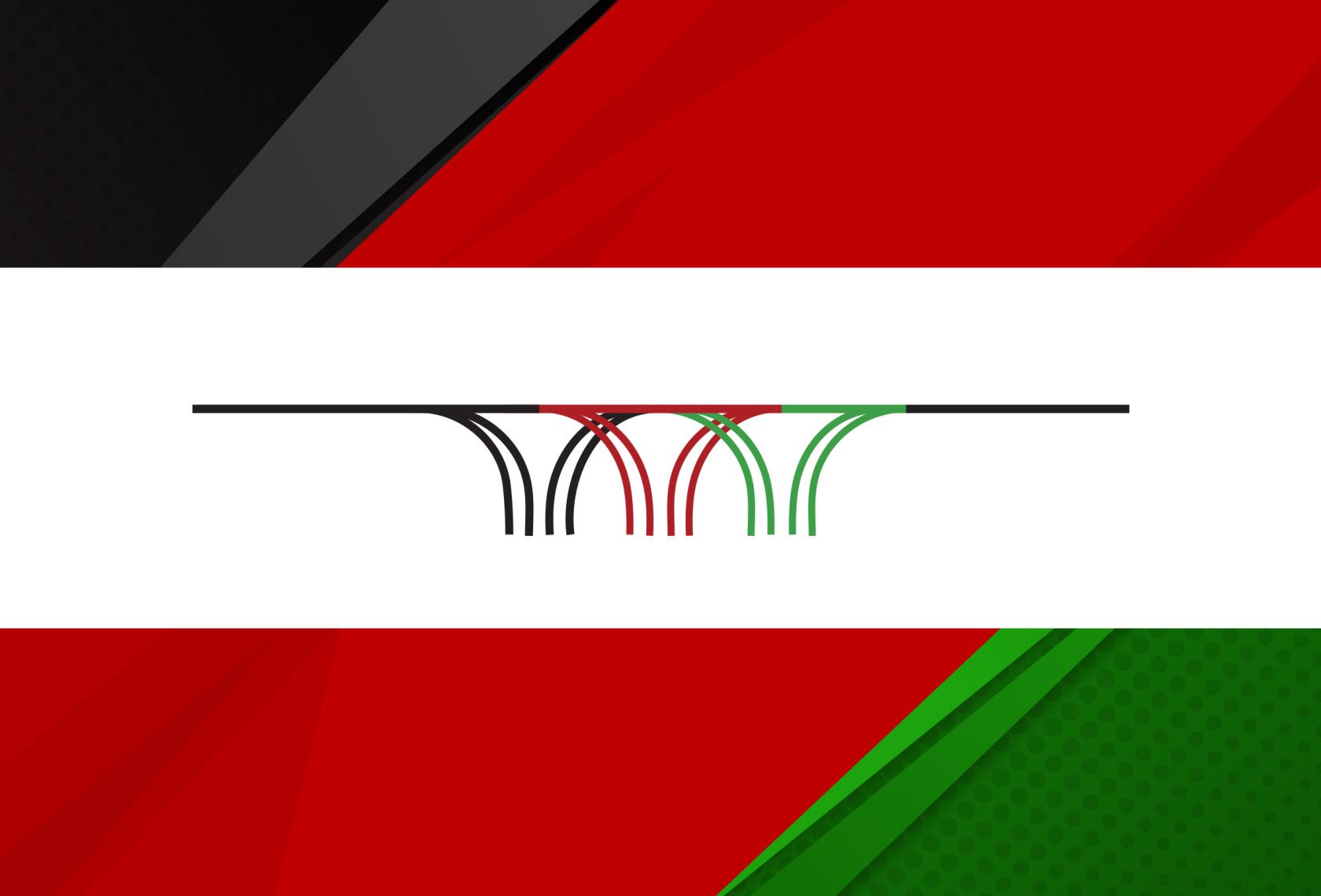 SPIA Afghanistan Policy Lab
The SPIA Afghanistan Policy Lab aims to help build an inclusive, peaceful, and prosperous Afghanistan that represents all its citizens equally.