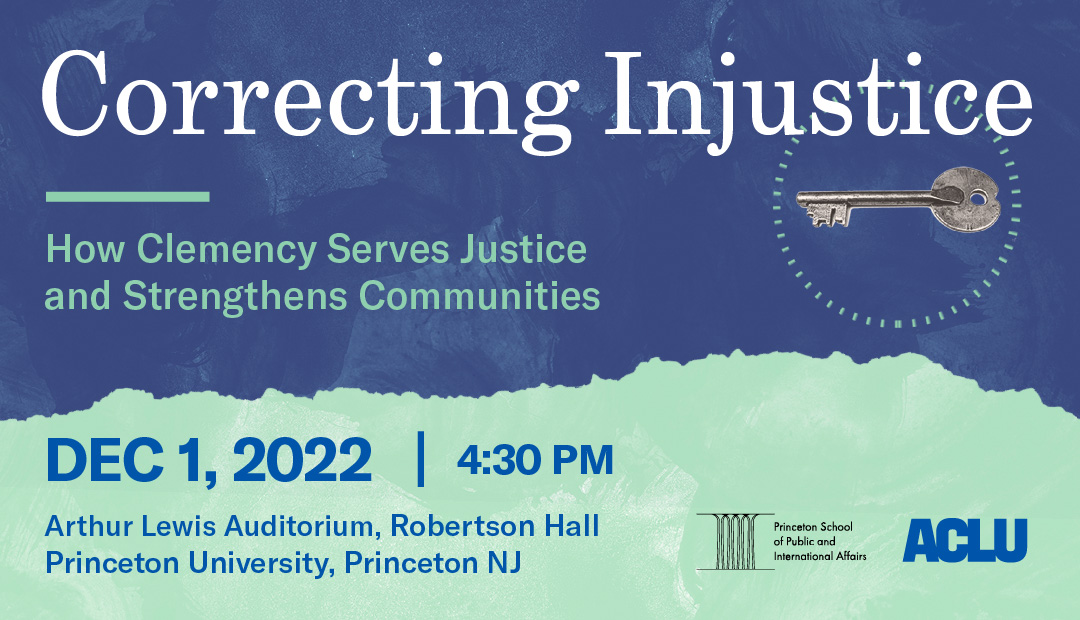 Date & Time
Dec 01 2022
4:30 PM - 6:00 PM
Speaker(s)
The Honorable Kate Brown, Governor of Oregon
Udi Ofer
Michael Thompson
Attorney General Platkin
Audience
Open to the Public, Registration Required
President Biden recently pardoned thousands of people convicted of marijuana-related offenses. Oregon Governor Kate Brown also recently made news when she pardoned tens of thousands of people convicted of marijuana offenses in her state. Both are using their executive powers of clemency to try to address injustices with our nation's criminal justice system. The United States incarcerates more people, disproportionately people of color, than any other nation in the world, and for years there has been a growing movement to try to end this mass incarceration crisis.
Join us for this forum co-hosted with the American Civil Liberties Union (ACLU) to explore creative ways to promote fairness and equity in the justice system, including by governors and presidents through the use of clemency. Hear from the Oregon governor and the Attorney General of New Jersey, as well as from formerly incarcerated advocates working to reduce mass incarceration in America. A reception will follow the forum.
The Honorable Kate Brown, Governor of Oregon
Governor Brown currently serves as the Chair of the Disaster Response and Emergency Management working group of the President's Council of Governors. She was nominated by President Joe Biden to the President's Council of Governors on July 8, 2021.
As Governor, she dramatically expanded access to the ballot box with the nation's first automatic voter registration program, made historic investments in education, transportation, and affordable housing, and expanded the Oregon Health Plan to reach 94 percent of adults and all Oregon children so they have access to the quality health care they deserve.
As the state continues to recover from the COVID-19 pandemic, Governor Brown is striving to protect the health and safety of all Oregonians, and build a safe and strong Oregon that works for everyone. And, as our nation grapples with the impacts of systemic racism, Governor Brown is committed to centering racial justice in a new vision for community safety, in the state budget and in her administration's agenda.
Governor Brown came to Oregon to attend Lewis and Clark's Northwestern School of Law, where she received her law degree and Certificate in Environmental Law.
Udi Ofer, James L. Weinberg Visiting Professor and Lecturer in the School of Public and International Affairs
Udi Ofer is the James L. Weinberg Visiting Professor and Lecturer in the School of Public and International Affairs. He has been at SPIA since 2018, teaching courses on civil rights, policing, mass incarceration and criminal justice reform, policymaking and movement building. He is the founding Director of the Policy Advocacy Clinic at SPIA.
Ofer has more than 20 years of experience as a civil rights lawyer and policy advocate. From 2016-2022, Ofer was the Deputy National Political Director of the ACLU and the founding Director of the ACLU's Justice Division, which leads the ACLU's advocacy on criminal justice reform, including before the White House and Congress. During his tenure, Ofer worked with stakeholders on the right and left to oversee passage of hundreds of criminal justice reform laws and executive actions, leading to tens of thousands of fewer people incarcerated. He revamped the way the ACLU operated by launching new integrated advocacy strategies and prioritizing long term campaign planning, and is best known for building the ACLU's Campaign for Smart Justice and launching the ACLU's first-ever effort to engage in candidate races through a non-partisan lens, focusing on challenging the role of prosecutors in fueling mass incarceration. During his tenure, the ACLU engaged in 45 district attorney races in 15 states, educating and mobilizing tens of millions of voters and helping to transform the role of prosecutor in the United States.
From 2013-2016, Ofer served as Executive Director of the ACLU of New Jersey. Under his leadership the organization achieved historic victories on a variety of issues, including overhauling New Jersey's broken bail system, launching a successful bipartisan campaign to tax and regulate marijuana, winning in-state tuition for undocumented immigrants, prohibiting local police from enforcing federal immigration laws, launching a campaign for marriage equality, and creating one of the nation's strongest civilian complaint review boards in Newark.
From 2003-2013, he worked at the New York Civil Liberties Union, where he began as the founding Director of the New York Bill of Rights Defense Campaign, working on civil liberties and national security issues, focusing on the USA PATRIOT Act, Guantanamo Bay, torture policies, and the detention of Arab, Muslim and South Asian residents by the NYPD and federal authorities. In 2008, he founded the Advocacy Department, where he challenged the NYPD's stop-and-frisk practices and spearheaded the successful effort to pass legislation banning racial profiling by the NYPD and creating an NYPD Inspector General's office. Ofer was also a co-founder of Communities United for Police Reform in New York City.
Ofer began his legal career in 2001 as a Skadden Fellow at My Sisters' Place, a domestic violence organization. He was an adjunct professor at New York Law School from 2009-2012, and has published widely including in the Seton Hall Law Review, Columbia Law School Journal of Race and Law, and New York Law School Law Review. Ofer's work and commentary have been featured in hundreds of national and local news outlets, including The New York Times, Washington Post, NPR, Wall Street Journal, New Yorker Radio Hour, NBC News, The Hill and POLITICO. He has testified before many legislatures, including the United States Senate, and is frequently cited as an expert on civil rights and criminal justice matters. 
Ofer is the recipient of numerous awards, including the Distinguished Graduate Award from Fordham Law School, a presidential award from the Open Society Foundations, and a proclamation from the New York City Council for contributions made by his work to the city and state. He is a graduate of Fordham University School of Law and the State University of New York at Buffalo.
Michael Thompson, President and Founder, The Michael Thompson Clemency Project
Michael Thompson knows firsthand that many people locked in Michigan prisons do not belong there. We are going to tell some of their stories and fight for their release. After being the state of Michigan's longest serving non-violent offender having spent over 25 years for the sale of marijuana, Michael Thompson was granted a commutation by Gretchen Whitmer putting an end to a draconian 42-60 year sentence. On January 28th, 2021 Michael walked out of the prison gates and immediately addressed the awaiting press to say "enough is enough" and promised to fight the injustice and indignity of mass incarceration.
In the past year Michael has talked loudly and repeatedly in the press and at public forums about the injustices and abuses he experienced and witnessed. Michael has become a defacto expert on what is wrong with our current system of mass incarceration. The Michael Thompson Clemency Project (MTCP) shares Michael Thompson's intimate knowledge of the people and conditions in our prisons.
Matthew J. Platkin, 62nd Attorney General of New Jersey
Matthew J. Platkin was nominated by Governor Phil Murphy to serve as the state's 62nd Attorney General on February 3, 2022. Previously, Platkin served as Acting Attorney General.
The Attorney General has broad oversight of the state's legal and law enforcement matters. As the head of the Department of Law & Public Safety, the Attorney General supervises a wide range of Divisions, Offices, and Commissions, consisting of over 2,800 uniformed officers, 600 attorneys, and thousands of other public servants.
Since his appointment, Platkin has focused efforts to develop innovative public safety programs and expanded efforts to combat auto thefts, violent crime, and gun violence. He has stood up for reproductive rights by establishing a Reproductive Rights Strike Force, partnering with the Governor's Office and Legislature to protect access to reproductive healthcare, and forging a State-Federal partnership to protect abortion care patients and providers.  Platkin has also championed the rights of victims of crime, and launched groundbreaking efforts to end cycles of gun violence and support survivors of sexual assault and domestic violence.
Platkin has also entered into historic actions to protect New Jersey consumers and secure New Jerseyans' civil and housing rights. His work to protect New Jersey residents has yielded a nationwide $100 million settlement with the New Jersey based cryptocurrency company BlockFi, which matches a $100 million payment from Uber Technologies as part of Platkin's work to hold employers accountable for violating New Jersey worker protections, as well as an historic $7.75 million settlement with Chipotle Mexican Grill for child labor law violations, an $8 million settlement with Wawa for a data breach that compromised millions of payment cards in New Jersey, and $9.5 million to resolve a Natural Resource Damages lawsuit against ExxonMobil.
From January 2018 to October 2020, Platkin served as Chief Counsel to Governor Murphy. As Chief Counsel, Platkin oversaw an office of attorneys that advised the Governor on all legal matters, including legislation, executive orders, administrative regulations, and litigations. He also was responsible for coordinating with the Attorney General's Office on civil matters, including affirmative litigations, and oversaw judicial and prosecutorial nominations.
Following graduation from law school, Platkin practiced law at Debevoise & Plimpton in New York City, where he focused on internal investigations and civil and criminal matters before the U.S. Attorney's Office for the Southern District of New York, the U.S. Department of Justice, the New York Department of Financial Services, and various regulatory agencies.
He began his career as a policy advisor at the Brookings Institution working with members of Congress on job growth and economic recovery following the 2008 financial crisis.
A native of New Jersey, Platkin received his Bachelor of Arts from Stanford University, and his Juris Doctor from Stanford Law School, where he was an editor of the Stanford Law Review.