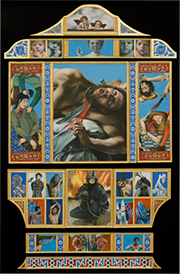 Date & Time
Jan 27 - Mar 02 2017
12:00 AM - 12:00 AM
Audience
Open to the Public
Exhibition: Jan. 27, 2017 – March 2, 2017
Artist Reception: Feb. 10 at 6 p.m. in the gallery
Large panels of gold leaf and oil paint are configured in altarpiece formations to express the artist's deep concerns: war, political upheaval, and racial and ethnic violence. The work critiques contemporary life and questions the progress of civilization.
Image displayed: Heads and Hands, 2008, oil and gold leaf on linen on panel, 67 x 45"
Phyllis Plattner, professor at the Maryland Institute College of Art, has numerous awards for her decades of teaching and exhibiting both in the U.S. and internationally.