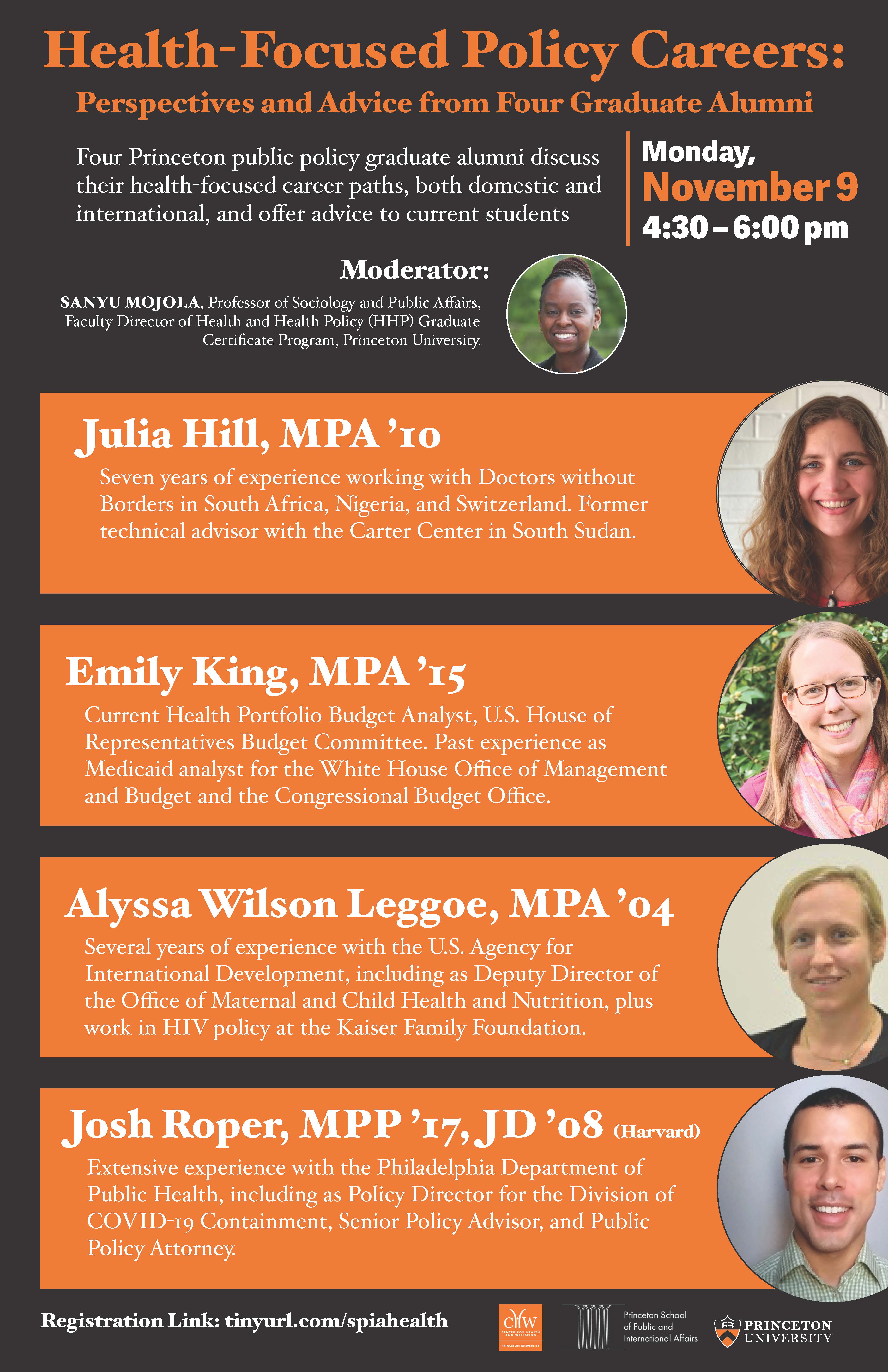 Date & Time
Nov 09 2020
4:30 PM - 6:00 PM
Speaker(s)
Julia Hill, MPA '10
Emily King, MPA '15
Alyssa Wilson Leggoe, MPA '04
Josh Roper, MPP '17, JD '08 (Harvard)
Audience
Restricted to Princeton University
This is a virtual event.
Four Princeton public policy graduate alumni discuss their health-focused career paths, both domestic and international, and offer advice to current students.
Julia Hill, MPA '10
Seven years of experience working with Doctors without Borders in South Africa, Nigeria, and Switzerland. Former technical advisor with the Carter Center in South Sudan.
Emily King, MPA '15
Current Health Portfolio Budget Analyst, U.S. House of Representatives Budget Committee. Past experience as Medicaid analyst for the White House Office of Management and Budget and the Congressional Budget Office.
Alyssa Wilson Leggoe, MPA '04
Several years of experience with the U.S. Agency for International Development, including as Deputy Director of the Office of Maternal and Child Health and Nutrition, plus work in HIV policy at the Kaiser Family Foundation.
Josh Roper, MPP '17, JD '08 (Harvard)
Extensive experience with the Philadelphia Department of Public Health, including as Policy Director for the Division of COVID-19 Containment, Senior Policy Advisor, and Public Policy Attorney.
Moderator: Sanyu Mojola
Professor of Sociology and Public Affairs, Faculty Director of Health and Health Policy (HHP) Graduate Certificate Program, Princeton University.