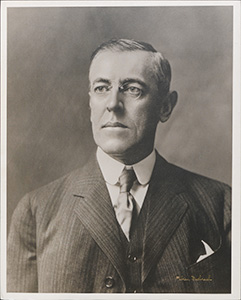 Date & Time
Aug 12 2022
All day
Audience
Open to the Public
In the Nation's Service? Woodrow Wilson Revisited
General Information
The exhibit will visit several locations on the Princeton University campus, as scheduled below (additional locations to come):
Current: Frist Campus Center, Second Floor
From Jan. 9, 2017: 701 Carnegie Center
From Feb. 3, 2017: McCormick Hall
From March 3, 2017: Wilson College
The exhibit also is available online.
About the Exhibit
Democracy demands dialogue. This is why the contested legacy of Woodrow Wilson forms the focus of an exhibition at Princeton University's Woodrow Wilson School of Public and International Affairs.

The show, "In the Nation's Service? Woodrow Wilson Revisited," documents not only the positive but also the negative aspects of Wilson's tenure as 13th president of Princeton University and 28th president of the United States.

The exhibit also encourages participation through the use of the #RevisitWilson hashtag and a recap of posts on Storify.
Among historians, Wilson is consistently ranked as one of the country's great presidents, noted for his successful domestic legislative agenda in his first term and international achievements in his second. At Princeton, many entities bear Wilson's name, honoring his important contributions to both the institution and the nation.
Yet, Wilson was also a highly divisive figure in his time, alienating many and denying others the fullness of their humanity on racial grounds. Under his watch, Princeton University remained a bastion of white Anglo-Saxon Protestantism, and, under his term as U.S. president, the federal civil service was segregated, closing one of the few paths to African American advancement.
The exhibition on Woodrow Wilson draws on modern scholarship, newly digitized resources and Princeton's special collections to paint a more complete picture of Wilson than is often presented, highlighting the ways in which he failed a great number of Americans. Through correspondence, writings, photographs, newspapers and other documents that place Wilson in historical context, visitors will gain a fuller understanding of his complexities and why he continues to evoke both admiration and opprobrium nearly a century after his death.
The exhibit is sponsored by Princeton University in partnership with the University's Seeley G. Mudd Manuscript Library, a division of the Department of Rare Books and Special Collections, and the University's Woodrow Wilson School of Public and International Affairs. 
Questions? Email extaff@princeton.edu