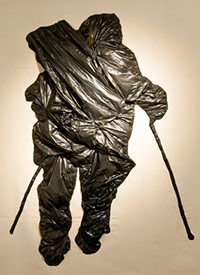 Date & Time
Feb 12 2018
All day
Audience
Open to the Public
Exhibition: Feb. 12 - April 12, 2018
Reception: March 2, 2018, 6:00-8:00 p.m.
Fanny Allié tears apart and re-assembles pieces of found fabric, mixed media and newsprint images to create characters of the street. From her small fabric doll-like figures to her life-sized poignant silhouettes, all are informed by her daily observation of people living on the New York City sidewalks, people she crosses paths with every day.
Fanny Allié was born in 1981 in Montpellier, France, and graduated from Ecole Nationale Supérieure de la Photographie in Arles and then moved to New York City. She has had solo shows at A.I.R Gallery, New York City Department of Parks & Recreation, Roger Smith Arts Space, Chashama, Eye Level BQE, as well as St Eustache Church in Paris. Her work has appeared in The New York Times, New York Magazine, Brooklyn Magazine, Hyperallergic, Le Monde Diplomatique, DNA Info, and Marie Claire Italy. In Switzerland her work was included at Art Basel for VOLTA 12. She was awarded the A.I.R. Fellowship in 2015 and the Robert Blackburn Printmaking Fellowship in 2017.
Review by Ilene Dube, "Art Born from Lost Objects, Moments, and Lives"