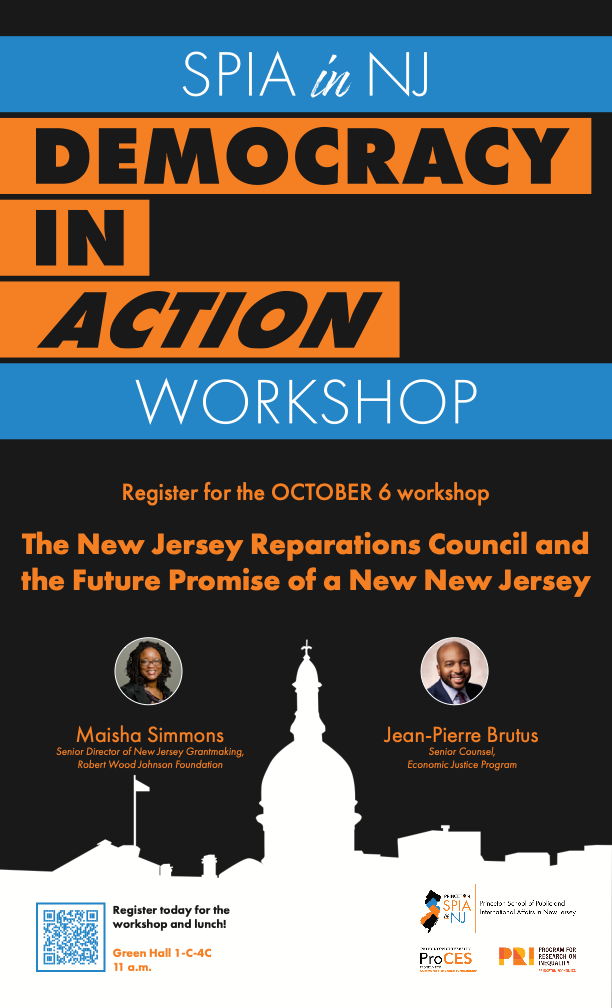 Date & Time
Oct 06 2023
11:00 AM - 1:00 PM
Speaker(s)
Jean-Pierre Brutus
Maisha Simmons
Audience
Restricted to Princeton University, Registration Required
Speakers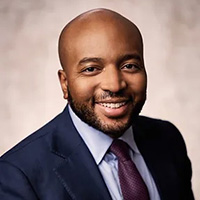 Jean-Pierre Brutus is a senior counsel in the Economic Justice Program at the New Jersey Institute for Social Justice. He leads the Institute's reparations advocacy and housing advocacy. Prior to joining the Institute, Jean-Pierre worked at Legal Services NYC, where he represented indigent Bronx tenants facing eviction. Jean-Pierre is a graduate of Georgetown University. He earned his PhD in African American Studies and JD from Northwestern University.
 
Maisha Simmons' work at the Robert Wood Johnson Foundation is dedicated to helping New Jersey be a healthier place to live, work, and play. She joined the Foundation in 2008 as a program associate working to support advocacy efforts to combat childhood obesity. Since then, she has been responsible for coordinating a variety of RWJF programs to promote healthy eating and active living, violence prevention, family supportive policies, and health equity. Throughout her work at the Foundation, her aim has always been to "keep communities in the picture."
Maisha has been recognized for her work in philanthropy through various leadership and advisory roles, including with the Executives' Alliance for Boys and Men of Color and as an Association for Black Foundation Executives (ABFE) Fellow. In 2015, Simmons received the Emerging Leader Award from ABFE.
Prior to her current position with the Foundation, Maisha served as senior director of foundation relations with the National Association for the Advancement of Colored People (NAACP), where she managed and facilitated relationships with foundations and other key partners to implement core NAACP programming. Before joining the Foundation, she was a grant writer and manager with United Way of Essex and West Hudson where managed existing grants, developed new grant prospects and secured funding for community impact initiatives. Maisha was a National Urban Fellow with the Community Development Law Center and the Indianapolis Neighborhood Resource Center in Indianapolis. She served in various positions at Cathedral Community Development Corporation in Perth Amboy, N.J., including director of Community Development, director of Human Services, and development coordinator. In addition, in what she calls her first experience in public health, Maisha served as an inspector with the Union County N.J. Bureau of Mosquito Control, during an outbreak of West Nile virus.
Maisha holds an MPA from CUNY/Baruch College, School of Public Affairs, a master certificate in public administration from Kean University, and a BA from Douglass College, Rutgers University.
Maisha resides in New Jersey, the state where she was born, with her son and husband.