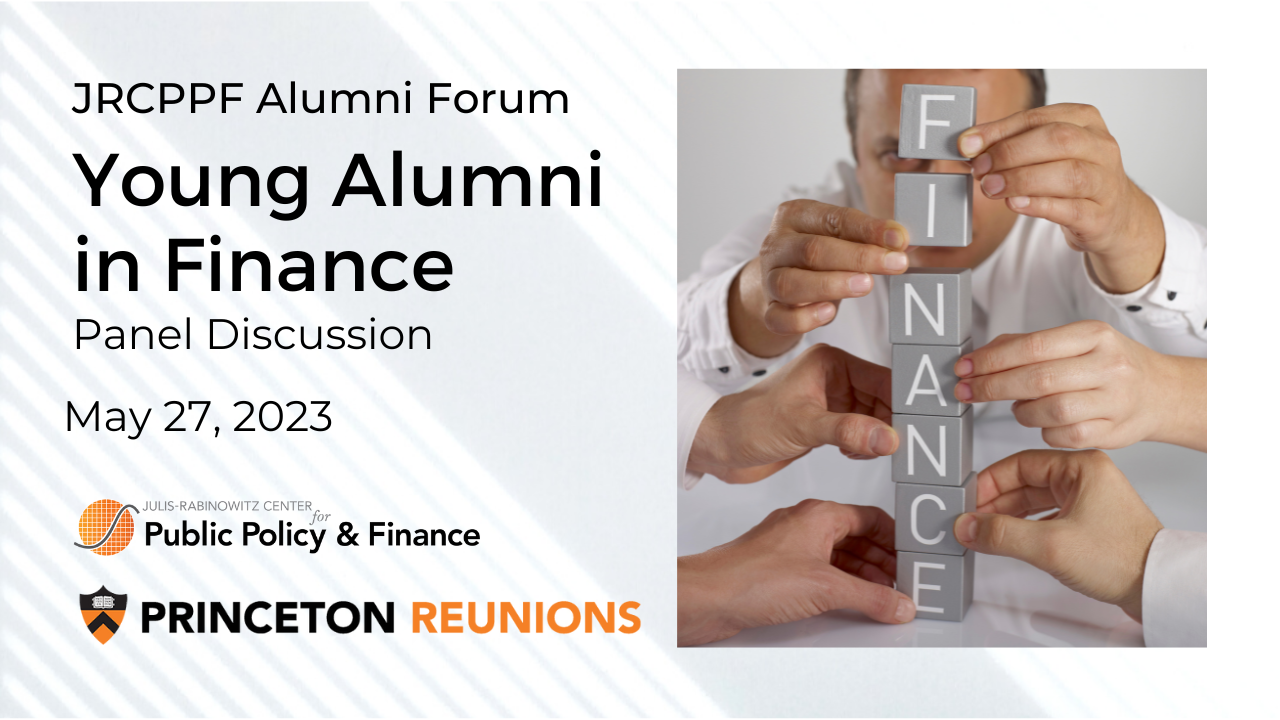 Date & Time
May 27 2023
10:30 AM - 11:45 AM
Speaker(s)
Soham Daga '18
Carmen Huynh '18
Hanseul Nam '19
Abhiram Karuppur '19
Audience
Restricted to Princeton University
Join us for a lively discussion with a panel of young Princeton alumni about their career paths in finance and investing and their outlook in the space. Open to all Reunions attendees.
10:30 - 11:00 am: Coffee and Networking
11:00 - 11:45 am: Panel Discussion
SPEAKERS:
 
      Soham Daga '18
          Associate, TPG

Soham Daga is a private equity associate at TPG Capital within the Internet, Digital, Media & Communications group. At TPG, Soham helps lead the diligence efforts on large scale buyout transactions and actively manage portfolio companies in collaboration with management teams. Prior to TPG, Soham was an investment banker at Goldman Sachs working across an array of M&A, equity, and debt transactions for strategics and financial sponsors. Soham received his bachelors of science and engineering in Operations Research and Financial Engineering from Princeton University.

Carmen Hyunh '18 
Associate, Learn Capital 

Carmen Huynh is an Associate at Learn Capital. Prior to joining Learn, Carmen worked at Morgan Stanley where she helped develop the Firm's investment banking coverage of clients in the Charter School, Community Development Financial Institution (CDFI), and Affordable Housing Development sectors. During her tenure at Morgan Stanley, she executed a wide variety of transactions, including debt capital raises and securitizations. Beyond her experience in the financial services sector, Carmen currently serves as a research assistant at Teacher's College at Columbia University, where she researches the intersection of public finance, labor economics, and educational outcomes among community colleges. Carmen is a recent graduate of Princeton University's School of Public and International Affairs, where she was awarded the Lieutenant John A. Larkin Memorial Prize for best senior thesis in the field of political economy.

Hanseul Nam '19
Investor, Spark Capital

Hanseul is an investor at Spark Capital, an ~$8b AUM venture fund that has backed iconic founders (of companies such as Slack, Deel, Carta, Scale AI, Twitter, Discord, Oculus, Cruise, Anthropic, Adept, and many others!) across their capital journey, from Seed to pre-IPO. Previously, she was an investor on the software team at Alpine, a private equity firm, where she invested in and supported a range of private software companies across the US. Born in Seoul, South Korea, she moved to New Zealand when she was a child and left to attend Princeton ('19) where she graduated magna cum laude with a bachelor's in economics and minor in computer science.

MODERATOR:
 

Abhiram Karuppur '19
Private Equity Associate,
Ara Partners

Abhiram Karuppur is an Associate at Ara, where he is focused on transaction execution and portfolio company management. Prior to joining Ara, Abhiram was an Analyst at J.P. Morgan in the Investment Banking group, where he advised companies on debt financings, PIPE executions, M&A transactions, and overall strategic analysis. Abhiram holds a Bachelor of Science & Engineering in Chemical & Biological Engineering and earned certificates in both Finance and Materials Science & Engineering from Princeton University, where he graduated summa cum laude.
​
Organized by the JRCPPF Alumni Forum.