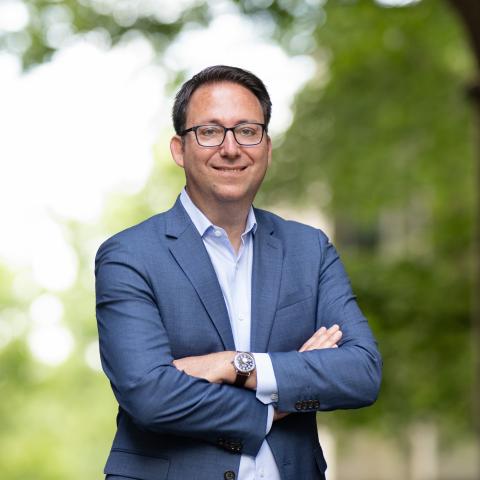 John L. Weinberg Visiting Professor and Lecturer of Public and International Affairs
Office:
347.1 Wallace Hall
E-mail:
uofer@princeton.edu
Biography
Udi Ofer is the John L. Weinberg Visiting Professor and Lecturer of Public and International Affairs in the School of Public and International Affairs at Princeton University. He is the founding Director of the Policy Advocacy Clinic at Princeton University and teaches courses on civil rights, policing, criminal justice reform and policy advocacy. He is also Chair of the International Advisory Council of the Association for Civil Rights in Israel.
Ofer has more than 20 years of experience as a civil rights lawyer and policy advocate working on issues related to criminal justice reform, national security, and racial justice. For two decades, Ofer worked as an attorney at the American Civil Liberties Union (ACLU), where he helped to transform the organization into an advocacy powerhouse. Throughout his career, he has worked with policymakers and advocates across the political spectrum to advance civil rights and defend civil liberties. 
From 2016-2022, Ofer was the Deputy National Political Director of the ACLU and the founding Director of the ACLU's Justice Division, leading the ACLU's advocacy on criminal justice reform, including before the White House and Congress, and securing policy victories in states across the nation, including in Oklahoma, Louisiana, Michigan, Texas and more. He is best known for building the ACLU's Campaign for Smart Justice, an unprecedented 50-state strategy to end mass incarceration, and launching the ACLU's first-ever nonpartisan campaign to engage in a district attorney race. Under his leadership, the ACLU engaged in 45 district attorney races in 15 states, educating tens of millions of voters in a nonpartisan manner and helping to transform the role of prosecutor in the United States. He also launched ballot initiatives to reform drug laws and to end mandatory minimum sentencing.
From 2013-2016, Ofer served as Executive Director of the ACLU of New Jersey. Under his leadership the organization achieved historic victories on a range of issues, including overhauling New Jersey's broken cash bail system, launching a successful bipartisan campaign to legalize marijuana, winning in-state tuition for undocumented immigrants, prohibiting local police from enforcing federal immigration laws, launching a campaign for marriage equality, and creating one of the nation's strongest civilian complaint review boards in Newark.
From 2003-2013, Ofer worked at the New York Civil Liberties Union, where he began as the founding Director of the New York Bill of Rights Defense Campaign, which focused on national security issues, including challenging the USA PATRIOT Act and the Guantanamo Bay detention camp. In 2008, he founded the Advocacy Department, where he challenged the NYPD's stop-and-frisk practices and spearheaded the successful effort to pass legislation banning racial profiling by the NYPD and creating an NYPD Inspector General's office. Ofer was also a co-founder of Communities United for Police Reform in New York City.
Ofer began his legal career in 2001 as a Skadden Fellow at My Sisters' Place, a domestic violence organization. He was an adjunct professor at New York Law School from 2009-2012, and has published widely including in the Seton Hall Law Review, Columbia Law School Journal of Race and Law, New York Law School Law Review, and Fordham Urban Law Journal. Ofer's work and commentary have been featured in hundreds of national and local news outlets, including The New York Times, Washington Post, NPR, Wall Street Journal, New Yorker Radio Hour, The Hill, NBC News, Newsweek, POLITICO and Vox. He has testified before many legislatures, including the United States Senate, and is frequently cited as an expert on civil rights and criminal justice matters. His work and research have been cited in legal opinions issued by numerous courts, including the United States Court of Appeals for the Fourth Circuit and Tenth Circuit, as well as in more than 100 law review articles.
Ofer is the recipient of numerous awards, including the Distinguished Graduate Award from Fordham Law School, a presidential award from the Open Society Foundations, and a proclamation from the New York City Council for contributions made by his work to the city and state. He is a graduate of Fordham University School of Law and the State University of New York at Buffalo.