May 18 2017
Source
Woodrow Wilson School
Princeton University's Program on Science and Global Security (SGS), based at the Woodrow Wilson School of Public and International Affairs, has received a $2-million grant from the MacArthur Foundation. The award will support SGS' efforts to educate and train the next generation of researchers and scientists studying nuclear non-proliferation, arms control and disarmament.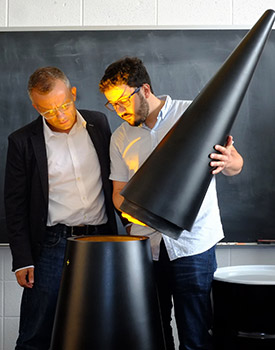 Many of these scholars will work on these issues in universities, governments and nongovernmental organizations around the globe. As a result, policymakers, the media and the public will have access to sound research and policy analysis on nuclear arms control, disarmament and non-proliferation.
"This effort is especially important given the current crisis in nuclear arms control and disarmament and growing nuclear dangers, especially as all of the nine nuclear weapon states focusing on modernizing or expanding their arsenals," said Alexander Glaser, who co-directs SGS with Zia Mian. "There are more than 15,000 nuclear warheads in the world, and nuclear material for more than 100,000 weapons."
Glaser and Mian noted how post-Cold War arsenal reductions by the United States and Russia have slowed, and both sides continue to keep many hundreds of weapons on hair trigger alert ready to launch within minutes of a country's leader pushing the button. Meanwhile, concerns grow about nuclear programs in North Korea, South Asia and the Middle East.
"The only silver lining is the growing demand for more action on nuclear arms control and disarmament within the international community, and the United Nations talks on a treaty to ban nuclear weapons. A new generation of technical and policy experts is needed to work on all these issues," Mian said. 
The grant also will support the international, peer-reviewed journal "Science and Global Security." Based at SGS and founded in 1989, Science and Global Security is the leading academic journal for technical arms-control analysis.
The four-year grant (2017-2021) renews a previous MacArthur Foundation grant (2013-2017) that supported the training of postdoctoral researchers, Ph.D. students and visiting scholars interested in technical analysis to advance nuclear arms control, disarmament and non-proliferation policy.
Founded in 1974 and previously directed by Frank von Hippel, Harold Feiveson and Christopher Chyba, SGS carries out research and policy analysis and education and training in nuclear arms control and non-proliferation.
The John D. and Catherine T. MacArthur Foundation supports creative people, effective institutions and influential networks building a more just, verdant and peaceful world. It supports work on some of the world's most pressing social challenges, including nuclear risk.