Amb. Ryan C. Crocker will receive the 2020 Sylvanus Thayer Award presented by the West Point Association of Graduates. Crocker will receive his award on Oct. 1, 2020, at the U.S. Military Academy at West Point in New York.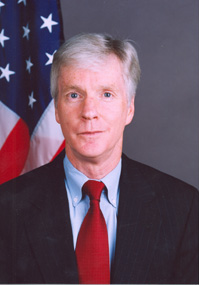 Crocker is a visiting lecturer and diplomat in residence at Princeton University's Woodrow Wilson School of Public and International Affairs. He served as U.S. ambassador to Afghanistan (2011–2012), Iraq (2007–2009), Pakistan (2004–2007), Syria (1998–2001), Kuwait (1994– 1997), and Lebanon (1990–1993). He also is a recipient of the Presidential Medal of Freedom.
The West Point Association of Graduates presented the award to Crocker for his service, including reestablishing an American diplomatic presence in Afghanistan during the early days of Operation Enduring Freedom, and assisting in the formation of the Iraq Governing Council, the first Iraqi governing structure after the defeat of Saddam Hussein.
"I've had the privilege of serving with many West Point graduates during my career and understand the values to which they dedicated their lives," Crocker said. "I am truly humbled to receive an award reflecting these values."
In addition to his diplomatic posts, Crocker also has held several academic positions. He spent 1983-84 at Princeton University as a mid-career fellow. About 25 years later, he became the dean of the George H.W. Bush School of Government and Public Service at Texas A&M University. He also had appointments as the James Schlesinger Distinguished Visiting Professor at the University of Virginia and as the first Kissinger Senior Fellow.
Since 1958, the Sylvanus Thayer Award is given to a citizen of the United States, other than a West Point graduate, whose outstanding character, accomplishments, and stature in the civilian community draw wholesome comparison to the qualities for which West Point strives, in keeping with its motto: "Duty, Honor, Country."
Recent recipients have included former Secretaries of State Madeleine Albright (2013) and Condoleezza Rice (2014), former President George W. Bush (2017) and former Secretary of Defense Leon Panetta (2018).