Mar 18 2021
Source
Princeton School of Public and International Affairs
Annamie Paul is the leader of the Green Party of Canada. She is the first Black Canadian and first Jewish woman to be elected leader of a major federal party in the country.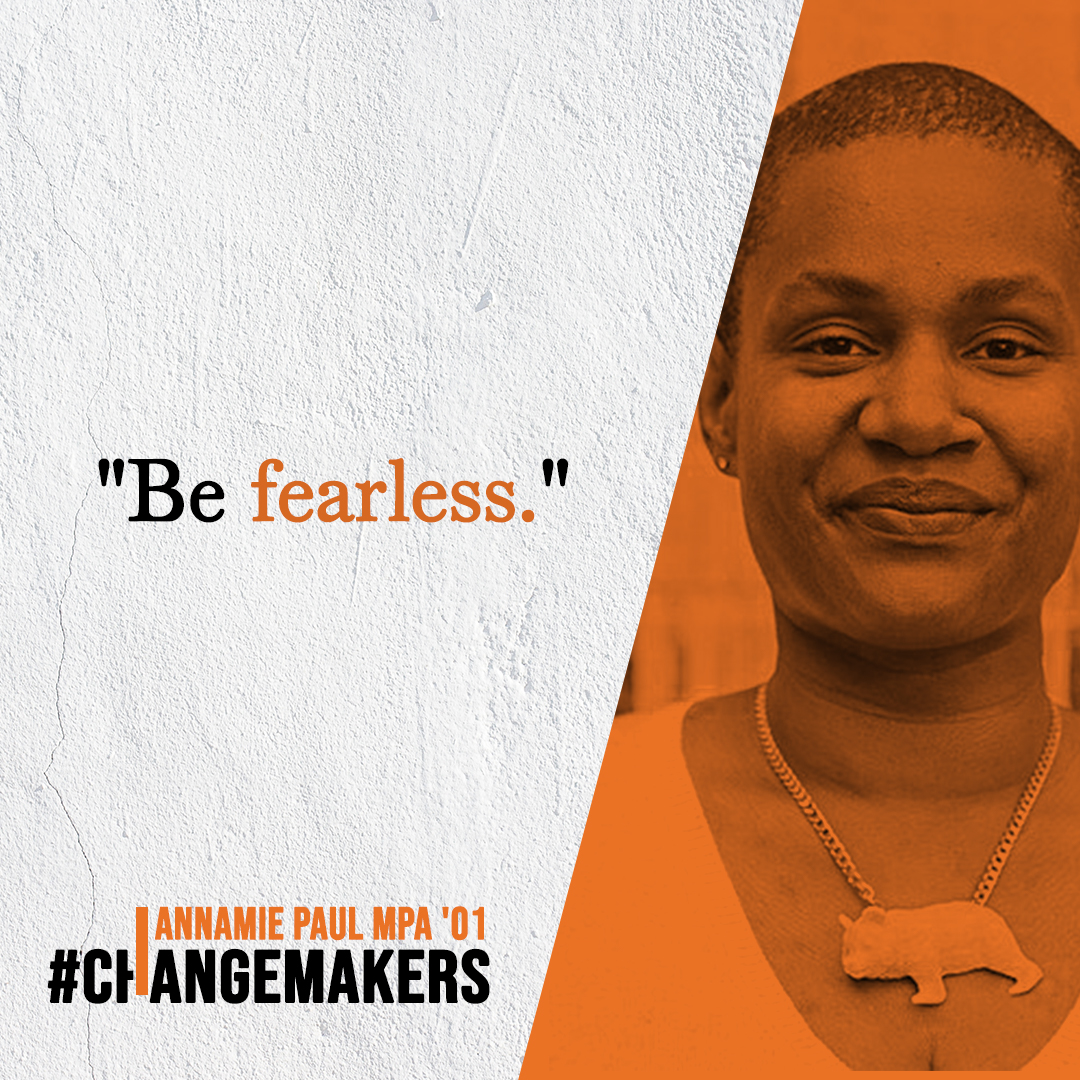 ​Paul is the daughter of immigrants who arrived in Canada from the Caribbean in the 1960s. She engaged with public policy from an early age. At 12, she was a page for the Ontario Legislature and later served as a page for the Canadian Senate.  
She was the founder and executive director of the Canadian Centre for Political Leadership from 2001 to 2005 and has worked in civic engagement and international affairs positions, including in political affairs in Canada's Mission to the European Union and in the Office of the Prosecutor at the International Criminal Court. She also is co-founder of the Barcelona International Public Policy Hub. 
She has a bachelor of laws from the University of Ottawa and received her MPA in 2001 from Princeton University's School of Public and International Affairs (SPIA).
In this Q&A and bonus podcast, Paul lays out her policy priorities for Canada and reflects on how SPIA influenced her varied career. Paul is a strong believer in living life fearlessly, a quality she honed as a master's student. She says if you live life on your own terms, it's not so hard to be bold. 
Q.: As leader of the Green Party of Canada, you've promised to advance policies other parties haven't delivered on. Which of those are you most passionate about?
Paul: While the pandemic's changed everything, I would say my core values and priorities haven't changed. I wanted to lead the Green Party because I believe that the most significant positive change that has ever happened in human history has happened collectively.
I thought my mix of experience, including from SPIA and that great set of skills, would equip me to handle whatever challenges came my way, whatever the policy themes were of the day. I've been able to pivot quickly to the pandemic and the issues that it raised because I had that great toolbox of skills. This felt like the right moment to get involved politically and try to contribute something to politics in Canada.
Green Parties have core values that we all share. Amongst them are a respect for diversity, nonviolence, and a respect for the natural world. Those things are, you know, participatory democracy. The Green Party in Canada is well known for its environmental policies, and its policies around the climate emergency. But we're also known more and more for our social policies, as well. We're focused on social justice and a complete social safety net. At the moment we're discussing how we complete our social safety net after the pandemic so that everyone can live in dignity from the first day to the last day. We're also talking about how we launch a post-pandemic 'green recovery', and how we ensure that we are continuously working toward a truly just society.
Q. In what ways did the Princeton School of Public and International Affairs prepare you for your career? What are the qualities that make for a great leader?
Paul: Being a SPIA alumna helps make you a bit fearless. It gave me this incredible set of skills that gave me the confidence to take risks throughout my entire professional life. Because of this, I've pivoted many times in my career. I've worked in the civil service. I've worked in a civil society. I've worked for NGOs. I've worked in multilaterals. I've been a social entrepreneur, and all of these things were because of the toolbox of skills that I acquired during my two years at Princeton. I'm very grateful for that. We have all of the building blocks that we need to be effective leaders.
And so what makes a great leader? I think it's someone who does have a little touch of fearlessness, someone who is really proactive about getting things done, someone that's able to spot the needs of their community and their neighbors, and roll up their sleeves and get to work without a lot of guidance. Those are some of the elements of leadership, and sometimes we don't recognize or celebrate them enough when we see them. Those are the kind of people we need in politics. Without them, the whole thing falls apart, like a house of cards. Many of the people who helped me to win the leadership of the Green Party of Canada will never get the recognition they deserve for what they did. They decided to dedicate months of their lives to electing a Black woman to a role that a Black person had never been elected to in Canada. Without their leadership, I would not be here.

Q. You've had a long career in public policy. Along the way, what are the most important skills/strategies you've learned? 

Paul: My interest in public policy is something that stems all the way back to my childhood. My mom was an educator and a union member. So, I was exposed to policy and politics early on. After my law studies and Princeton studies, I knew I wanted to always find a way to be engaged in policy — whether that was founding the first organization trying to delve deeply into underrepresentation amongst equity-seeking groups and politics in Canada, or working at the international criminal courts. It also included founding a social innovation hub in Barcelona for global NGOs working on the biggest global challenges. The unifying theme is that it was public service. And it was trying to address the pressing issues of the day with that kind of toolbox of skills that I had acquired.
"What makes a great leader? I think it's someone who does have a little touch of fearlessness."

Annamie Paul MPA '01
Q. In policy, how do you make critical decisions and forge a consensus?
Paul: You have to enter those kinds of situations with a very big dollop of humility. It's not a given regardless of your skill, regardless of your experience, that you're going to be able to forge that consensus. There are no two situations that are exactly comparable. Listening is very important. You need to understand as best as you can, the situation from the perspective of the other stakeholders. One of the things that I've been pushing for a lot is ensuring that you're actually forging a consensus with the right people. So often in policy, in particular, the people who are most impacted by a decision aren't even in the room when those decisions are taken. And then those decisions are being sold to them or pitched to them retroactively. And that makes it much, much harder to find consensus. We see that playing out in big and small ways all the time. So having the right actors in the room is already a really great start.
Q. What is/are the most important policy issue(s) facing us today?

Paul: This is a critical global crossroads. We have the pandemic and the likelihood of future pandemics. Our need to urgently address the climate emergency. We have the opportunity to have a green recovery, which means that we could also be looking at a globally structural change to our economic system. We also have the changing nature of work and the future of work that has been caused by automation and artificial intelligence, and has only accelerated during the pandemic. We have a lot of work cut out for us. I'm hoping the good thing that can come out of all of this tragedy is that the pandemic allows us to reprioritize and to really commit to taking care of one another and the natural world, and that we will take that spirit into all of the decisions we have to make about where we're headed to, whether it's in our own countries or as an international community.
Q. How can young people entering the workforce be successful? What advice would you have for our students who are graduating this year and maybe even prospective students thinking about coming to Princeton?
Paul: If you're thinking of coming to Princeton and you have the opportunity, absolutely do it. It is one of the best decisions I ever made. Princeton invests so much in students. There's so much encouragement for students to pursue their ideas and to investigate the policy issues they're passionate about, which can support all kinds of different career paths. Once you've graduated, give Princeton a good return on its investment by making sure you go out and make a difference because this is definitely a moment for people to step up. It's a moment for those who have had the opportunity to really be prepared with the skills that we're going to need to come up with the innovative solutions to these big, not just challenges, but also opportunities. You are needed, and your talent and your passion are needed. And so go forth and, in your big and small ways, demonstrate leadership. It's so important for every Princeton graduate to know there are thousands of people who will never have that special experience. Find a way to share what you've learned with them. 
Q: How do you become a fearless person?
Paul: I've been with a partner who encourages me, and I encourage him. We just got into the habit, right from the beginning, of trying to live our lives in a way that was meaningful to us, even if it didn't follow the prescribed script of what lawyers should do, or what Ivy League grads should do. We really try to live our lives on our own terms. The more you do that, the more you are rewarded. We've never regretted any of the chances we took — leaving our stable law jobs to go back to school or deciding to pick up and move with our family to Europe, leaving stable jobs to go and create our own organizations. Once you do it and it works out, you're willing to do it again and again. If you're following your path, as you want to lay it out for yourself, you're likely to find that you're happy.
Alumni Making a Difference
#Changemakers: Alumni Making a Difference is a series featuring alumni of the Princeton School of Public and International Affairs.