Anthony D. Romero '87 is the executive director of the American Civil Liberties Union (ACLU), the nation's premier defender of civil liberties. Romero took the helm just a week before 9/11.
During his tenure, Romero has led the ACLU to pursue aggressive litigation and advocacy challenging the greatest injustices of our time. He is also the ACLU's sixth executive director and the first Latino and openly gay man to serve in that capacity.
In this Q&A, he explains why he still believes in the American Dream and why it's important now more than ever to protect and defend our civil liberties.
Q. What is/are the most important policy issue(s) facing us today?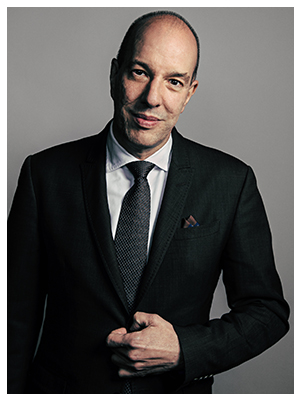 Romero: After the death of Justice Ruth Bader Ginsburg, who was the ACLU's most distinguished alum, I spent a lot of time reflecting on her impact. She was an icon. And our nation desperately needs leaders molded in her image, who have a boldness of vision and grace to match the adversity and challenges we are confronting across multiple fronts. Justice Ginsburg led a jurisprudence revolution for women's rights. We need to continue her work to extend civil liberties and civil rights to all people.
Also importantly for this moment in history, we need policymakers and activists who are willing and able to lead this country through a "final reconstruction" — a bold, transformative plan that builds upon the trilogy of civil rights laws enacted by Lyndon B. Johnson. We need leaders who will implement a plan of action that addresses systemic racism, levels the playing field, and builds wealth among communities of color and low-income communities.
The challenges of the moment require more than a to-do list of needed fixes, or a roller derby of issue agendas. I want to link arms with folks from the private sector, government, and nonprofit sector to demand a wholesale transformation and not just a return to a pre-Covid or pre-Trump status quo. We need to get uncomfortable with the ambition and scale of the change we have to demand. We need a national agenda that rebalances political and economic power in an enduring way, addresses the injustice exacerbated in this current pandemic, and protects democracy through the next administration and beyond.
Q. What are you most passionate about? What current project or initiative are you most excited about?
Romero: The American experiment – the American Dream, if you will – still excites me. Out of many, one: That we are judged on the content of our character. That each person can achieve their fullest potential — free from discrimination and government obstruction. That we are all equal before the law. That the disenfranchised are given a hand-up, without recrimination or resentment. Those ideals still excite me and motivate me to do my part to accomplish them.
Q. Over the course of your career, what are the most important skills/strategies you've learned?
Romero: In terms of the skills and strategies that helped me in the field of public interest law, I've learned that preparation is everything, and being nimble is essential. At the ACLU, we spend a lot of time thinking through our priorities, our theory of change, the selection of tactics and strategies, and the deployment of our advocacy efforts. For instance, we were the only national advocacy organization with a plan to fight the civil liberties and civil rights abuses of the Trump administration before he was elected president. Having spent time on developing a plan — even though we didn't think we would need it — we were able to come out of the gate boldly, decisively, and vigorously. At the same time, we've had to improvise and course correct in real time every step of the way. This two-step process — of preparing and planning and being nimble, reactive, and responsive — is an essential part of success in the field of social justice and public service.
Q. When it comes to decision-making, what are the most effective strategies? How do you make critical decisions and forge a consensus?
Romero: When it comes to decision-making, I first listen to my gut. Once I'm clear on what my instincts and experience are telling me, I then collect a lot of data points. It's essential to listen to divergent and opposing views, get outside the bubble, and be willing to break with conventional wisdom. And after that period of reconnaissance and consideration, whether it's minutes or months, take action — knowing that you are giving it your best shot. The worst outcome in any context is decision paralysis. You will invariably learn and course correct along the way. And in most circumstances, how you make the journey is more important than the ultimate destination.
Q. In what ways did the Princeton School of Public and International Affairs prepare you for your career?
Romero: The School helped me hone my analytic skills and my advocacy abilities. There, I began learning how to separate the essential from the extraneous. I also developed my abilities to articulate an argument and persuade doubters to my position. The policy task forces were essential in this regard. Finally, the School showed me how big of an impact can be achieved by pulling the right policy levers.
Q. How do you think the School trains students to be policy leaders? What were the tactical skills you gained while at the School that you still employ today?
Romero: The School trains the policy leaders of tomorrow by building their intellectual acumen to tackle nettlesome, seemingly intractable problems. Imparting that knowledge, and coupling it with real-world experience and exposure are critical. I learned how to listen to and lean in to divergent viewpoints.
Q. How can young people entering the workforce be successful?
Romero: In the face of so many challenges and bracing headwinds, new professionals will need to be dogged and resilient to succeed. Develop the "grit factor" by pushing through the hard stuff — whether personal or professional. Make sure that what you're working on, what you're working toward, or whom you're working for is worthy of your blood, sweat, and tears. Finally, enjoy the ride — and if it isn't enjoyable, make the change.
#Changemakers: Alumni Making a Difference is a Q&A series featuring alumni of the Princeton School of Public and International Affairs.