Dec 01 2020
Source
Princeton School of Public and International Affairs
Improving health care, especially for the disadvantaged, has long been the focus of Brent L. Henry '69's career. From the corporate world to the practice of law, he's found the best approach to tackling challenges is to encourage idea-sharing and team strategizing.
Before joining the law firm of Mintz, Levin, Cohn, Ferris, Glovsky, and Popeo P.C., he served as vice president and general counsel of Partners HealthCare (now Mass General Brigham), which is New England's largest health care system. There, he handled legal, internal audit, corporate compliance, and business ethics.
Prior to his post at Partners HealthCare, Henry served as vice president and general counsel of Medstar Health, a hospital system serving the Washington, D.C./Baltimore corridor. While there, he also taught health care law at both Howard University and the University of Maryland.
In this Q&A, Henry describes how Princeton University prepared him for his career and how the School of Public and International Affairs developed him into a leader. He also offers tips for those entering today's workplace, encouraging them to be patient and look for opportunities for growth.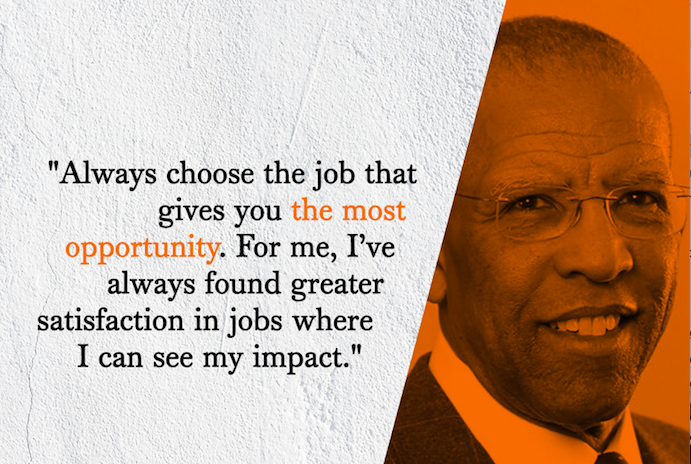 Q. What is/are the most important policy issue(s) facing us today?
Henry: Covid-19 is clearly the most pressing issue of today, but another important issue that the pandemic has highlighted is the racial and income inequality challenges our nation faces. That manifests itself in health care disparities, which is the area/industry I come from. If you look at the effects of Covid-19 on different populations in the U.S., you can see who has been most acutely affected by the economic downturn. Essential and low-wage workers have been hit the hardest, and many have lost their jobs. Inequality and access to opportunities that would lift people out of poverty are major policy challenges for this country.
Q. What are you most passionate about? What current project or initiative are you most excited about?
Henry: Having retired from my job as vice president and general counsel at Partners HealthCare, I'm now at a law firm. I've been spending my time helping hospitals and health care systems recover from the pandemic. The combined effect of caring for the onslaught of Covid-19 patients and the forced cancellation of surgeries and routine patient visits has had a devastating effect on the bottom lines of those organizations. I would not be surprised to see hospitals, especially those in rural parts of our country, close their doors. When the CARES Act was enacted, I was privileged to work with the American Hospital Association to help free up money for nonprofit hospitals, as they are suffering the most.
What's next? Well, now that Princeton alumna Andrea Campbell '04 has announced her run for mayor of my city, Boston, I look forward to actively supporting her candidacy.
Q. Over the course of your career, what are the most important skills/strategies you've learned?
Henry: When I think back on my education as an undergraduate, it was really the first time I experienced the opportunity to work in teams to affect policy issues. During my time as a corporate executive, that's exactly what I was doing: Working with colleagues and executive teams to figure out the best strategies to enable my organization to deliver quality health care to the communities we served. The skills that I employed included the ability to listen to all sides, synthesize what's being suggested, and present my recommendations in a clear and convincing manner. It's important to be able to gather different points of view in order to move the agenda forward in a meaningful way. As I think back on it, I was introduced to those skills at Princeton and I've been honing them ever since.

Q. When it comes to decision-making, what are the most effective strategies? How do you make critical decisions and forge a consensus?
Henry: Make sure that you really listen carefully. If you are the convener or the group leader, you should restrain yourself from taking over the conversation. You need to be able to draw people out and make them feel comfortable expressing their opinions, even though it may differ from the majority view. It's important to get all perspectives on the table, and then learn how to engage those people and others in a conversation that doesn't devolve into a debate. Once the ideas are on the table, you can generate a discussion that moves the conversation forward. Frankly, I think that's a skill of an effective team leader and something I began to learn at Princeton.
Q. In what ways did the Princeton School of Public and International Affairs prepare you for your career? 
Henry: Without a doubt, it was writing. This has been instrumental to my work as a lawyer. Learning how to write well is essential, and that began for me at Princeton. Understanding and respecting other points of view is also something I learned at the University. That's enabled me to help others find positive solutions to problems.
Q. How do you think the School trains students to be policy leaders? What were the tactical skills you gained while at the School that you still employ today?
Henry: The essence of a good leader is someone who is able to create a shared vision among members of a team, and lead them toward that goal. A key skill is learning how to engage people so they feel comfortable sharing their ideas. Good leaders will help get all ideas on the table so that even those who are expressing different points of view will feel they've had a hand in shaping the discussion.
Once you have the ideas on the table, you can figure out those that make the most sense and organize them into a successful strategy. You can't always please everyone, but if everyone around the table feels heard, it will be easier to work as a team. In the end, good leaders are able to get everyone excited about the strategy, which enables collective buy-in.  
I began learning how to do all of this while at Princeton and continue to employ these skills today.

Q. How can young people entering the workforce be successful?
Henry: For starters, I think it's important to pursue opportunities that allow you to continue to grow and learn. Think about the kinds of people and institutions you want to affect. Do you want a job that has a real impact on society or not? In my career, I've found greater satisfaction in jobs where I can see my impact.
Young Princeton graduates tend to be ambitious and impatient, and I admire that. In times like this, when the economy is so uncertain, it might make sense to exercise some caution while you figure out which options can have the most beneficial impact on how you grow and what you're learning. Think carefully about your career choices. For me, it's always been important to evaluate job prospects from the standpoint of which choice will maximize my options for the next career opportunity.    
Changemakers: Alumni Making a Difference is a Q&A series featuring alumni of the Princeton School of Public and International Affairs.