Apr 29 2021
Source
Princeton School of Public and International Affairs
Dr. Arthur Robin Williams '04 conducts research funded by the National Institutes of Health (NIH) to investigate outcomes over time for individuals suffering from drug addiction. He sees potential for reforms instituted in response to Covid-19 — such as virtual treatment options — to help increase health care access and outcomes post-pandemic, especially in rural and underserved regions.
Williams is an assistant professor of clinical psychiatry at Columbia University, a research scientist at the New York State Psychiatric Institute, and director of the New York region of the American Academy of Addiction Psychiatry. He also serves as medical director of Ophelia Health, Inc., which provides online, medication-assisted treatment for opioid dependence. He is a fellow of the American Society of Addiction Medicine (FASAM).
As an undergraduate at the Princeton School of Public and International Affairs, Williams was interested in pursuing both the practice of medicine and public health policy. Here he shares how his multi-faceted career threads his interests together.
Q. What is/are the most important policy issue(s) facing us today?
Williams: Over the course of my college career at Princeton in the early 2000s, it became apparent that addiction and our failed policy responses to drug use in the United States cut across all major social and political issues with unavoidable implications for the economy, criminal justice reform, education, child welfare, and housing. Nonetheless, it would have never occurred to me at the time that, over the next two decades, addiction would lead to lower life expectancies in the U.S. and become the number one cause of death for individuals under 50 years of age.
Q. What are you most passionate about? What current project or initiative are you most excited about?
Williams: As an NIH-funded researcher, most of my work is with observational data (e.g., health records, insurance claims, policy reports) to investigate long-term trajectories and outcomes among people treated for addiction. In response to Covid-19 last spring, federal health agencies temporarily lifted regulations on treating patients through telehealth and relaxed regulations on methadone programs. This is a natural experiment at an unprecedented scale. If these reforms don't undermine safety, or if they actually improve outcomes and retention, it could alter our laws permanently, improving access to much-needed care, especially in rural and underserved areas. Over the past few months, I was funded by the National Institute on Drug Abuse Clinical Trials Network to study these programs across the country to ascertain the impact of reform.
Q. Over the course of your career, what are the most important skills/strategies you've learned?
Williams: Persistence. Even the best ideas usually require multiple attempts before they come to fruition. Consulting colleagues is also important. In today's world, everything has become extremely specialized. No matter what you are working on, there is usually someone who knows more about one particular facet of the project or approach than you could possibly ever know. I increasingly work as part of a multidisciplinary team and while this may be more painstaking the work is more rigorous.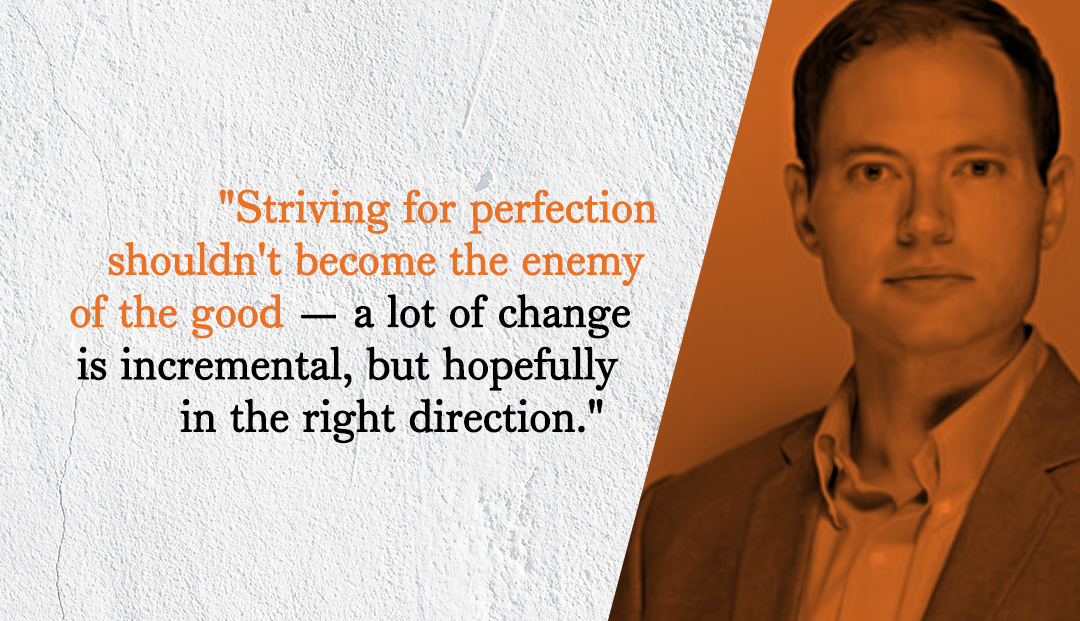 Striving for perfection shouldn't become the enemy of the good — a lot of change is incremental, but hopefully in the right direction."

Dr. Arthur Robin Williams '04
Q. When it comes to decision-making, what are the most effective strategies? How do you make critical decisions and forge a consensus?
Williams: I am not necessarily a fan of consensus. In most settings, trying to reach consensus is a stumbling block and slows things down. I am a proponent of discourse and debate. The more inputs and voices, the stronger the outcome. I have benefited from intergenerational efforts with colleagues spanning all ages. I also work in the tech sector (with telehealth startups); while having a young organization can be disruptive, it can come at the cost of losing touch with senior perspectives and institutional knowledge. Ideally, there would be diversity in all directions — training, experience, age, etc. — to inform the best decisions.
Q. In what ways did the Princeton School of Public and International Affairs prepare you for your career?
Williams: Early in college, "policy" was a black box. It was hard to understand exactly what policy meant, especially as a field of study. I knew I wanted to go to medical school and work in public health policy, but I wasn't sure how it would all fit together. Thinking about taking care of individual patients is very different from thinking more broadly about systemic change and regulatory frameworks. I learned that striving to achieve perfection should not become the enemy of the good — a lot of change is incremental but hopefully in the right direction. Ultimately, for a change to be feasible, you have to figure out how to put it into practice in the real world when there are many stakeholders with different views and incentives. I have always been very pragmatic and action-oriented, so I loved the junior policy task forces and working on my senior thesis with community partners. One task force was focused on individuals dually eligible for Medicaid and Medicare, and we presented recommendations to the Centers for Medicare & Medicaid Services (CMS) in Washington, D.C. The other was on reducing harms from alcohol and drugs for the New Jersey Health Commissioner's office. Both were formative experiences. Now, through my work at Columbia, I am a consultant to CMS-funded efforts to develop quality measures for addiction treatment, and I help state agencies with data collection and reporting efforts in response to the opioid crisis. I haven't necessarily traveled on a straight path, but there has been an intact thread through all of my training and current work.
Q. How do you think the School trains students to be policy leaders? What were the tactical skills you gained while at the School that you still employ today?
Williams: It is important to convey ideas clearly, and it is important to not be misunderstood. Part of what is baked into these two ideas is anticipating how your text and language comes across to others. It can be hard to get out of your own head, especially when you're very close to detailed material with which others are less familiar. I have gravitated toward shorter synopses of content rather than really long documents that no one will read anyway. Honing a clear, one-page executive summary is a good exercise. I think the School contributed in a meaningful way to my writing and speaking skills and how to tailor content to different audiences.
Q. How can young people entering the workforce be successful?
Williams: In medicine it is a bit of a truism that you have to keep reading. I think that applies for most everything — keep reading, far and wide. Read things that you think are unrelated to what you do. Read (and do) things that influence the way you think. The other recommendation I always have for mentees is to think about how to build on prior work and experiences. Ideally nothing goes to waste. Rather, prior efforts or projects serve as building blocks for what will ultimately be a larger structure. Over time, this becomes really unique to the individual and it's helpful to be known for a particular niche, to be the go-to person for something specialized.
---
#Changemakers: Alumni Making a Difference is a Q&A series featuring alumni of the Princeton School of Public and International Affairs.
Alumni Making a Difference
#Changemakers: Alumni Making a Difference is a series featuring alumni of the Princeton School of Public and International Affairs.