Jun 10 2021
Source
Princeton School of Public and International Affairs
For more than two decades, Jeremy Barnicle MPA '04 has been working at the intersection of policy, philanthropy, and social change. At Mercy Corps, he helped to guide the organization's global strategy, positioning the nonprofit as one of the most respected humanitarian organizations in the world. Today, he serves as executive director of Ecotrust, an organization working to advance social equity, economic opportunity, and environmental well-being for all.
In this Q&A and bonus podcast, Barnicle reflects on how his time at Princeton SPIA — both as a student and later as a lecturer — shaped his approach to leadership. He also stresses the importance of showing up "ego free" in a job and putting in good, hard work with "great spirit," while also demonstrating an ability to think big-picture.
Q: Can you talk about your organization Ecotrust? What current project or initiative are you most passionate about?
Barnicle: Ecotrust operates at the confluence of the environment, economy, and equity. We are based in Portland, Oregon, and we're a bioregional organization, meaning that we work from Alaska to Northern California on matters relating to natural systems and the way that natural systems interact with the market and people. We've long worked on the regional food and agriculture system, looking at how can we reform the food system in a way that is better for rural economies and communities, better for the stewardship of natural systems, and better for eaters from a health standpoint. Because of the racist pattern of land ownership in this country, that work has ended up really leaving out a lot of communities of color. A focus for us has been making that important work more inclusive and more responsive to the unique needs of people of color in this region. We have a whole body of food equity work that is about empowering small- and medium-sized agricultural producers and entrepreneurs of color.
Another body of work is green jobs and green workforce development. Through early research, we realized that there was a mismatch between the growing demand for skilled labor in green industries like environmental restoration, urban forestry, deconstruction of residential housing, and certain types of waste management. There was a lot of demand for skilled labor that wasn't being met. At the same time, we were observing a chronically underemployed population and of Black and urban native young people. Based on that, we created a green workforce academy, where we take young people from those populations and help to prepare them for careers in those fields, as well as line up the destination employers so that they have a place to go. Those are two of about 30 projects we have cooking.
Q: What is/are the most important policy issue(s) facing us today?
Barnicle: Climate change and global warming is the existential threat to life as we know it. That is just an apex problem that we need to solve. The Princeton Net-Zero America report was practical for people who care about this. We can situate our work, which in our case is all around natural climate solutions related to forestry and agriculture, in a broader context. Also, racial justice is long delayed, and we must address it in a deep way. I see those two as the big ones.
Q: What skills or strategies have you learned over your career that help you be a leader, and how has Princeton helped with that?
Barnicle: Leadership has a lot to do with humility, vulnerability, and truly listening — to both your team and your partners. Leadership has been about endurance. To be able to be authentic and hopeful with your team, but also allowing yourself to be vulnerable when times are tough is a really important leadership attribute.
One of the important leadership lessons the School gave me was a sense of what is possible. A leader, in contrast to being a manager, has to have some vision. Part of doing the job well is pushing your team and your community to think broadly and to set big goals and be audacious and believe that it can happen.
I came up thinking that leaders were born. There are certain attributes that people are born with that lend themselves to formal leadership. But I think leadership can be learned. You have to make an effort to do it. People show leadership at all different levels of an organization.
Q: What were the tactical skills you gained while at the School that you still employ today?
Barnicle: The psychology course was the most useful. The idea of learning: How do people make decisions? Are people rational? How do you persuade people of things? From a policy perspective, how do you frame things so that people are making the best choices for themselves? That has been useful, both from broad policy or organizational strategy level, all the way down to how I convince my kids to help me with the dishes. The basic numeracy and comfort with data analysis was a really important piece. That was part of what attracted me to the School in the first place. It's just important as a leader that you're not scared of numbers.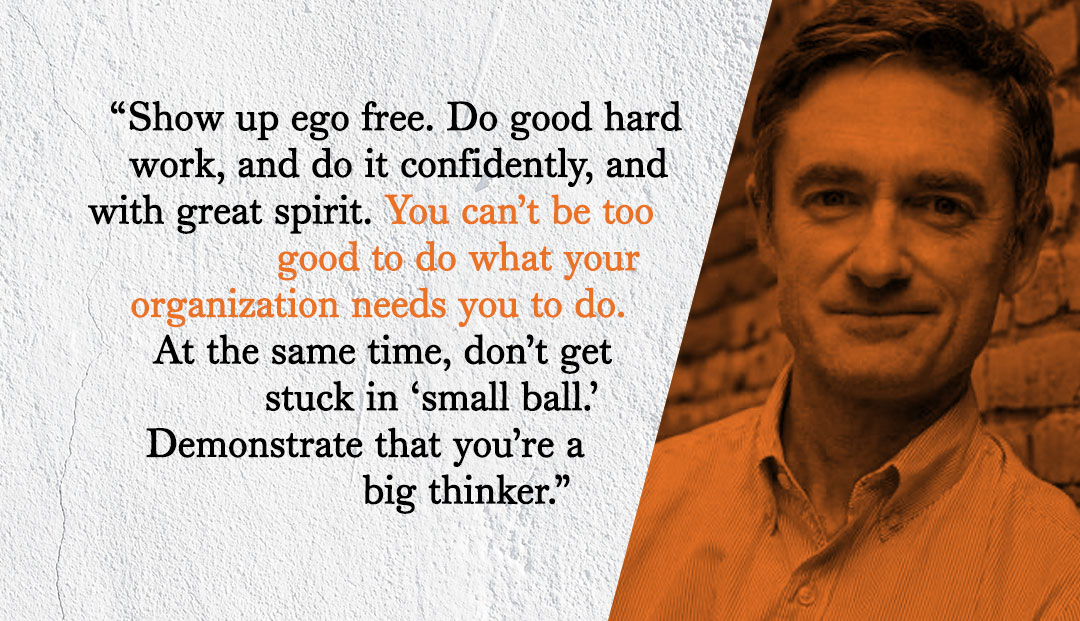 Q: What course did you teach at the School?
Barnicle: I taught a class with Stan Katz, which was in itself an honor. We looked at the role of philanthropy in the U.S., and part of Stan's expertise is in the history of philanthropy, which he focused on. I focused on the practical intersection of social change organizations. That combination was actually really helpful for the students. I loved every minute of it other than the transcontinental commute. The students of the School are smart. They're motivated. Their values are great by virtue of the educational choice that they've made.
Q: What do you think are some of the most effective decision-making strategies that one could employ?
Barnicle: I have an appreciation for the importance of clarity around decision rights. Who plays what role when making a decision? Who do we consult? Who do we inform? Who is actually the decider? Having clarity of decision rights at an organizational level is important. You've got all these communities that have been historically either actively or passively kept out of decisions that affect their lives. You're going to make better decisions that have more durability and longevity if people who have traditionally been left out of those decisions are included and not just included as a face at the table, but with meaningful input and real decision rights on what that is.
When I came to Ecotrust, we had an eight-person leadership team, which was Ivy league-educated, white, middle-aged people. It was a fairly harmonious group, but the lack of different lived experiences inhibited us from doing our best work. In the last year, we've expanded our leadership team. It's now 14 people, six of whom are people of color, two of whom are there by virtue not of their formal leadership authority but as representatives of our equity working group and our BIPOC affinity group. It's nice to know that you've got the authority to make decisions and do it and have people implement it. To broaden that and to share that power is hard, but it's been transformative. It's getting us better outcomes.
The specific language of decision rights and the clear framework that we use, is relatively new to me. Informally, there was always some kind of understanding of how decisions got made, but part of the reckoning that's going on in this country is around who has power and how they use it. There's a growing expectation — and it's a good thing — that there will be a lot more transparency around who makes decisions and who's at the table.
Q: For those who are entering the workforce today, whether it be in policy or elsewhere, what advice would you give them?
Barnicle: It's really important to be willing to do anything. Folks should show up ego free, ready to do good, hard work competently with great spirit. You can't be too good to do what your organization needs you to do. At the same time, it's also important not to get stuck in small ball. You want to demonstrate to your colleagues that you're a big thinker and that you've got a lot of capability and that you are appropriately ambitious. That combination will serve folks well because as your colleagues see that in you, they know they can trust you to deliver what you need to deliver, and they want you at the table because you help the mission move forward.
Q: Is there anything else you want to add?
Barnicle: The School of Public and International Affairs is an amazing place. I always have considered it a blessing to have been able to go and have the experience as a student and as an instructor. I wish folks well, because the world needs the types of folks who are coming out of that program.
#Changemakers: Alumni Making a Difference is a Q&A series featuring alumni of the Princeton School of Public and International Affairs.
Alumni Making a Difference
#Changemakers: Alumni Making a Difference is a series featuring alumni of the Princeton School of Public and International Affairs.