Dec 03 2021
Source
Princeton School of Public and International Affairs
Pierina Sanchez MPA '14 is the daughter of immigrants and a lifelong resident of the Bronx. She was recently elected to the New York City Council to represent District 14.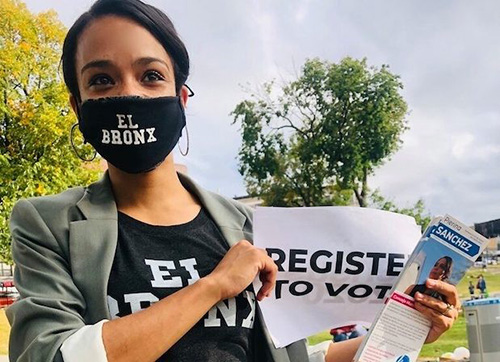 Sanchez began her public service journey in 2007, and it propelled her into a career in public service and urban planning. She advocated to expand early education programs at Agenda for Children Tomorrow and helped immigrant families stabilize their status in the U.S. She spent two years working in the city council District 14 office supporting thousands of her neighbors with their concerns. She later served in the Obama White House and then as an urban planner at the Regional Plan Association.
She earned her undergraduate degree on a full scholarship from Harvard University and then her MPA from Princeton in 2014.
In this Q&A and bonus podcast episode, she discusses issues of economic and housing inequality in her community, along with her hopes to bring more opportunity to District 14.
Q: What are some of your earliest memories?
Sanchez: I was born to a family of Dominican immigrants who came to this country in the late 1970s and moved to upper Manhattan and parts of the Bronx. I have many beautiful memories of my family working hard, and we would all get together on the weekends. But things weren't always that positive. One of my earliest memories is of a fire in the middle of the night. I remember being this little child and looking up at the fire and being so confused about what happened and not really being able to understand the anger in the response from my family. It was a fire that was started to harass tenants, a landlord-tenant dispute. That was such a foundational experience, even though I was so young.
In a sense, I feel like I won a lottery. My mom and everyone around me were supportive. They wanted to make sure I had opportunities. I was able to stay focused, and I was able to get a full scholarship to go to Harvard, and then later go to the Princeton School of Public and International Affairs. These are things that I fundamentally believe are within so many people in this community. But the lottery is small. It's a small number of people who get to go to an afterschool program that teaches them what is an SAT or what is the path to get to XYZ position. My job is to take the levers of power, the levers of government, the power of advocacy, the power of community building, and bring that to bear to change the systems that can make that lottery not so much of a lottery and more of an opportunity machine for communities like ours.
Q: What are the issues the West Bronx is facing right now? Why did you run for office? What do you hope to change? What do you hope to do?
Sanchez: We are 70% Latino. Dominican immigrants, like my family, are the largest constituency. We're about 28.5% African and African American. For us being a community of color, 98.5% people of color have a median income of $21,000 a year per person, so what communities are facing is rampant inequality. We're paradoxically situated in one of the richest cities in the world. Affordable housing is the way that inequality manifests the most. We need to build more. We need to make what we have more livable. We want to make sure that we're creating opportunities for home ownership in that fight. That $21,000 a year as our median income is something we need to tackle. How can we attract more economic opportunity? How can we support small businesses? How can we bring more infusion of capital to this neighborhood and neighborhoods like this? I think a lot about New York, New Jersey, and Connecticut — not solely at the neighborhood level and not solely at the city level — because inequality doesn't know boundaries. How can we make ourselves a more equitable region in terms of employment growth and opportunity, economic opportunity, and housing creation? It's not just in District 14. It's all across the city, state, and the region.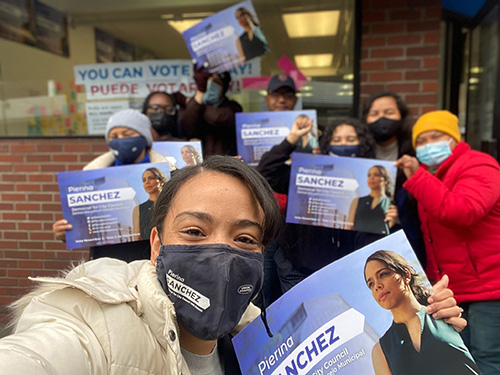 Q: What does it take to be an effective policymaker or politician?
Sanchez: First and foremost is listening to your gut and listening to your heart about why you're in this work. If you want to be in public service, if you want to be in policymaking, odds are that you care about people. Remember to always come back to that. It helps you to create an openness to have the conversations you need to have. I grew up in the Bronx, and my family was on public assistance. As I said earlier, tenant harassment happened to us many times. Make sure all these experiences that make you who you are, are front and center at the decision-making table.
Q: What's a lesson you've learned from your life experiences?
Sanchez: Trust yourself. I consider myself more of a conciliator. You need different people with different approaches to tackle problems together. One example of this is a controversial project proposed for the grounds of one of our public housing projects in the city. This is when I worked in the mayor's office, and there were mass protests and articles criticizing everyone and anyone who had anything to do with it. People were upset. The message wasn't percolating all the way to the top. For me, I had to ask: How do I break through all the noise? Oftentimes, people who find themselves in positions of power may also find themselves in echo chambers where they are surrounded by people who say you're the best and you do everything right. I went to the community members, and I sat with them and got yelled at for hours. I understand what they're protesting. I had this idea to have others withstand the yelling. We organized a town hall where the mayor went and listened to folks. It wasn't until I had the opportunity to get the mayor to that space and everybody got to state their own piece that we started to change direction on the project. To me, that's trusting yourself. So I've learned to trust your gut. It might change the direction of a project or a policy.
Q: What advice do you have for the next generation for people who want to run for office or join a cause and make a difference in this world?
Sanchez: Do it! The world needs people who are passionate about what they're doing, who are happy, and being the best versions of themselves. If there's a cause where you live and you feel called to it, show up to that first meeting. Show up to that protest. If you're not the strongest in quant, and you figure that out, then don't go into a career where that's the thing. You're probably good at something else. Find what that is for you and go for it. The world wants you to be happy and be the best version of yourself.
---
#Changemakers: Alumni Making a Difference is a Q&A series featuring alumni of the Princeton School of Public and International Affairs.
Alumni Making a Difference
#Changemakers: Alumni Making a Difference is a series featuring alumni of the Princeton School of Public and International Affairs.