Jun 15 2017
Source
Woodrow Wilson School
Testifying before a Joint Economic Committee hearing in the U.S. Senate on June 8, Sir Angus Deaton, Dwight D. Eisenhower Professor of International Affairs, Emeritus and senior scholar at Princeton University's Woodrow Wilson School of Public and International Affairs, warned of an opioid epidemic that is contributing to an unprecedented increase in overall mortality and morbidity in midlife.  
These "deaths of despair" — defined as suicides, deaths from alcoholic liver disease and deaths from illegal and legal drug overdoses — cannot be explained by the Great Recession or current unemployment rates, Deaton told committee members. Instead, the deaths are a response to prolonged economic conditions, social dysfunction and a loss of meaning in the interconnected worlds of work and family.
"Heavy drinking, overeating, social isolation, drugs, and suicide are plausible outcomes of processes that have cumulatively undermined the meaning of life for white working-class people," Deaton said at the closing of his testimony.
Chaired by Rep. Pat Tiberi, R-Ohio, the Joint Economic Committee is charged with reviewing current economic conditions and providing recommendations for improvements in economic policy. The panel, "Economic Aspects of the Opioid Epidemic," brought together experts to examine the opioid crisis and other forms of drug abuse and their possible relationship to economic factors.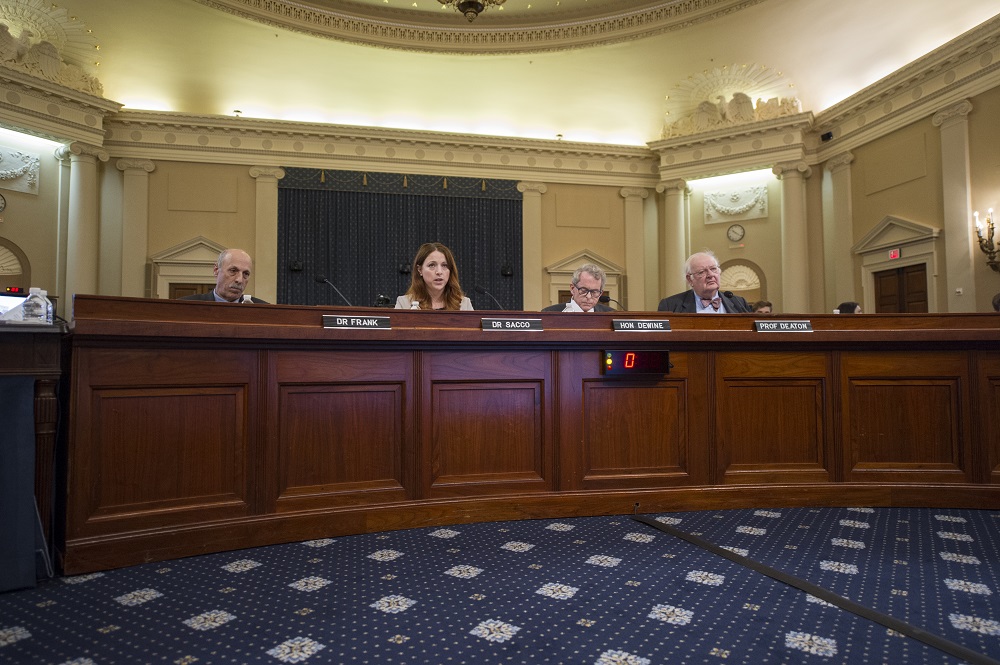 In addition to Deaton, the 2015 Nobel Memorial Prize Laureate in Economic Sciences, witnesses included Ohio Attorney General Mike DeWine; Lisa Sacco, a policy analyst at the Congressional Research Service, which works exclusively for the U.S. Congress; and Richard G. Frank, professor of health economics at Harvard University.
In his testimony, Deaton provided an overview of his work with Anne Case, Alexander Stewart 1886 Professor of Economics and Public Affairs at Princeton. Their study, published in 2015 with an update in 2017, was the first to detect a rise in all-cause mortality driven by deaths from drugs, alcohol and suicide among middle-aged Americans, especially those without a college degree.
Even in states such as Utah, where drugs are not only illegal but socially or religiously taboo, the path to addiction and overdose through prescription opioids has become more common.
Today, inexpensive but high-quality Mexican heroin, known as black tar heroin, has made its way across the border, and overdose deaths have been rising in Appalachian states like Ohio, West Virginia and Kentucky. Synthetic opioids like Fentanyl and Carfentanil can be purchased online, and are 50 and 100 times stronger than heroin, respectively.
"These supplies of opioids have stoked and maintained the epidemic. Selling heroin is profitable and illegal. Selling prescription drugs is profitable and legal. And pharmaceutical companies have made billions of dollars in profits on prescription opioids," Deaton testified.
The United States currently consumes 80 percent of the world's opioids, and enough opioids are prescribed each year to give every American adult a month's supply, Deaton explained. While opioids can treat pain effectively, they are highly addictive and often over prescribed. This coupled with long-standing economic decline among the working middle class has led to a significant rise in midlife mortality.
"Deaths from legal and illegal drugs are contributing to an almost unprecedented increase in overall mortality among middle-aged white non-Hispanics," Deaton said. "A century of mortality decline came to a halt at the end of the 20th century as mortality rates for this group were higher in 2015 than in 1998."
Decades ago, those without a college degree could find solid, well-paying jobs in manufacturing. Today, automation has replaced many blue-worker jobs. Despite an increase in American manufacturing production, the work is now being done by machines, so workers are becoming more obsolete.
With fewer jobs, there has also been a decline in marriage rates, Deaton said, though couples often cohabit and have children out of wedlock. However, these cohabitating relationships are less stable than marriages, which can bring forth more economic distress. All of this creates a cycle of despair.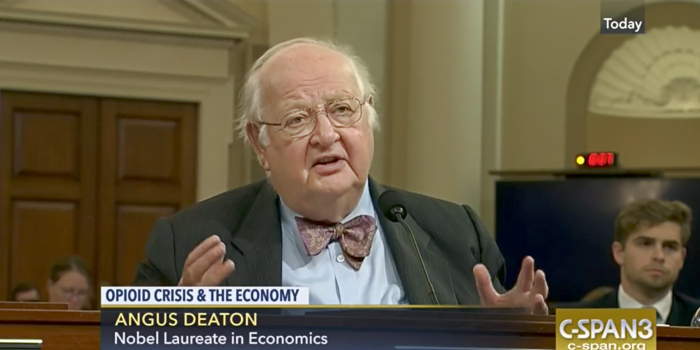 "We think of opioids, not as the fundamental cause of the epidemic of midlife mortality and morbidity, but as an accelerant, a set of drugs that added fuel to the fire, and made an already bad situation much worse. And it is in that broader context that we can begin to see the economic underpinnings of the epidemic," Deaton said.
At the end of the panel, Deaton was asked about possible solutions, and he used Europe, where he is from, as an example. There, the widespread prescription of opioids is much more restricted and often only used in acute hospitalization or end-of-life care. Europe also has far more social safety nets to help single mothers and train blue-collar workers.  Despite these protections, it is uncertain whether the European reprieve is a temporary one, Deaton said.
"One of the policies my friends on the left talk about is how Europe provides state allowances for children of single mothers, which stops the mothers from shopping around for men," Deaton said. "And the apprenticeship program in Germany holds people together much better than the United States. I think we really need to think through all of the possibilities."
The session on the opioid crisis and the economy was recorded and can be found here.
Deaton's written testimony can be found here.
For more information on the U.S. Congress Joint Economic Committee, click here.