May 19 2023
Source
Princeton School of Public and International Affairs
David M. Beasley, the former executive director of the World Food Programme and a former governor of South Carolina, spoke with students, faculty, and community members on issues including global food security, leadership, public service, fundraising, and reconciliation on May 10. The wide-ranging talk was presented by the Liechtenstein Institute on Self-Determination.
Beasley stepped down from WFP only just last month. During his tenure, the organization was awarded the Nobel Peace Prize. His presentation at SPIA was organized as a conversation with Wolfgang Danspeckgruber, LISD's founding director. Beasley was introduced by his former advisor, Michael Schoenleber '12.
Reflecting upon his career in public service both in the United States and internationally, Beasley touched on international crisis management and humanitarian negotiation. He also discussed religious and ethnic reconciliation, offering a candid look at the challenges and possibilities of contemporary leadership relations.
Much of Beasley's presentation focused on global hunger. Combatting that, he said, is central to deescalating conflict.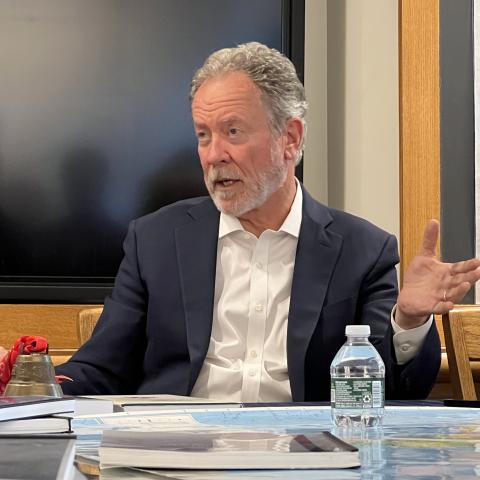 "Food can be used as a weapon, and is used as a weapon to recruit soldiers" Beasley said, to which Danspeckgruber countered, "Enough food can provide for stability and peace."
Beasley joined WFP in 2017, at a time when the number of people experiencing acute food insecurity was expanding rapidly. A few years later, COVID swept across the globe, exacerbating the situation.
"Before COVID hit, the number jumped from 80 million to 135 million," he noted "And you ask the question why? Why did it jump so much, so fast? And the simple answer was manmade conflict compounded with climate shocks. COVID came along and you got economic devastation and supply chain disruption."
Following closely on the heels of the pandemic was Russia's invasion of Ukraine, resulting in hundreds of millions more suffering food insecurity.
"The number went up to 350 million people marching towards starvation around the world," Beasley said.
The World Food Programme played a crucial role in assisting, Danspeckgruber observed.
"The WFP under David Beasley fed the equivalent number of the population of the United States of America, which, incidentally, is also the major contributor to the WFP," he said.
Citing the opening of the ports of Odessa in early spring, 2022, Beasley spoke of the need to "use media strategically and effectively to generate policy change," but also stressed the importance of in-person interaction and fieldwork, despite the substantial risks.
"One-third of my time would be in war zones, or conflict areas or the field; one-third would be in national capitals, raising money; and one-third would be day-to-day management in the office," he said. "We lose someone almost every day out there in the field, either injured or killed. We don't do it recklessly. But we know we are in dangerous areas. We put our lives on the line every day."
Beasley was elected to the South Carolina House of Representatives when he was just 21. In response to a student's question about entering public service and exercising leadership, he stressed that public service begins with an individual commitment to relationship building.
"What can you do relationally in your own family, your own community, your own neighborhood?" he said. "That's all about relationships. What difference can you make? You can make all the difference in the world, regardless of where you come from. Engage. Do it honorably. Do it strategically. Know what you're doing."
Concluding his remarks with a reflection on his social reconciliation work in South Carolina, Beasley issued a challenge to the audience.
"Are you willing to take somebody out to lunch?" he asked. "Have breakfast, have lunch, just get to know someone you really don't know, and be willing to develop a relationship and carry it forward? Would you be willing to do that?"