Feb 11 2016
Source
Office of Communications
Princeton's Global Health Program (GHP) serves as a hub for students interested in tackling some of the most pressing health-related issues of our time.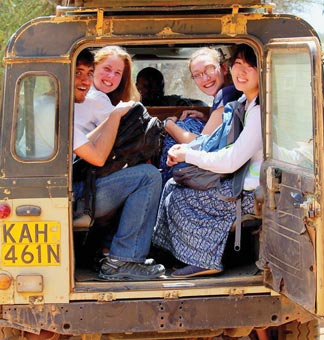 Students can earn a certificate in global health and health policy and also pursue a wide range of opportunities, such as participating in a summer internship in the United States or abroad, taking health-related courses, finding support for health-related thesis research, and getting involved with on-campus activities related to global health. Students often decide to pursue a career in global health.
"Princeton students are part of a new global health generation — a generation that witnesses firsthand the severe health inequalities in the world and wants to do something about it," said João Biehl and Andrea Graham, co-directors of GHP, who introduce the program in the publication "Global Health at Princeton," which highlights GHP's offerings. "The Global Health Program equips students with the cutting-edge tools, real-life experiences and critical perspective to make meaningful change in a time plagued by both emerging and enduring health-related challenges."
Biehl is the Susan Dod Brown Professor of Anthropology, and Graham is an associate professor of ecology and evolutionary biology. Their cross-disciplinary collaboration speaks to the broad reach of GHP, which is highlighted in this video overview of the program.
The certificate program, which has grown from 19 entering students in 2008 to 72 in 2015, attracts students from across the University, including those majoring in anthropology, chemistry, economics, molecular biology, and the Woodrow Wilson School of Public and International Affairs. GHP is housed in the Center for Health and Wellbeing and is supported by the Wilson School and the Office of the Provost.
"GHP isn't just a program, it's a community where you meet students from so many different disciplines and backgrounds and where everyone respects each other's opinions and welcomes them," said Mizzi Gomes, a senior majoring in ecology and evolutionary biology and pursuing a GHP certificate. "You will always find something that inspires you."
Students completing a certificate in global health and health policy take two core courses and pursue a range of elective courses. During the summer between their junior and senior years, students also carry out internships and field research in the United States and around the world.
"Health is so much more than what is in the clinic and so much more than what is tested in the lab," said Helena Hengelbrok, a senior majoring in anthropology and completing a certificate in the program. "The Global Health Program allows students to realize this firsthand, by supporting their independent fieldwork and health-related internships around the world."
Here is a visual tour of GHP, its projects and its students.
On campus
In their junior year, GHP students take a two-semester sequence that provides them with an interdisciplinary foundation in global health. The program's electives expose students to the most recent research in global health in areas such as emerging infectious disease, drug development, health disparities and comparative health systems and reform.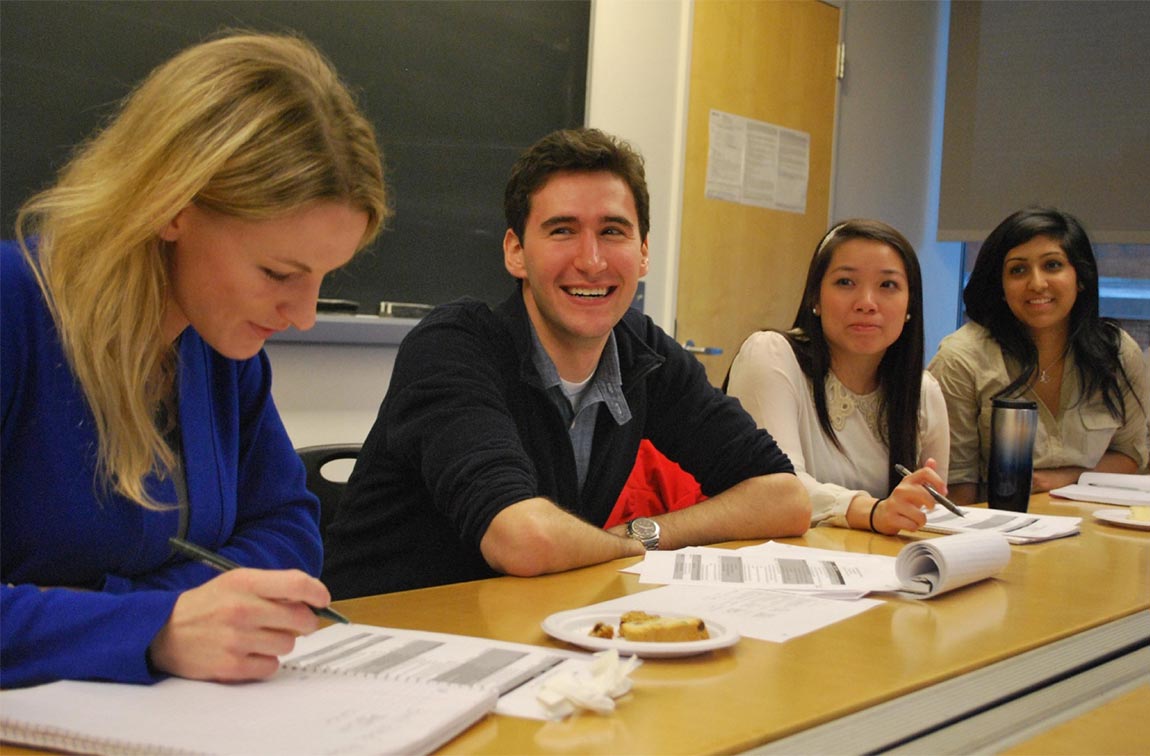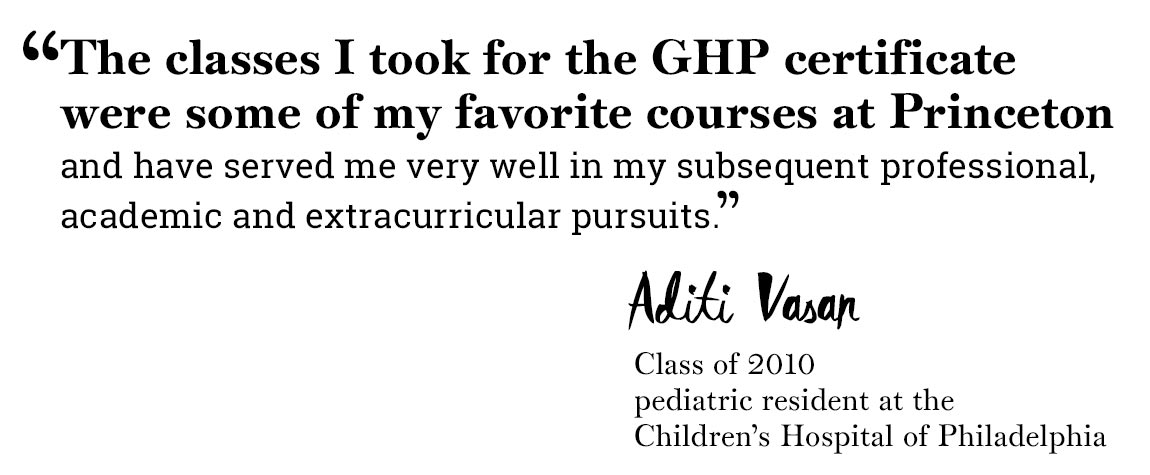 GHP brings global thought leaders, innovative researchers and policymakers to campus to share their expertise and enter into dialogue with students, faculty and the broader Princeton community on timely health topics.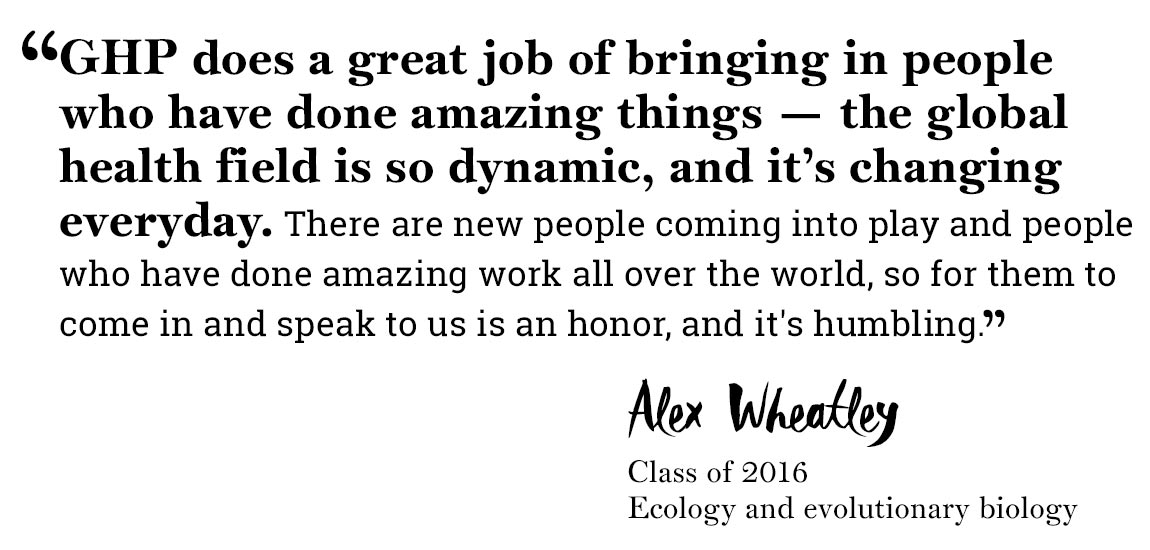 In the field
One of GHP's defining and most popular features is its focus on experiential learning. In the summer between their junior and senior years, students carry out internships and field research in the United States and abroad. Every student pursuing the certificate writes a health-related senior thesis in their home department. GHP awards $300,000 each year to an average of 75 undergraduates for research projects and service internships in 20 countries, including the United States. Nearly 75 percent of GHP students engage in field research.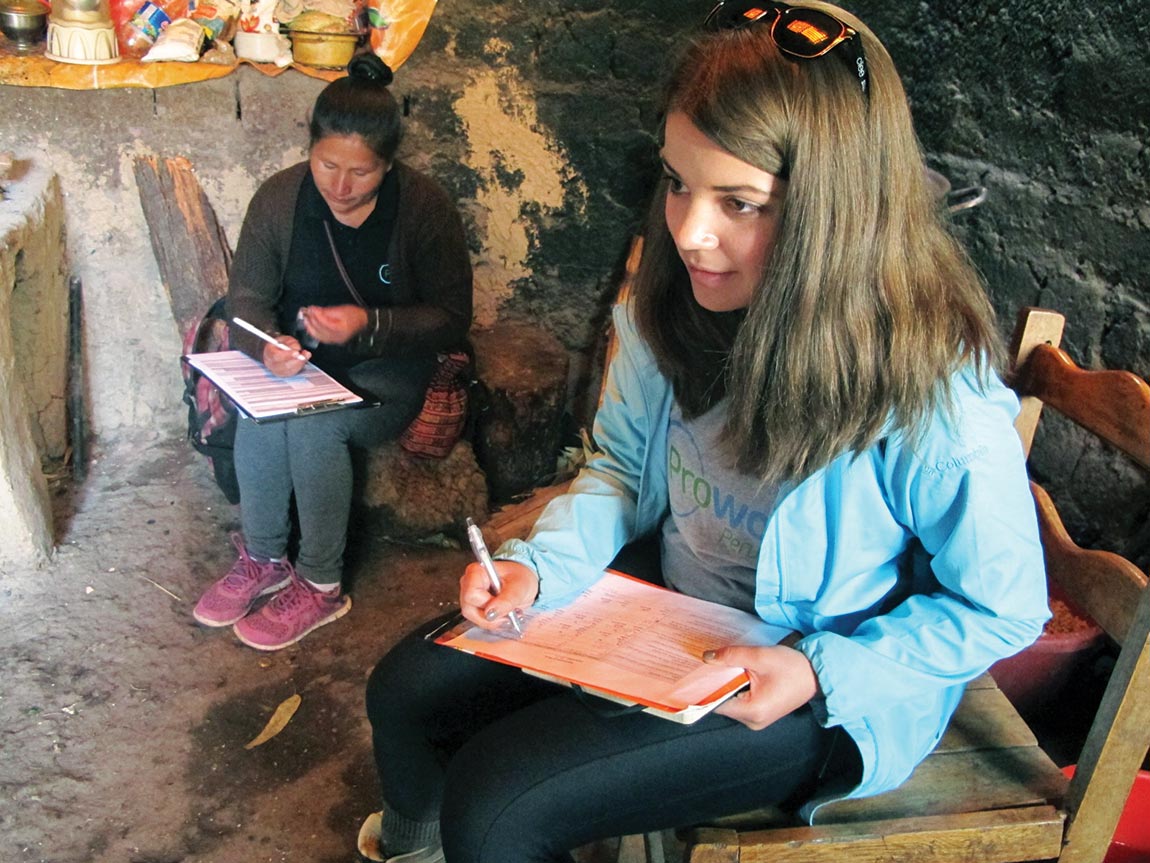 Anthropology major Helena Hengelbrok, Class of 2016, conducted senior thesis research on basic sanitation and water quality in rural Peru. Using ethnographic methods and quantitative analysis, she chronicled perceptions of water in the Urubamba area as well as actions taken by the municipality and local organizations to improve water quality and health outcomes.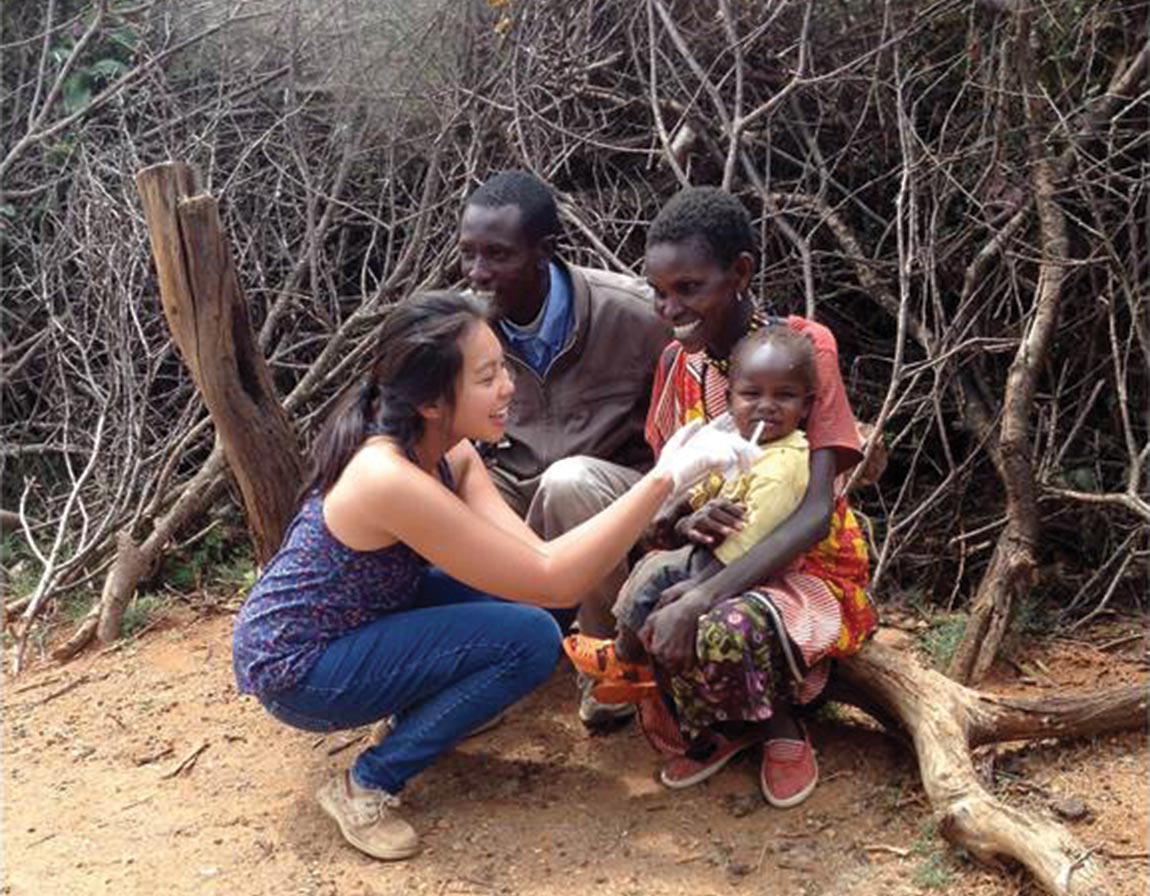 Ecology and evolutionary biology major Catherine Duazo, who graduated in 2014, conducted senior thesis research on breastfeeding and the immune system in Kenya. She surveyed mothers and collected biological samples to investigate whether breastfeeding affected infants' susceptibility to respiratory illness.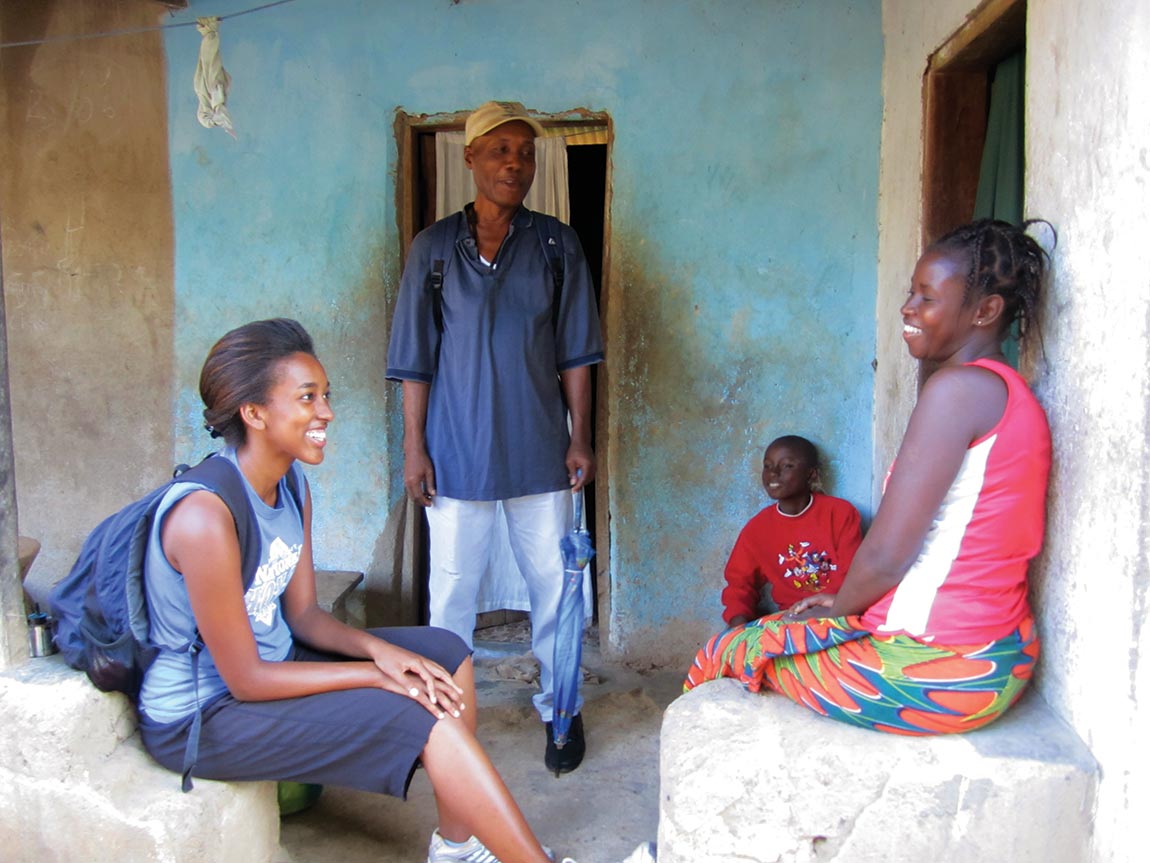 Anthropology major Kulani Jalata (left), who graduated in 2012, did a summer internship at the Wellbody clinic in Sierra Leone, where she conducted research on community health workers doing HIV/AIDS outreach.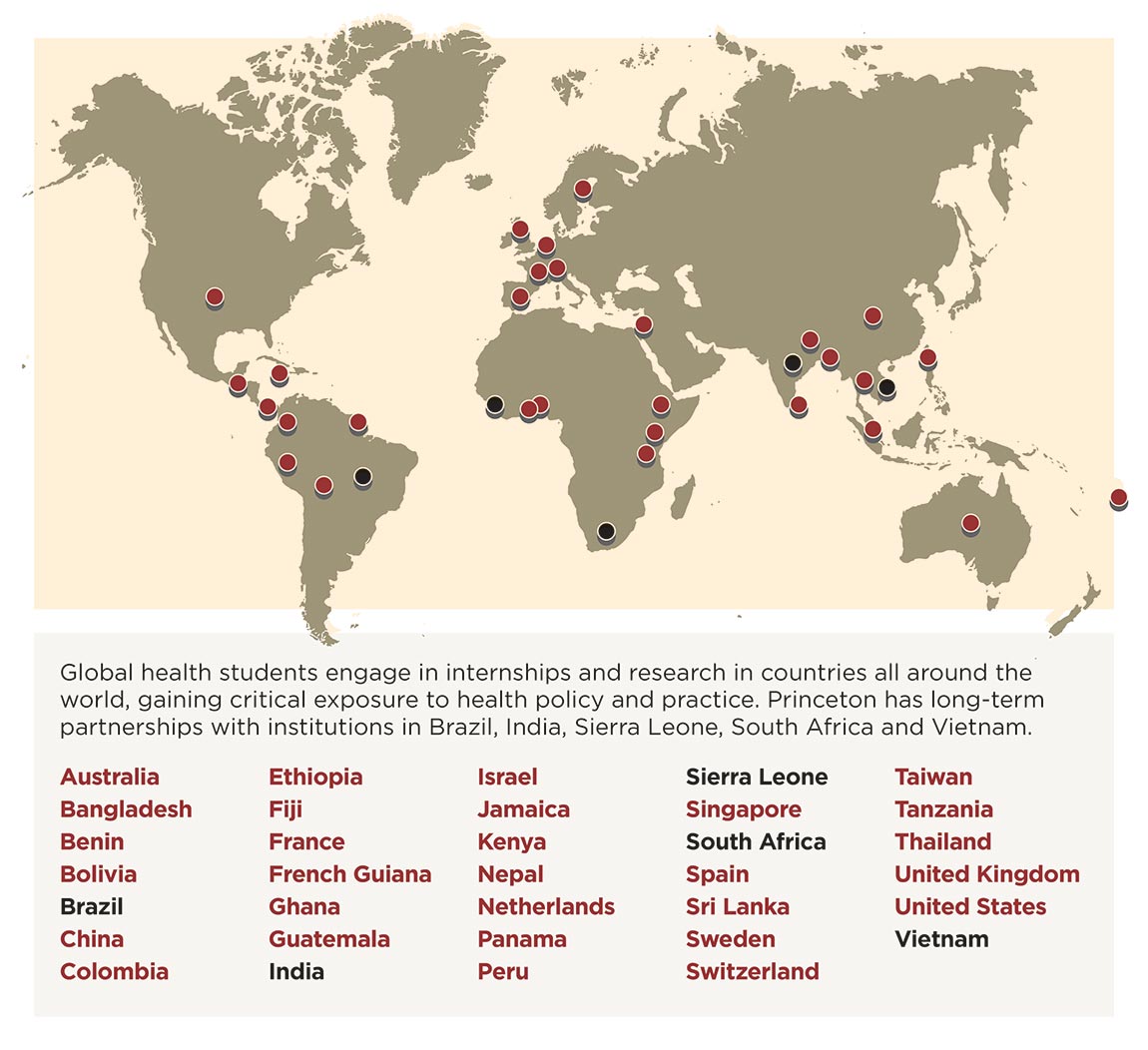 After Princeton
GHP graduates are thoughtful and prepared leaders in the fields of medicine, economics, engineering, politics, applied science, academia and industry. In a survey conducted in 2015, more than 90 percent of graduating seniors reported that their summer research or internship experiences influenced their plans for future work and higher education.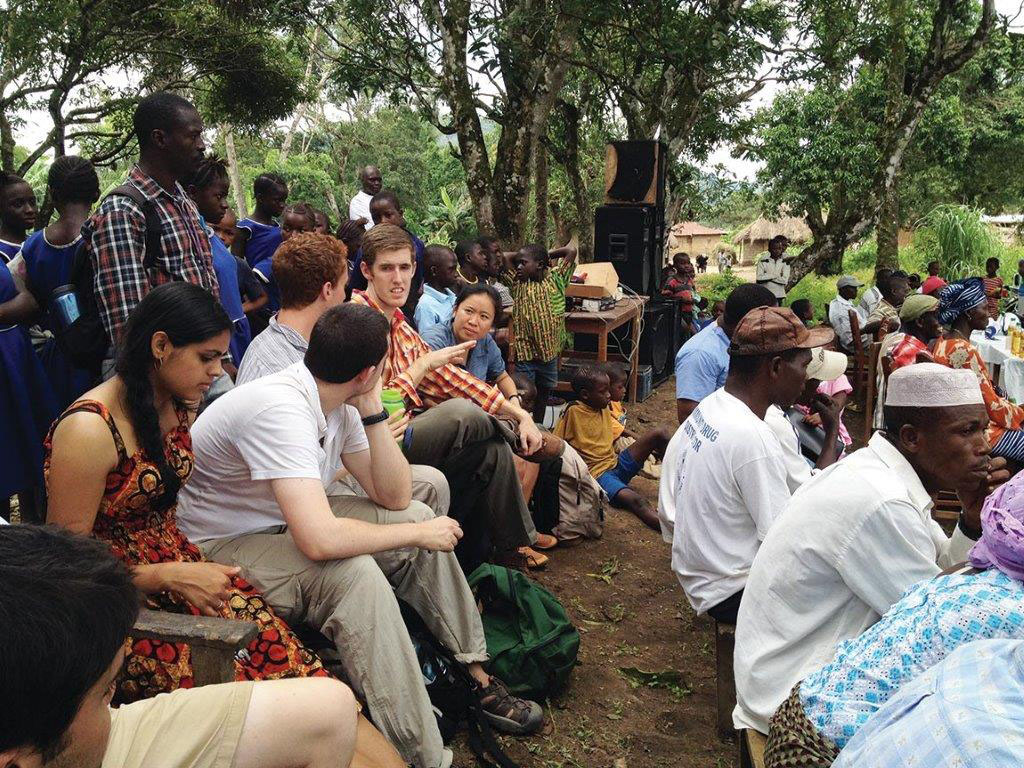 For a group of former Princeton students, their summer internships at Wellbody Alliance in rural Sierra Leone have grown into more lasting roles in developing the organization's programs, reach and international presence. In 2013, Raphael Frankfurter and Shirley Gao, both of whom graduated in 2013, won fellowships to launch Wellbody's first U.S. office in Boston and work full time as the organization's executive and managing directors, respectively.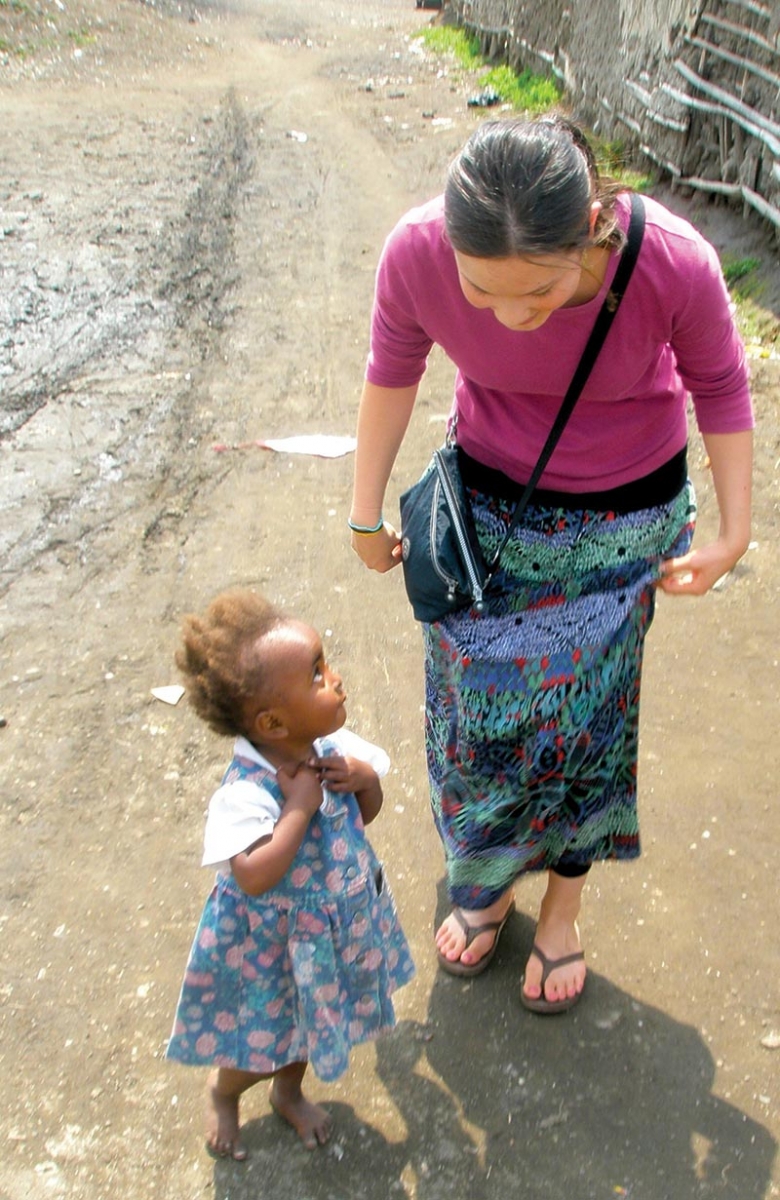 Tim McGinnis, who graduated in 2013, another former Princeton intern, joined the team in 2013 as the U.S. operations manager. In 2014-15, Storm Portner, who graduated in 2014, joined Wellbody's U.S. operation's efforts through the Ebola crisis and has continued with Wellbody as the district manager for community-based programs, which has since expanded to address HIV, TB and malnutrition.
Anthropology major Christine Blauvelt, who graduated in 2012, studied AIDS programs and HIV-positive individuals' survival strategies in Nakuru, Kenya. She found that high unemployment exacerbated health and social problems. After graduating from Princeton, Blauvelt returned to Kenya to found DUMA, an innovative job placement service leveraging mobile technology and social networks. DUMA has secured permanent jobs for over 2,500 people and continues to grow with over 35,000 active users. Blauvelt is now in medical school at the University of Pennsylvania while continuing to run DUMA.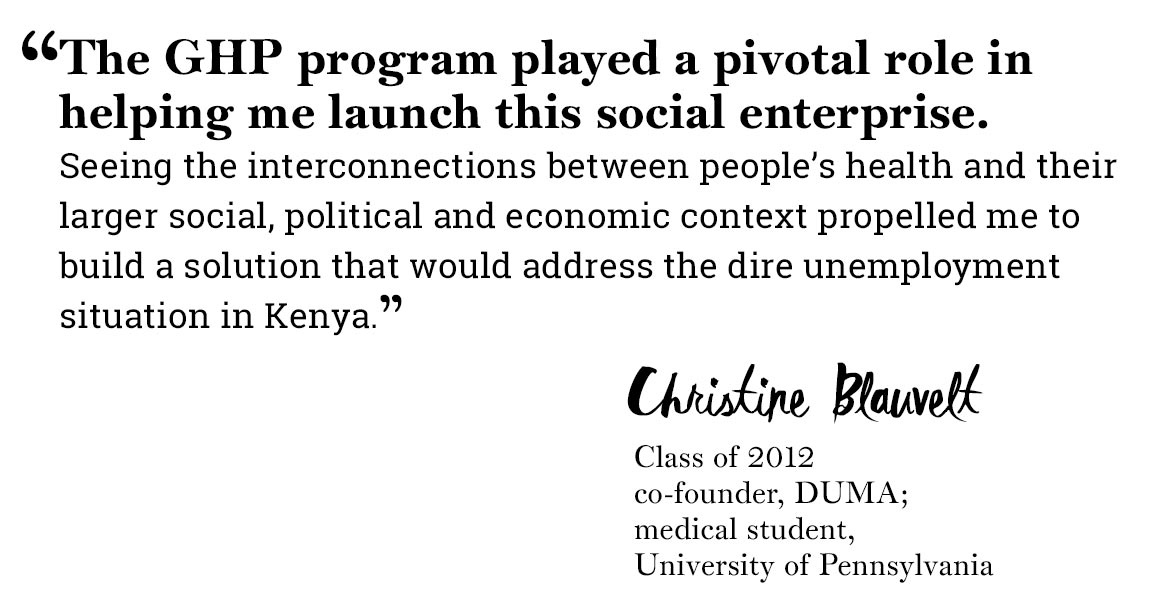 Photos courtesy of, from top: Alex Wheatley, Class of 2016; João Biehl; Center for Health and Wellbeing; Center for Health and Wellbeing; Catherine Duazo, Class of 2014, and Leangelo Hall, Class of 2014; Kulani Jalata, Class of 2012; Global Health Program; Christine Blauvelt, Class of 2012. Map graphic by Kyle McKernan, Office of Communications.