Jul 19 2021
Source
Princeton School of Public and International Affairs
A zip code can define one's destiny and, for many, this means a lifetime of poverty. To move people out of poverty, governments will need to make policy choices that tackle barriers to economic opportunity, while emboldening people to be agents of change in their own communities.
This drives the work of James Ladi Williams MPA '18, a research analyst in the Metropolitan Housing and Communities Policy Center at the Urban Institute. At an early age, Williams became keenly aware of how breakdowns in the provision of public services made life difficult for children and families in his home city of Lagos, Nigeria.
In this Q&A and bonus podcast below, Williams discusses how a crisis of leadership holds back progress on addressing global problems. He reflects on his time at Princeton SPIA and how the SPIA community remains a source of insight, inspiration, and support.
Q: What is the most important policy issue facing us today?

Williams: One issue is a crisis of leadership, meaning we're seeing leaders divide more than unite. We're seeing leaders lacking in the compassion, empathy, and kindness that we need leaders to show. If you want to look at how that plays out in some policy domains, one that comes to mind is climate change. People are already suffering from the impact of climate change, yet in the face of challenges, we haven't seen leaders show resolve to address it.
The other issue in terms of policy is poverty. Poverty is more than about people not having income and assets. It's about people not having a political voice in their communities. We often think of education as being that way out in terms of driving people up the social ladder, but education may not be playing that role anymore, especially where public education systems are severely lacking in terms of quality of instruction.
Q: Of all the projects you're working on at the Urban Institute, which are you most excited about?
Williams: We're channeling funding into government and nonprofit institutions in ways that try to address the different factors that help move people out of poverty. We look at things like education, health, the built environment, and the effects of poverty in the United States, but it's also true in other countries that your zip code determines your destiny. So skewed life outcomes are really shaped by where people are born. I'm excited about this program because it's pushing against that reality.
As somebody who moved from Nigeria to the United States for education, that idea really resonates with me. It's exposing me to fascinating ideas, like the role of government programs in making sure resources are flexible for people at the community level to actually make change, because communities know their problems best.
Q: Over the course of your career, what are the most important skills/strategies you've learned?
Williams: It's important to understand your own goals. Begin with knowing yourself and your own needs, and then be intentional about who else is in the room. Don't make assumptions; ask questions; understand the motivation of other people; try to earn trust and credibility early on.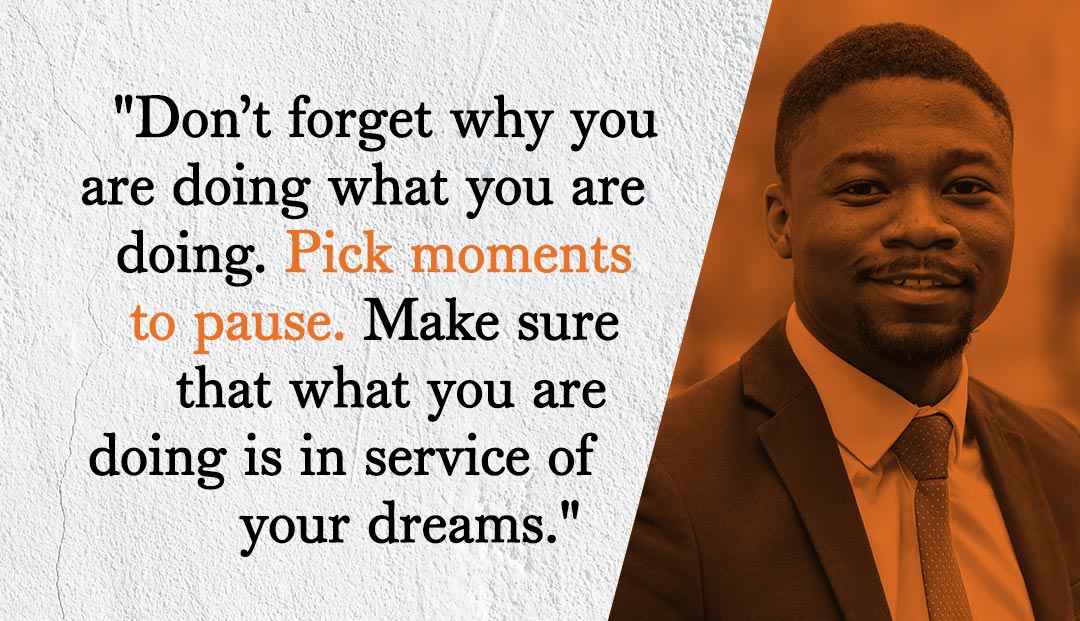 Q: In what ways did the Princeton School of Public and International Affairs prepare you for your career?
Williams: I am grateful for the chance to have gone to Princeton for my MPA. Those two years are the best two years of my life. I felt like a lot was at stake for me at the time I was applying.
In terms of lessons learned, one that I still use today is how to take a large body of information, distill it to its very essence, and communicate it. I think that's a valuable skill. The program really equipped me to focus on understanding the overall argument of analyses, assessing the quality of evidence that's being brought to bear, and communicating things clearly.
The community of my classmates and alumni has helped me immensely. They pour into me, and I hope that I pour into them as well.
Q: How do you think the School trains students to be leaders? What were the tactical skills you gained while at the School that you still employ today?
Williams: Princeton really nurtured my ambition for leadership in an empowering way. I can't count the number of times that a professor is lecturing and he or she is saying, "so you are a senior policy maker in country X and your job is to advise the principal on this task, this question, here's how to think about it." I was always daydreaming in class about when I would have the chance to step into those shoes. The professors empowered us by giving us the tools to be good leaders because they believed we could go make some difference in the world.
The rare chance the School gave my classmates and me to have intimate conversations with leaders was impactful. There were a number of heads of states that came to talk to us in ways that we were free to ask them questions about that experience of leadership. There's significant learning that you get from real conversations that you don't get when you read a textbook.
Q: How can young people entering the workforce be successful? What advice would you give to our prospective students?
Williams: I want to empathize with everyone that is looking for work. We're going through some challenging times, and know I am sending good thoughts your way. I didn't have the most straightforward transition from grad school to work, and I know how difficult the job search can be. I would say go in with a fierce commitment to learning and never lose that interest in learning.
I would also encourage people to pay careful attention to the importance of writing. It's important to put your voice out there, communicate clearly, and not neglect writing. Be intentional about developing writing skills.
Finally, don't forget why you are doing what you are doing. Pick moments to pause. Make sure that what you are doing is in service of your dreams.
#Changemakers: Alumni Making a Difference is a Q&A series featuring alumni of the Princeton School of Public and International Affairs.
Alumni Making a Difference
#Changemakers: Alumni Making a Difference is a series featuring alumni of the Princeton School of Public and International Affairs.