Oct 08 2020
Source
Princeton School of Public and International Affairs
As Ibrahim Kante prepared to begin the 2020 Junior Summer Institute (JSI) at the Princeton School of Public and International Affairs, he thought he would simply take classes online for six weeks and move on to his senior year at Longwood University. He and his JSI cohort — 30 students from 28 schools across the U.S. — wouldn't have the opportunity to come together on campus, forming the type of close community the program fosters annually since it was first hosted at Princeton in 1985.
Reflecting afterward on the experience, Kante laughed about the initial awkwardness of getting to know complete strangers on Zoom — awkwardness that quickly faded. "We had almost weekly happy hours. We would just get on Zoom and hang out and talk, tell crazy stories until very late," he said. During a year when many are struggling to maintain existing social connections, the newly formed group quickly forged bonds and a community they'll carry with them through senior year, and beyond into their future careers in public service.
The goal of the Public Policy and International Affairs (PPIA) Junior Summer Institute is to prepare students from historically underrepresented and marginalized backgrounds for graduate study and careers in public policy. Through rigorous coursework, participants experience how graduate-level study can help them become future leaders in public service.
This year's cohort included 26 students with U.S. citizenship or permanent residency and four international students, from Brazil, Ethiopia, Lebanon, and Vietnam. Nearly 75% of the cohort were Federal Pell Grant recipients, and many were first-generation college students.
While the program's curriculum had to be modified to suit the virtual environment, the students completed academic work in advanced or intermediate statistics and a course on Global Systemic Risk, contextualized for the Covid-19 pandemic and led by Vice Dean Miguel Centeno.
"The students did incredibly well under unusual circumstances and with really challenging material — many of them had not had to think in terms of systems before. Current events including the pandemic and instances of racial injustice allowed us to have meaningful conversations on how to improve or reform existing systems," Centeno said. "Our classroom discussions were some of the best I've had during my time at Princeton."
Several students, including Kante, reflected on what the experience meant to them, emphasizing community as their top takeaway — including newly formed friendships and the lifelong support of the PPIA JSI staff and alumni network.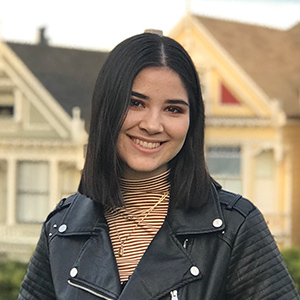 Sofia Flores
University of California, Berkeley
Class of 2021
Economics
Q. Why did you want to participate in the Junior Summer Institute?
I'm a first-generation college student from Pacoima, California, a predominantly Latino immigrant community. Opportunities at my high school were very limited; there was not a lot of support on how exactly to get to college, but I managed to get there with the support of hands-on college readiness and preparatory programs such as Project Grad Los Angeles. Unfortunately, this year that program that has played such an influential role in my path since middle school has lost funding and is closing its doors. This is a major loss of already limited resources in my community, and it's one of the reasons why I'm very passionate about participating in policy and promoting investment in community development. Members of low-income communities have already laid the foundation for collective care, but there's a need for government funding to expand their efforts and capacity.
What also drew me to the program was its focus on how exactly we can use statistics and systems thinking to create productive policy. The statistics course helped me learn how to visualize data and the effects of a policy.
Q. What did you enjoy most about the program, and what is your top takeaway?
I learned the most from my peers. The experience was really eye-opening — it was really impactful to learn the perspectives of people who face similar issues and barriers, but in a different form within their communities.
My biggest takeaway is the sense of community and support. These are people I will be in contact with and supported by throughout my life, not just professionally but also personally. This is true not just amongst my cohort but the full PPIA network as well. As a first-generation student I am building my network and connections from scratch, so the fact that I now have this vast network of highly accomplished people that share my goals of changing the world for the better through policy is very important to me.
Q. What do you hope to do after graduation?
It has always been my plan to gain work experience before pursuing a master's degree in public policy. I am currently seeking fellowship opportunities or employment within research, advocacy, or public service. I am very passionate about social change and eager to contribute my perspective and technical skills to a team of changemakers. Throughout my career, I hope to play an active role within the economic development, education, and immigration policies that impact communities like my own.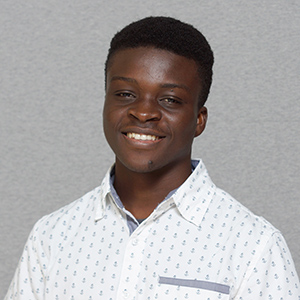 Ibrahim Kante
Longwood University
Class of 2021
Political Science/Global Politics
Q. Why did you want to participate in the Junior Summer Institute?
Kante: I have an interest in public policy in general, and my immediate area of policy interest is in international development. I'm specifically interested in developing countries, and finding a space where they can be relevant in terms of international relations. I believe that that starts with development and making sure these countries have access to resources and are well-equipped to properly make use of resources they already have.
An aspect of PPIA and JSI that really interested me was the idea that I was going to be with a lot of people from different backgrounds who were going to give me insights I had never had before — and they did. You might think that we think alike because we're all minorities and we all have shared experiences in the U.S., but we have widely different opinions and experiences. This broadens your horizons and I was really grateful for it.
Q. What did you enjoy most about the program, and what is your top takeaway?
Kante: The thing that I'm most grateful for is the fact that I got a foot in the door of public policy, and the simple idea that I got to see all of the different avenues that are out there. Having this experience, this fellowship, has allowed me to become introspective about what I actually want — because I've successfully proved to myself that I'm able to apply to these types of programs and get in. I'm now able to decide exactly what I want to do with my career and then make the right choice.
I'm so happy for all of the people that were willing to help this summer, no matter what — the professors, tutors, staff. There are a lot of students in my cohort that I really look up to. Program Director Laura De Olden and Hope Jackson MPA '20 coordinated weekly check-ins that at first were supposed to be a safe place where we would talk about recent events and how they were affecting us; but they quickly morphed into relaxing get-togethers at the end of each week.
Q. What do you hope to do after graduation?
Kante: My original assumption was that I was going to go to graduate school straight out of undergraduate studies, but after all of the information we received about how much better it is to get professional experience first, I am going to do that. Also, Princeton in Africa did a presentation for us, and it really motivated me to apply to that program this fall, just from that one session alone. Alternatively, I will look for a job in Washington, D.C., where I live. My career goal is to become a diplomat, hopefully concentrated in international development.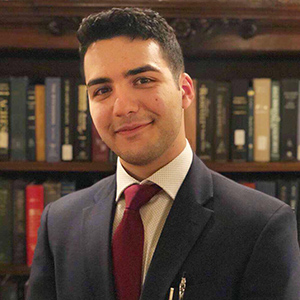 Mohamad Moslimani
Claremont McKenna College
Class of 2021
Politics, Philosophy, and Economics
Q. Why did you want to participate in the Junior Summer Institute?
Moslimani: I believed that JSI would prove a fruitful experience; when I was applying, I was working in Washington, D.C., to get experience working and tracking national public policy issues. Being in D.C. was an eye-opening experience for me, and drew me even closer to the idea that I could build my career around working in public policy. I wanted to take my personal experiences with my identity, marry them to my professional experiences working in policy, and bring them to JSI — a program I knew celebrated diverse backgrounds and those with a penchant for change. From the fellowship advisor at my school to those who knew of the JSI program, everyone recognized that JSI does important work in matching the passion and potential of underrepresented and marginalized students with the professional opportunities to make a difference in the world of policy and social governance.
Q. What did you enjoy most about the program, and what is your top takeaway?
Moslimani: I most enjoyed the opportunity to work with and befriend so many inspiring and enthusiastic peers of similarly underrepresented backgrounds. My top takeaways are the hard skills I gained in quantitative analysis. As someone who has always appreciated qualitative analysis and critical reasoning in the humanities, I believe that my ability to propose solutions to real-world issues would be sorely limited moving forward without quantitative analysis skills.
Q. What do you hope to do after graduation?
Moslimani: My career goals as of right now are to help the public and decisionmakers better understand the policies that are proposed every day. To do so, I hope to work in a think tank that studies and publishes research and policy proposals and experiments to better understand what policies are making the impact we want to see.
Interested in the 2021 PPIA Junior Summer Institute? Learn more; applications are due Nov. 15, 2020. Applicants must be graduating with their first bachelor's degree between December 2021 and August 2022.