May 27 2021
Source
Princeton School of Public and International Affairs
Martín E. De Simone MPA '18 works as an education specialist for the World Bank in the Western and Central Africa region.
Before that, he worked for the Office of the Vice President of the Africa Region and for several governments, think tanks, and civil society organizations on the intersection between human development and violence, as well as on institutional reforms. An Argentinian national, Martin was director of education and security for the federal government of his country, where he led several programs in coordination with national universities.
In this Q&A and bonus podcast, he discusses how growing up during the Argentinian economic crisis of 2001 shaped his desire to work in public policy, and how SPIA's multidisciplinary program prepared him for his work at the World Bank.
Q. You're from Argentina, and in 2001, the country went through an intense political and economic crisis. How did that affect you, both personally and professionally?
De Simone: I consider that point a critical juncture in my life, even though I was just ten years old. I remember a lot of civil unrest. Unfortunately, many people passed away. The poverty rate was about 50%. The unemployment rate was about 25%, which was high for the standards of the country. People didn't trust the currency because it didn't have a lot of value. I remember going to barter clubs and exchanging goods for food or services and different products. My dad lost his job. That's when I learned that an economic crisis has far-reaching consequences that are not only in the economic domain. It also affects your health, your well-being, and your social relations. When I was a teenager, my mom passed away. Then, my dad passed away. I learned the value of community, and that there is a big difference between being born poor and also becoming poor. Even though we became poor, we had a very solid network of people from our community who helped us. I wanted to have a career in public policy because it's a tool to address those issues that create inequalities that are inherently unfair. After all those challenging years, I had the opportunity to receive a great education, including at Princeton. But many people do not have that opportunity. And that's why I think public policy is an important tool. It has an important role to play, to change that reality for many people.
Q. Can you discuss your role at the World Bank? In your work, what are some of the more pressing policy issues you're dealing with today or in the past?
De Simone: Our generation has three big challenges. The first is climate change. It's a collective action problem in which those who contribute the least to the problem are the ones who are affected the most. The main driver is the emissions of greenhouse gases. We have reports that show surface temperatures are rising by 0.2 Celsius per decade.
We have a second issue, which is conflict and violence. There are approximately half a million people killed in homicides every year. In Latin America, that's an important problem because we have 8% of the global population, but 33% approximately of the homicide. This is a key issue because global development problems are more concentrated in places with violence and conflict. According to some estimates, by 2030, half of the extreme poor will be living in places affected by fragility conflict or violence.
The third one is technology because it provides tremendous opportunities to solve some of these global issues, but it also has risks, including increased inequality, polarization, and other issues.
In my work in the World Bank, I work on human capital or human development. We define human capital as the knowledge, skills, and health that people accumulate throughout their lives and that enables them to realize their potential. In my work, I try to look at it from a multisectoral perspective. By focusing on human capital, we can create sustainable and inclusive government.
Q. How can people, whether they're directly involved in policy or not, get involved in politics and affect change?
De Simone: Nobody can really escape politics. These are global issues, and we need global solutions. We also need the commitment from the government. It's also true that the commitment from the governments is not independent from the actions that citizens might take. Issues like climate change have not been a priority of many governments because from an economic point of view, in the very short term, it might not be convenient even if during the long term it is. But we have seen a lot of action from civil society organizations and organized groups that have pushed for these issues. They are creating change. I believe there is something you can do in your community to organize your people and promote change regarding any issue that might be a challenge at the global level.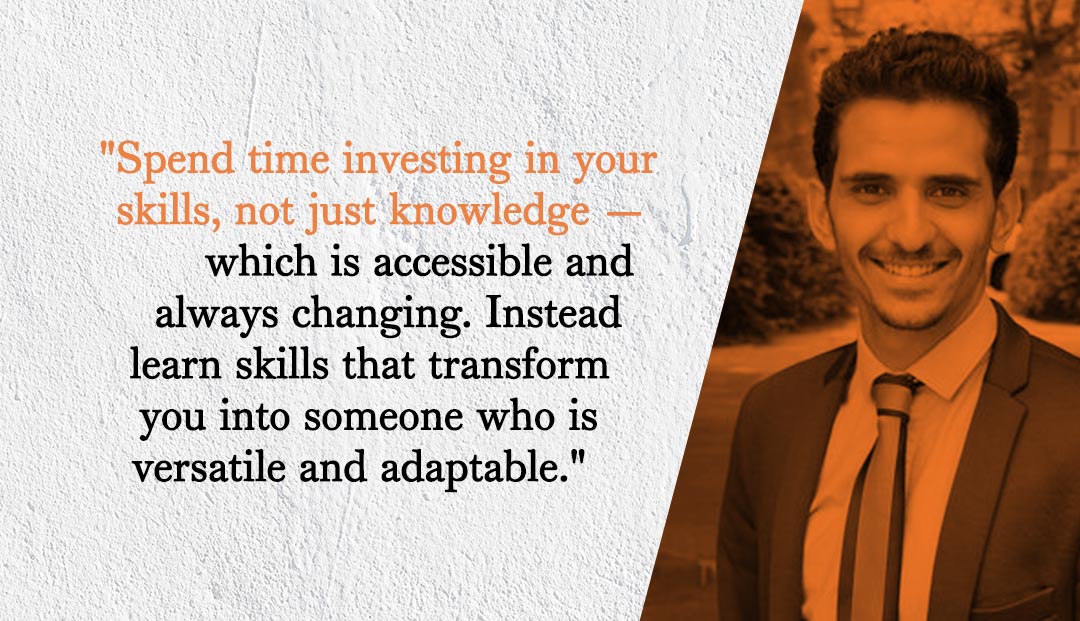 Q. When it comes to work, what are some of the most important skills or strategies you've learned?
De Simone: Any endeavor worth undertaking requires teamwork. You might have the best individual skills, but you should still invest time in getting to know people, their motivations, and ambitions. You have to know the people you work with and their perspective in order to be successful as a team. I can't imagine a skill that is more important than this. The ideal situation is a scenario in which you can take the most out of everyone while at the same time, allowing everyone to make the most out of the common tasks or project that you have. When you can do that you see amazing results. The importance of teamwork is one of the most relevant issues. It may be counterintuitive when you are applying for graduate school because it is an individual endeavor. But then, at the end of the day, almost everything is about teamwork. So, invest your time in getting to know people.
Q. In what ways did the School prepare you for your career? What are the skills you learned that you employ today?
De Simone: Something that the School taught me was the power of interdisciplinarity. I came to Princeton with a degree in political science, but I learned the importance of having different disciplines and different approaches. For example, I use a lot of psychology or behavioral interventions in some of the projects that I design. I also use quantitative and communication tools that I learned at Princeton, as well as knowing the importance of the political economy. Policies might look great on paper, but to be implemented, you always have to take into consideration the institutional and structural constraints. Princeton taught me to be open to different perspectives, to different approaches, and to look at problems from different angles.
Q. What advice would you give to prospective or current students?
De Simone: My advice for prospective students: Don't get frustrated, believe that it's possible, and get support from people around you. For those who are part of the Master in Public Affairs (MPA) program or the Master in Public Policy (MPP): Spend some time in investing in your skills rather than just knowledge. We live in a world in which knowledge is accessible, and things change all the time. In a couple of years, what you learn today might completely change and might not be relevant anymore. If you learn skills, you will use them forever. Try to learn skills that transform you into someone versatile, into someone adaptable to different circumstances. Try to have a combination of soft and hard skills. Princeton SPIA is excellent because you learn all the quantitative tools that you will need, but you also learn the soft skills that are extremely relevant and will allow you to be flexible to different challenges in the future.
#Changemakers: Alumni Making a Difference is a Q&A series featuring alumni of the Princeton School of Public and International Affairs.
Alumni Making a Difference
#Changemakers: Alumni Making a Difference is a series featuring alumni of the Princeton School of Public and International Affairs.