Jul 09 2015
Source
Woodrow Wilson School
Eighty percent of Americans do not have access to solar power, leaving them with higher energy bills and larger carbon footprints. Steve Moilanen MPA '14 and Steph Speirs MPA '14 have endeavored to unlock the market for those households through
Solstice Initiative
. Their cofounded organization uses a "community solar" design, providing households with the opportunity to purchase solar power without installing solar panels on their roofs.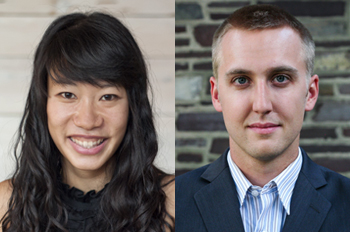 Moilanen, CEO, and Speirs, president, were recently awarded
Echoing Green
fellowships for their innovation and their organization's promising social impact. The global nonprofit supports young entrepreneurs on their journeys to "solve the world's biggest problems" through funding and leadership programs.
We discussed the award and the duo's commitment to expanding access to alternative energy.
Q: How does community-shared solar power work?
Moilanen and Speirs: Solar has the potential to power neighborhoods across the U.S., but 80 percent of Americans – approximately 90 million households – are effectively locked out of the solar market. These households include those who rent, earn a low income, have inadequate credit or possess a non-optimal roof.
Our mission is to ensure that any household in America – irrespective of income level – can participate in affordable renewable energy.
To address this social problem, Solstice Initiative takes advantage of an emerging model for residential solar power called "community solar," which offers households the opportunity to buy a share of a solar power farm in their neighborhood. This solar share enables households to access clean energy for the first time and save money on their utility bills without worrying about upfront costs or installing anything on their roofs.
Q: What role does Solstice Initiative play in community solar?
 
Moilanen and Speirs: Solstice Initiative radically expands access to clean energy by providing community-based solar power to underserved American households, particularly the 80 percent that cannot install solar panels on their roofs. It does this by financing, building and selling community-based solar to the 45 million low- to moderate-income Americans who rent their homes.
The strongest predictor of whether a household switches to solar is whether they know another household – a friend, neighbor or community member – who has already made the switch. Guided by this finding, Solstice enables households to easily participate in community solar arrays in their neighborhood. 
Solstice Initiative:
Identifies community organizations (such as schools, churches and workplaces) interested in hosting a solar array and offering clean energy to its constituents;
Arranges the financing and installation of the solar array;
Designs the solar product and helps local residents adopt it; and
Ensures solar subscribers see a credit on their monthly electricity bill.
Q: What is the impact of increased access to solar power, both individually and environmentally?
Moilanen and Speirs: The Solstice model overcomes numerous pressing social problems: Those who cannot currently access solar are brought into the market, more solar is deployed to offset climate change and community organizations strengthen their relationships with their constituents. Meanwhile, households will enjoy immediate savings on their electricity bills, a hedge against long-term increases in energy costs and easy access to renewable energy. The average household saves $5,000 over the course of our program.
 
We believe it is crucial to bring solar to these consumers because these households spend a disproportionate amount of their income on electricity and because we will not make a dent on climate change until we broaden access to clean energy.
Q: How did you conceive of Solstice Initiative?
Moilanen and Speirs: In 2013, we worked as consultants for a think tank exploring opportunities for scaling up the deployment of solar microgrids in India. Our research took us to the field, where we realized that the off-grid rural villages we visited were often in a better position to access solar power than households in our own country.
Upon returning to the U.S., we committed to change this. Steve discovered a New York Times article about the community solar concept. Solstice Initiative was hatched shortly thereafter.
Q: What prepared each of you to become entrepreneurs?
Speirs: I recently realized that I come from a family of immigrant entrepreneurs. Truthfully, I never wanted to be an entrepreneur because I saw the toll my father's failed business took on the family, and I always carried an archaic notion of business as "profits first, people second." The most exciting aspect of social enterprises is that they aspire to be both sustainably profitable and positively impactful. Energy poverty is a social justice issue, but no other solar company wants to use market-based solutions to target underserved Americans. We have to try because there is no good alternative.
Moilanen: Prior to founding Solstice, I spent more than three years working for the White House, primarily for the Office of Energy and Climate Change (OECC). OECC was responsible for promoting new fuel efficiency standards for vehicles, responding to the BP Deepwater Horizon oil spill and, most significant, shepherding through Congress comprehensive cap­-and-­trade legislation. Watching this legislation wither on the vine and ultimately perish in the Senate convinced me that taking direct action is the most immediate and consequential means of bringing about the energy future we seek.
Q: Echoing Green also offers its fellows mentoring and leadership opportunities. What do you hope to learn from this community?
Moilanen and Speirs: We have come a long way since our inception in early 2014. As our organization has matured, the challenges we face have become more complex and the scope of our business activities is growing wider. Now more than ever, we need the sort of professional development and profound cross-exchange of ideas and resources that takes place within Echoing Green's extraordinary network.
 
In particular, our startup is one of only a few organizations in America using market-based solutions to solve the energy equity and solar access problem. We would benefit by learning from other energy social entrepreneurs and philanthropists in the U.S., and Echoing Green is the best venue to do that.
To read more about Solstice Initiative's Echoing Green fellowship, click here.