Nov 23 2016
Source
Woodrow Wilson School
Every July, about 20 mid-career professionals convene at Princeton University's Woodrow Wilson School of Public and International Affairs, hailing from locations as varied as Gaborone, Botswana; Dayton, Ohio; and London, United Kingdom. Each has a minimum of seven years of public or nonprofit sector work experience, with organizations such as the U.S. Department of State, Israel's National Cyber Bureau and the New York City Police Department.
These rising leaders in international and domestic public policy — 22 in total for the 2016-17 academic year — leave behind their everyday lives for one year to hone their economic, policy and leadership skills and earn a Master in Public Policy (MPP) degree.
But first: They attend camp. Affectionately known as "math camp," this three-week summer program includes two courses in statistics and microeconomics. The courses allow the re-minted students to get to know their peers and whip their academic skills back into shape, ensuring the cohort enters the academic year with a common baseline level of quantitative skills to enable them to enroll in applied policy courses.
"Most of us have been out of school for more than a decade," said Steven F. Petric MPP '17, a native of Wisconsin. "The summer classes and speakers offered an opportunity to reacquaint ourselves with the classroom in a low-key manner, while providing a crash course in economics and statistics that served as a foundation from which we can choose to build over the course of the year."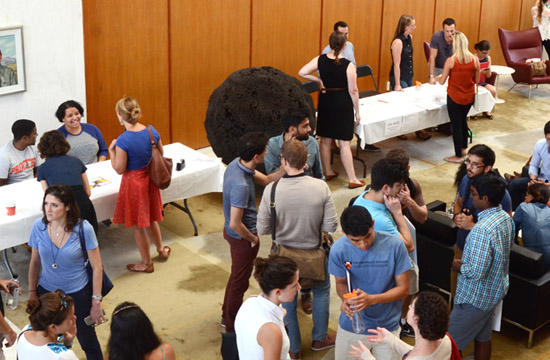 "Math Camp" is complemented by a series of policy analysis and leadership seminars, resulting in a required summer program for MPP candidates that lasts seven weeks, from the end of July through orientation in September.
An important piece of the summer program is providing time for MPP students to define and refine their goals for their time at the Wilson School. This prepares them for a challenging year of intellectual inquiry and strengthening their analytical skills in anticipation of greater leadership roles after graduation. 
"The summer policy seminars introduce our mid-career students to the high-level practitioners and faculty who will teach them during the year and allow them to get to know each other better," said Karen McGuinness, associate dean for graduate education. "In addition to learning statistics and microeconomics four days a week, the students receive a taste for the kind of courses they are able to choose in the fall."
Petric came to the Wilson School after spending a year and a half in Iraq, where he directed an emergency and humanitarian response across multiple governorates, including in some of the most hard-to-reach and challenging locations.
"After nearly four years in active conflict zones, and a decade in the public sphere, I am looking forward to this year at Princeton to take a step back from the front line to assess and analyze everything I have worked on to date, while gaining new tools through coursework and engagement with the wider Woodrow Wilson School community," he said.
Petric drew inspiration from the diversity of the seminar speakers. Diversity is a vital component of the MPP program — historically, half of each year's cohort has been from countries outside of the United States. "I found the diversity of speakers — in topic and in passion — the most worthwhile aspect of this component, each offering a different lesson and lens for public sector work," he said.
Throughout the traditional academic year, MPP candidates select eight courses suited to their policy interests, so the summer seminars also serve to introduce them to topics they may not be able to explore during their year at the Wilson School.
This past summer, the lectures, lunch seminars and informal discussions with Wilson School faculty covered a variety of topics, such as "Understanding and Motivating Yourself" with Julia Rubin, visiting associate professor of public affairs; "Public Sector Management in the Age of Social Media" with Steven Strauss, the John L. Weinberg/Goldman Sachs & Co. Visiting Professor and visiting lecturer in public affairs; and "Making Sense of the Middle East" with Ambassador (ret.) Daniel Kurtzer, the S. Daniel Abraham Visiting Professor in Middle East Policy Studies and lecturer in public and international affairs.
Hillary A. Allegretti, a native of Long Island, New York, and an officer of the U.S. Coast Guard, found the seminars to be an effective introduction to the qualitative analytical methods she would need to employ throughout the year.
"While the rigors of statistics and microeconomics prepared our cohort for the quantitative aspect of our classes, the summer seminars provided a more analytical and qualitative approach to learning," she said. "It felt like the seminars more closely resembled the more qualitative classes I plan to take this year and helped me frame more critical analysis of the readings."
Allegretti is no stranger to employing critical and strategic thinking during challenging on-the-ground situations. She deployed in support of the Deepwater Horizon oil spill, was critical in the re-opening of the Port of New York and New Jersey in the aftermath of Hurricane Sandy and served as the operations officer for a major oil spill in Cleveland, Ohio. These experiences came to mind during a lunch-time seminar on the Ebola crisis response.
"I really enjoyed Professor Jennifer Widner's seminar on the Ebola crisis response," Allegretti said. "Some of the most exciting and rewarding work I have done with the Coast Guard has been in emergency response. This was the first case study I read that examined an international epidemic and how the main and supporting actors responded."
Upon earning her MPP, Allegretti will return to the Coast Guard to serve in a new manner—as a policy and program reviewer. "This year I hope to find new ways to approach problem-solving that utilize more critical thinking and data-based evidence to make informed policy decisions," she said.
---
Applications for the 2017-18 MPP program are due December 15, 2016. Apply here.