Jan 15 2016
Source
Woodrow Wilson School
Six million child and 500,000 maternal deaths occur each year worldwide, often from easily-preventable causes. Why do women and children – especially those in developing countries – continue to die at such alarming rates?
This was the question posed to members of last fall's undergraduate Policy Task Force, "Maternal and Child Health in Developing Countries," offered by Princeton University's Woodrow Wilson School of Public and International Affairs.
Every Task Force at the Wilson School challenges participants to address a specific public policy issue through both independent research and collaboration on joint recommendations the class presents to public officials, area specialists, or others in the public and private sector.
Students in the "Maternal and Child Health in Developing Countries" task force focused their research within the socio-political and health context of South Africa. They concluded that it is possible to reduce South Africa's mortality rates within the next two years if specific reforms regarding sexual, child, and maternal health are implemented in five key areas: 1) education and awareness, 2) community mobilization, 3) accountability and leadership, 4) access and equity, and 5) technological engagement.
The instructors leading the task force have first-hand knowledge of South Africa's health system, which proved to be an invaluable resource for participants. Dr. Karl le Roux, visiting research scholar at the Center for Health and Wellbeing and visiting lecturer at the Wilson School, and Dr. Sally le Roux, visiting lecturer of public and international affairs at the Wilson School, both trained at the University of Cape Town and have worked for many years at Zithulele Hospital, a rural South African facility run by the Department of Health of the Eastern Cape serving nearly 130,000 people who live in that area.
On Dec. 4, the task force members traveled to the South African Embassy in Washington, D.C., and presented their recommendations to the health attaché, Dr. Nomonde Nolutshungu, who represents South Africa's Health Department in foreign policy engagements with the U.S. government.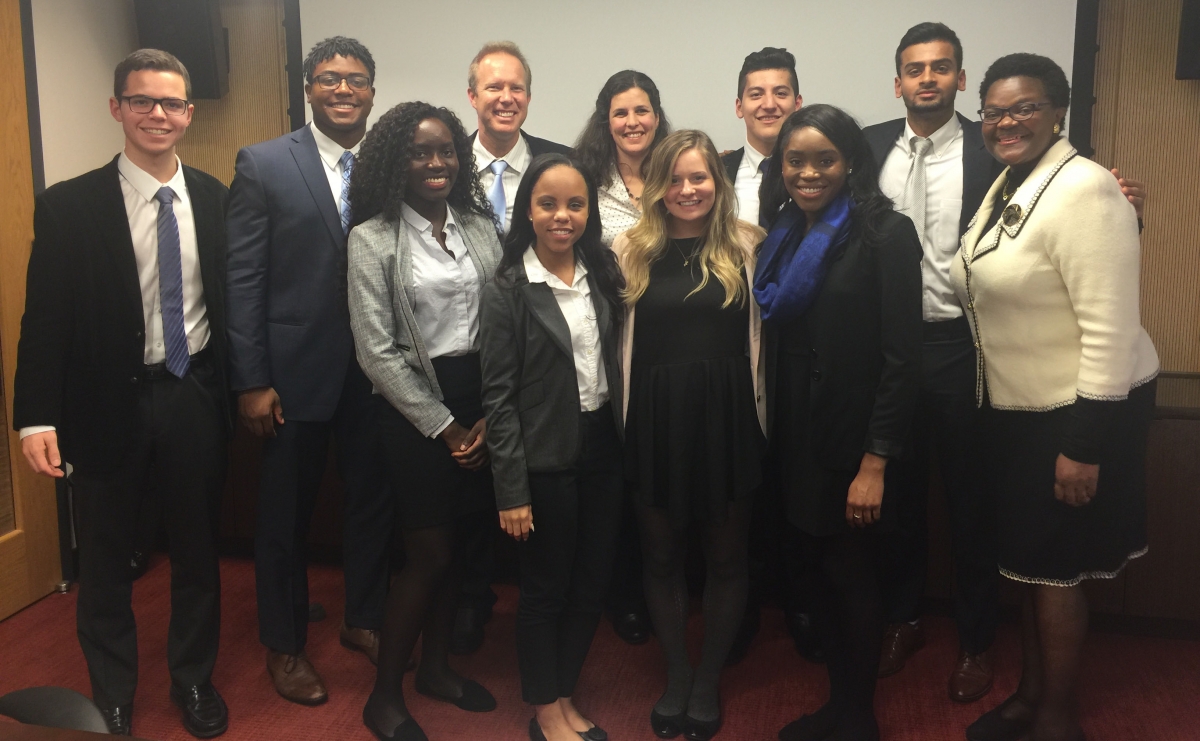 "It was amazing to see my research taken into consideration when discussing health policy reform in South Africa," Janine Cadet '17 said. "Without a doubt, this has been one of my most rewarding classes."
The students also attended a ceremony commemorating the second anniversary of Nelson Mandela's death that featured remarks by Mninwa Mahlangu, ambassador of the Republic of South Africa to the United States, along with special music and dance performances.

"Attending the ceremony was very moving," Tola Ebunlomo '17 said.

"We really got a taste for the vibrancy and hopefulness of South Africa's culture and democracy," Nick Trad '17 said.
Joining Cadet, Ebunlomo and Trad on the task force were Julio Castillo '17, Cassie Crifase '17, Doris Ofori '17, RJ Paige '17 and Raj Singh '16, who served as senior commissioner.