Jan 20 2021
Source
Princeton School of Public and International Affairs
One dozen students at Princeton University have been selected to join the Scholars in the Nation's Service Initiative (SINSI), which funds graduate fellowships and undergraduate summer internships within the U.S. federal government. The 2021 SINSI cohorts are announced as the initiative marks its 15th year at the Princeton School of Public and International Affairs.
The four young men and eight women hail from 10 states and represent seven academic areas of study at Princeton. They join a community that has grown to nearly 100 current SINSI students and alumni working and studying across the U.S. and around the world.
Established in 2006, SINSI encourages, supports, and prepares high-achieving students to pursue careers in both internationally and domestically focused federal agencies. The initiative aims to provide students with the professional skills needed to succeed in the public policy arena.
Four students were selected for the SINSI graduate program, which comprises a two-year Master in Public Affairs with a full scholarship for tuition and living expenses at the Princeton School of Public and International Affairs, and two-year paid fellowship rotations with executive branch departments or agencies. Eight students were selected for the SINSI internship program, which awards fully funded, 8- to 10-week summer internships.
"We continue to be impressed by the extraordinary field of candidates who are eager to pursue service in the federal government," said SINSI Co-Directors Rick Barton and Kit Lunney. "This year, we had candidates from a range of concentrations who expressed an interest in every part of the executive branch. We are delighted to see this enthusiasm as the SINSI program enters its 15th year."
2021 SINSI Graduate Scholars: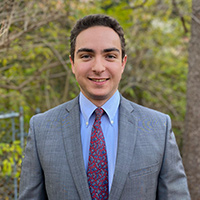 Jack Aiello '21 MPA '25, of Northport, New York, is concentrating in economics and pursuing certificates in South Asian studies and the history and practice of diplomacy. Aiello spent nine months prior to his first year at Princeton living in Varanasi, India, as a Princeton University Novogratz Bridge Year Scholar, studying Hindi and working as the fundraising coordinator for a local nongovernmental school. The experience helped shape his interest in economic development and motivated his return to India in summer 2019 to study Hindi through the U.S. State Department's Critical Language Scholarship Program. Aiello has interned at UNICEF's Office of Civil Society Partnerships in New York and with the Consumer Financial Protection Bureau, which affirmed his interest in public service and policy. On campus, Aiello is the co-president of Princeton Re-entry and Employment Preparation, which helps incarcerated students showcase their strengths to potential employers upon re-entry; serves as a residential college advisor in Rockefeller College; and works as a student fellow for the Princeton Writing Center. Aiello also is an undergraduate associate at the Griswold Center for Economic Policy Studies and was a fellow with the Liechtenstein Institute on Self-Determination's project on Gender in the Global Community.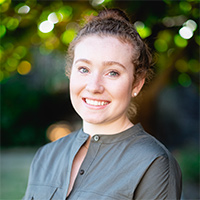 Bevin Benson '21 MPA '25, of Weston, Connecticut, is pursuing a concentration in computer science and a certificate in technology and society. Benson's research at Princeton has focused on the antitrust case against Google and the implementation of pretrial risk assessment algorithms in California. For her senior thesis, she is building a platform to study how Twitter is applying its community standards. Benson has held internships with Facebook's misinformation team and Anduril Industries, a defense startup where she worked alongside the U.S. Air Force on a major technology-based military demonstration. Benson is interested in how technology is reshaping the global order, particularly with respect to China, and hopes to use her technical knowledge to advance national security policy. Benson is the 2021 Terrence A. Elkes Graduate Scholar in the Nation's Service.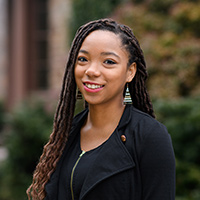 Krystal Cohen '21 MPA '25, from Jersey City, New Jersey, is concentrating in sociology and pursuing certificates in statistics and machine learning, and African American studies. With a focus on education equity, Cohen is heavily involved with Community House, a student-led program that works with families to support underrepresented youth in the Princeton area. She is the current project leader of the Community House afterschool program and she serves as one of the co-chairs of the Community House executive board. During summer 2018, Cohen interned in the Keller Center's eLab Summer Accelerator, supporting service-oriented student startups. In summer 2019, she began interning at Foundation Academy Charter School in Trenton, New Jersey, where she designed and taught a civic engagement summer camp for middle and high school students, and continues to lead the school's grant development efforts. As the 2020 Andrea Echikson '80 and Tom A. Bernstein Scholar, Cohen completed a summer internship at AmeriCorps in their Office of Research and Evaluation. On campus, Cohen also is an operations coordinator for Camp Kesem, president of Raqs Belly Dance Company, and the former community outreach lead for the Engineers Without Borders Kenya team.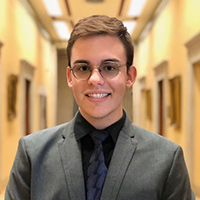 Christopher "Chris" Gliwa '21 MPA '25, of East Rutherford, New Jersey, is a senior in the civil and environmental engineering department and is pursuing a certificate in environmental studies. His departmental research focuses on the application of engineering and policy principles to address legacy pollution in the working-class neighborhoods of the New Jersey Meadowlands. Gliwa has held board membership on both the New Jersey Commission on Environmental Education and the Passaic River Community Advisory Group. Before entering Princeton in 2017, he conducted environmental quality research with the Meadowlands Environmental Research Institute. In summer 2019, Gliwa served as a Princeton Internships in Civic Service intern with the U.S. Department of Justice in the Environment and Natural Resources Division, assisting in litigation against polluters. In summer 2020, he conducted climate change and community engagement research as a Princeton Environmental Institute (now the High Meadows Environmental Institute) intern with the Regional Plan Association. On campus, Gliwa is a Butler College BSE Interactor who works with the faculty advisers to provide additional knowledge to students about the engineering program, and the treasurer of the Princeton BEE Team, where he is a state-certified beekeeper and manages the University's beehives. Off campus, Gliwa is a classically trained pianist, a volunteer at his local senior center, and a poll worker.
2021 SINSI Interns: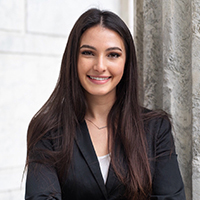 Courtney Cappelli '22, of Redlands, California, is concentrating in the Princeton School of Public and International Affairs and pursuing certificates in finance and the history and practice of diplomacy. Cappelli is passionate about engaging with civil society institutions to push for gender and generational equality globally. She is currently interning for the U.N. Women, where she works to define strategies to combat sexual violence and engage young people. In summer 2020, Cappelli was a Whig-Clio summer fellow and interned for the Columbia Center on Sustainable Investment. There, she drafted policy memos and researched international arbitration cases to define human rights abuses perpetrated by multinational corporations. She also worked with the chair of the United States Conference of Catholic Bishops' Ad Hoc Committee Against Racism to host a conference on identifying and confronting racist practices within the church. On campus, Cappelli is a team captain for Princeton Mock Trial, editor-in-chief of the Princeton Legal Journal, and previously served as the chief of staff for the Princeton Model U.N. Conference. Cappelli is a 2021 Dean's Scholar in the Nation's Service.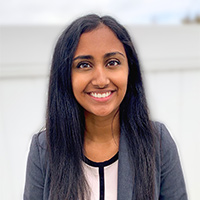 Preeti Chemiti '23, from Fargo, North Dakota, is concentrating in the Princeton School of Public and International Affairs and pursuing certificates in history and the practice of diplomacy and values and public life. Chemiti is interested in supporting communities through public policy initiatives and working to ensure that marginalized groups have equitable access to resources. In 2020, Chemiti was awarded a Bogle Fellowship, which she utilized to write, design, and publish Mind Matters, a free mental health book to address public health disparities. In the midst of Covid-19, Mind Matters has since been implemented by students and professionals in dozens of academic institutions. Concurrently, she interned at the nonprofit organization We Vote as a political data intern to help citizens overcome systemic voting barriers in the 2020 presidential election. On campus, Chemiti serves as a captain for Princeton Mock Trial, the editor-in-chief of the Princeton Political Review, a peer academic advisor, and a student fellow at the Carl A. Fields Center for Equality and Cultural Understanding. Additionally, she is an undergraduate associate in the Program of Law and Public Affairs and a Pace Center Service Focus member. Chemiti is the 2021 Andrea Echikson '80 and Tom A. Bernstein Scholar.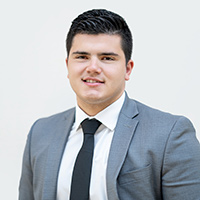 Alejandro Garcia '22, of Miami, Florida, is a politics concentrator pursuing certificates in Latin American studies and American studies. A member of the second group of transfer students admitted to Princeton, he holds an associate in arts degree from the Miami Dade Honors College in political science. Prior to transferring, Garcia was recognized as the top transfer student in Florida and among the top ten transfer students in the nation as a Hites Transfer Scholar, Jack Kent Cooke Undergraduate Transfer Scholar, All-USA Academic Team Scholar, and New Century Transfer Pathway Scholar. Garcia's interests lie in the intersection between law and political institutions, as he aspires to improve access to civil rights, education, and professional opportunities for underdeveloped and underrepresented Hispanic communities. On campus, he serves as a co-founder and president of the Princeton Transfer Association, a student organization focused on representing this non-traditional student population. Garcia has also volunteered for the Pace Center for Civic Engagement's ESL El Centro program where he taught several weekly English classes to Spanish-speaking members of the Princeton community, and held research assistant positions with Professors Rosina Lozano and Melissa Lee. Garcia is the 2021 Frederick P. Hitz '61 Scholar.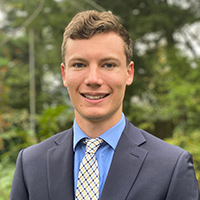 Carson Maconga '22, from Boston, Massachusetts, is concentrating in the Princeton School of Public and International Affairs and pursuing a certificate in history and the practice of diplomacy. He is interested in the role that institutionalized systems of power in foreign affairs can play to help create a more peaceful, prosperous, and equitable world. In summer 2020, he was a legislative intern for U.S. Senator Catherine Cortez Masto (D-NV), where he worked on her national security and foreign policy team. In summer 2019, he interned in Paris, France, for Helion Pictures, a small television show development company. On campus, Maconga is a head advising fellow for Matriculate, where he manages a team of 100 advisors who help low-income, high-achieving high school students get into college. He also plays on the rugby team and is on the Speakers' Council of the American Whig-Cliosophic Society. Maconga is a 2021 Dean's Scholar in the Nation's Service.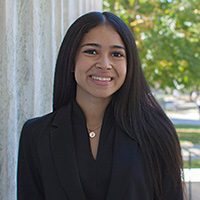 Ashley Morales '22, from Bethlehem, Pennsylvania, is concentrating in the Princeton School of Public and International Affairs and pursuing certificates in Latino studies and Latin American studies. Her focus is on international law, human rights, refugee and migration issues, and transnational coalition-building, especially in the Americas. Domestically, her interests lie in civil rights issues facing women and Latinx communities. During summer 2019, Morales received a Community Action fellowship to facilitate service projects for the incoming Class of 2023's orientation. In summer 2020, Morales interned with Cristosal, a human rights nongovernmental organization based in Central America, completing a comparative transitional justice research project that has now developed into a year-long course module connecting social justice activists around the world. On campus, Morales is involved in the Pace Center for Civic Engagement, serving as a Student Volunteers Council executive board member, Service Focus program member, Recognizing Inequities and Standing for Equality student facilitator, and Community Action fellow. Morales has also served as team captain, co-recruitment chair, and co-tournament director of Princeton Mock Trial, and is a member of the Office of Religious Life/UN Women Faith and Gender Justice and the Más Flow Latin dance company. Morales is the Class of 2021 Frank C. Carlucci '52 Scholar.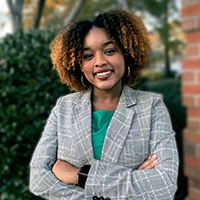 Mikala Parnell '23, from Wilmington, North Carolina, is a prospective concentrator in the Princeton School of Public and International Affairs and is pursuing certificates in global health and African American studies. Her academic interests include international relations, health policy, civil rights, and legal systems. Beyond coursework, Parnell is a student mentor through Princeton's Mentor Program and a member of the Princeton Debate Panel. She also serves as the professional development director for Our Health Matters, an organization dedicated to Black women's health on and off-campus. Professionally, Parnell works as the outreach coordinator for Representable, to fight gerrymandering and ensure a fair election process. In summer 2020 as a Bogle Fellow, Parnell worked with Step Up Wilmington, a nonprofit organization that provides job and life training to underserved populations. As a business development intern, she assisted in the launch of their social enterprise program. For fun, she enjoys dancing as a member of the Raqs belly dancing troupe and spending time with her friends and family. Parnell is a Class of 2021 Dean's Scholar in the Nation's Service.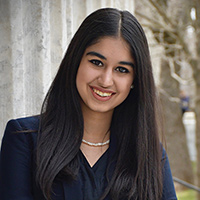 Isra Thange '22, of Franklin Park, New Jersey, is concentrating in the Princeton School of Public and International Affairs and pursuing certificates in the history and practice of diplomacy and Near Eastern studies. She is passionate about conflict resolution, institution building, and international development, with a focus on the Middle East and North Africa. Last summer, Thange worked as a research associate identifying, tracking, and analyzing digital misinformation content for the Empirical Studies of Conflict Project. In summer 2019, Thange participated in the Princeton Global Seminar on Xenophobia and Xenophilia in Europe, where she studied the social psychology underlying the dynamics of inclusion and exclusion facing refugees and immigrants in Berlin, while conducting fieldwork to examine the lived reality of resettlement and integration. On campus, Thange represents students during disciplinary proceedings as a peer representative to the Honor Committee. She is the president of the International Relations Council, a member of the Model U.N. team, and has served on the secretariat of the Princeton Model U.N. Conference for two years. She was formerly an attorney and recruitment chair for the Mock Trial team and is now a co-director of the Princeton Mock Trial Opening Round Championship. Thange is a global diplomatic and security challenges fellow with the Liechtenstein Institute on Self-Determination. Thange is the 2021 James D. Zirin '61 and Marlene Hess Scholar.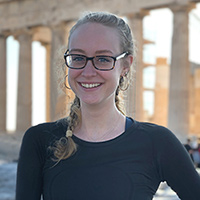 Emma Treadway '22, of Amelia, Ohio, is a classics concentrator pursuing the classical studies track with a methodological focus on education policy. Beyond academics, she ran The Daily Princetonian's opinion section this past summer as an associate opinion editor, and she will now serve as the editor-in-chief on the 145th board. She also is a student leader for the Service Focus "Civil Society" cohort through the Pace Center for Civic Engagement, and works as both an advisor and a former member of the leadership team for Matriculate, a national education nonprofit that pairs college mentors with low-income high school mentees. Treadway is also a Questbridge Scholar and a Bogle Fellow. In summer 2019, she used her Bogle funding to work for her city councilman in Cincinnati, Ohio, exploring the intersection of service and political leadership, and how they can be more closely connected to bring about the humanization of political leaders. In summer 2020, she supported the newest Bogle Fellows during their summer internships as the Bogle Student Associate, and she worked for Reach Incorporated, a D.C. education nonprofit that works to improve teen literacy and supports those teens in pursuing college or a career. Treadway is the 2021 Gilbert S. Omenn '61 and Martha A. Darling MPA '70 Scholar.