Apr 18 2018
Source
Woodrow Wilson School
From Korea to Afghanistan, the U.S. military has waged war in pursuit of peace. Yet, have these military interventions — which have cost thousands of lives and billions of dollars — created sustained peace?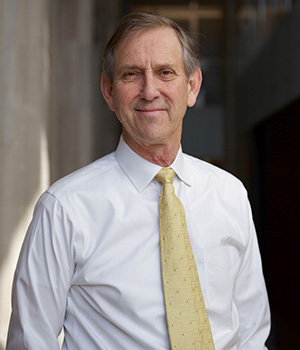 Amb. Frederick D. Barton, lecturer of public and international affairs at Princeton University's Woodrow Wilson School of Public and International Affairs, attempts to answer this question in a new book: "Peace Works: America's Unifying Role in a Turbulent World."
Mixing stories, history and analysis, Barton draws upon more than three decades of work in global conflict. The book offers a transformative approach to foreign affairs and possible solutions for the future. 
Barton also is the co-director of Princeton's Scholars in the Nation's Service Initiative (SINSI) with Kit Lunney. He was the first assistant secretary of state for conflict and stabilization operations (2011-14), U.S. ambassador to the Economic and Social Council of the United Nations in New York (2009-11), senior advisor at the Center for Strategic and International Studies (2002-9), deputy high commissioner for refugees at United Nations High Commissioner for Refugees (1999-2001), founding director of USAID's Office of Transition Initiatives (1994-9) and a business and political leader in Maine earlier in his career.
He answers questions about his book below.

Q. Why did you write this book?
Barton: After working in over 40 conflicts since 1994, I am convinced the United States and the international community can, and must, do a better job of peacebuilding. We have often made the great sacrifices of war but continue to muddle through peace processes. Iraq remains a blistering example. The experiences of so many confirm that greater knowledge of places, respect for local ownership and catalytic investments can stimulate the foundational renewal of trust. This book seeks to engage America's concerned citizenry in a hopeful new direction.
Even when a post-war period goes well — as we saw in Japan, Germany, Korea, Colombia and elsewhere — there are so many missed opportunities. This book provides a review of America's motivations for involvement; of small country disasters from Bosnia to Rwanda to Haiti in the 1990s; then looks at the mega-cases of Afghanistan and Iraq; the ongoing chaos in Syria; and the violence in Nigeria, Kenya, Burma and north Central America. It blends history, U.S. arguments for intervention and descriptions of initiatives to produce a series of practical recommendations that our country should follow to avoid quagmires and underperformance.  
Q. What are the biggest takeaways?
Barton: Success starts with understanding why we want to send U.S. forces abroad, what we expect for outcomes and the involvement of the American public. In 20 wars since 1989, those simple tests have not been met.
These are high-risk places, and we need to think like venture capitalists and emphasize American ingenuity. When democracies become occupiers, we contradict our essential values. As it turns out, there are innumerable avenues for us to encourage local change — from women and student groups to the media, and anti-corruption initiatives. Here are a few examples: In Nigeria, the reality television show "Dawn in the Creeks" captured public imagination and countered the national narrative that violence pays. In Syria, direct support for defecting police in Aleppo provided a critical public service and a bulwark against extremists. In Burma, a dialogue about landmines brought combatants and citizens closer to agreement.   

Q. What are the policy implications?
Barton:  First, policy and practice must fit together. If a big idea cannot be operationalized, it is so much noise. If a project or program is not part of something larger, it will not be enduring.  Second, the internal U.S. government disorganization that we see when a crisis arises is addressable and overdue. Third, the United States must use its advantageous position to inspire others. Global progress depends on a peaceful world and America could lead the way.