Riley Owen '23 is headed to Oxford for graduate studies
Riley Owen was in sixth grade when his mother suggested they visit their local YMCA for the Model United Nations meeting being held there. Owen reluctantly went with her. But while he was there, he found himself attracted to the dynamic environment of policy and international relations. This newly discovered passion for policy altered the course of his life, with Owen setting his sights on becoming a positive agent of change for the future.
"I am so grateful for that day," he said.
"I decided I wanted to be in the world's best public policy program and set my sights on Princeton and was lucky enough to come here."
After accomplishing his first goal – graduating from the School of Public and International Affairs – Owen is now onto his next one after being named an Eisenhower Global Scholar at Oxford University.
"For Riley to be continuing his education at Oxford seems to be a very natural extension of what he came here wanting to do and achieve," said Paul Lipton, senior associate dean of academic administration. "Just as he got a tremendous amount from being here, he will receive a tremendous amount from Oxford because he is a self-starter with a good work ethic. He is very directed and very goal oriented."
The prestigious Eisenhower Global Scholar program annually sends two students from across the United States to Oxford for graduate studies. The scholarship will fully fund Owen's master of public policy degree there. He was selected from among an impressive slate of applicants for his rigorous academic pursuits and his unique combination of experience, with his studies, extracurricular activities, and volunteerism fostering inimitable perspectives.
Owen, an enthusiastic proponent of service to humanity, has charted a non-traditional path toward his goals and graduation, aligning his genuine care for others with the pursuit of his dreams. "I've had the greatest joys in my life when I have been engaged in service," he said.
After his freshman year, he took a two-year hiatus to volunteer as a missionary for the Church of Jesus Christ of Latter-day Saints, which sent him to serve in Denmark, where he learned Danish and taught and learned from people from more than 50 countries. Additionally, he directed the training and operations of the organization's team of more than 100 volunteers in Denmark and Iceland.
"It was one of the most challenging and fulfilling chapters of my life, as I dedicated two years to serving strangers, many of whom became cherished friends," Owen said. "It solidified my desire to spend a life in public service while kickstarting my interests in European politics and the Arctic."
Following his stint in Denmark, Owen served in the White House for a year as a policy analyst working on trade and manufacturing policy, another role he undertook with vigor.
"It was incredible and enlightening," he said. "I can't wait to go back."
While in his policy analyst position, Owen aimed to bolster economic and national security in varied sectors, such as shipbuilding, critical minerals, semiconductors, and agricultural products, while simultaneously creating American jobs. He pivoted to working on the federal COVID-19 response, assisting with the coordination of use of the Defense Production Act to produce and distribute crucial masks, testing kits, and ventilators.
He credits Princeton for allowing him the opportunity to break from his studies to pursue these critical interests. "They are very accommodating in taking time off to work with organizations. They are remarkably flexible," Owen said.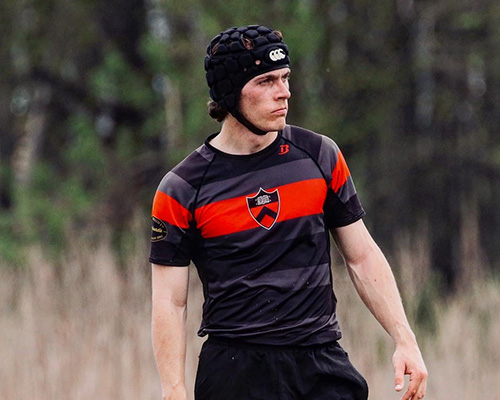 ​His pursuit of global understanding continued beyond Denmark and the White House. Owen pursued on- and off-the-field interests while studying at Princeton, playing on the men's rugby team and serving as its president for 18 months.
He earned more stamps in his passport and more global experiences when he led strategy and crisis simulations on the Arctic and South China Sea, traveling to Pearl Harbor, Hawaii, and through Italy's central west coast studying military campaigns as part of his involvement with the University's Center for International Security Studies. His service as a student ambassador of the Liechtenstein Institute on Self-Determination took him and the students he led on visits to Vienna, Brussels, and Washington, D.C., where they met with government officials and industry leaders.
Owen was also an undergraduate fellow in the James Madison Program, where he participated in discussions and programming focusing on American institutions and through which he attended oral arguments at the United States Supreme Court. He found time during his traveling to serve as president of the Princeton Latter-day Saint Student Association.
While Owen's experiences culminated in a remarkable resume, they more importantly transformed him and his way of thinking.
"I was given unique experiences to differentiate myself as an applicant to the Eisenhower program," he said. "These changed my character and changed who I was. I found I was happiest in my moments of service, like helping a blind Kurdish man or preparing a brief that ended up in the President's hands in 20 minutes."
Lipton is not surprised by Owen's remarkable journey and his subsequent naming as an Eisenhower Global Scholar.
"I adore Riley and have very much enjoyed working with him and being able to be part of an infrastructure that was able to help him get where he wanted to be," he said. "There's the ethos with which he carries himself through all these experiences. It is very clear he is very humble and very accomplished. I think all of those are standout features of Princeton students first and foremost, but some rise above that nominal bar. Some are just that much more accomplished and self-directed, and Riley is certainly at the top of the list."
Owen is eagerly anticipating beginning his studies at Oxford and continuing on the path of serving humanity through global guidance. He cites his prior experiences as providing him with an understanding of the importance of manufacturing to economic and national security and the integral impact private-sector investment has on the lives of individuals, public policy, and global geopolitics.
"One of things I'm most excited about is the 140 different people in the program," he said. "Past cohorts have included people from 40 countries. I have my unique background in shipbuilding and private equity, and I'm looking forward to diverse, interesting nuances and experiences. I want to hear others' perspectives. World policymakers and public servants want to think together about these problems we are all experiencing and be change makers."